The most recent Stay at Home Order in San Francisco and many neighboring counties creates temporary changes for Shared Spaces.
Shared Spaces that involve outdoor dining - including in the curbside lane, sidewalk and full roadway closures - must temporarily suspend operations while this order is in effect. Some Shared Spaces like farmers markets, winter markets or certain retail outlets may continue outside, so please refer to the organizers of each Shared Space below to see if they are still open.
Shared Spaces is a multi-agency program of San Francisco's Economic Recovery Task Force that allows merchants and community groups to use sidewalks, full or partial streets, and other nearby public spaces like parks, parking lots and plazas, for restaurant pick-up and other neighborhood retail activities allowed under San Francisco's Public Health Orders.
So far, over 1,300 free Shared Spaces permits have issued throughout San Francisco to help businesses move outdoors. The city maintains an interactive map showing the locations and status of all the proposed and approved locations. The map is designed to make it easier for people to find Shared Spaces, check on a permit status or simply track the progress of the program.   
We use the below dashboard to track and highlight the different types of SFMTA-specific permits and trends over time. Our teams work hard to make sure we find solutions that respond to the needs of businesses and the unique geography of our city.
Reset to default view
Export image
Download displayed data in excel format
Download complete/accessible data for this metric
Shared Spaces - Full Street Closures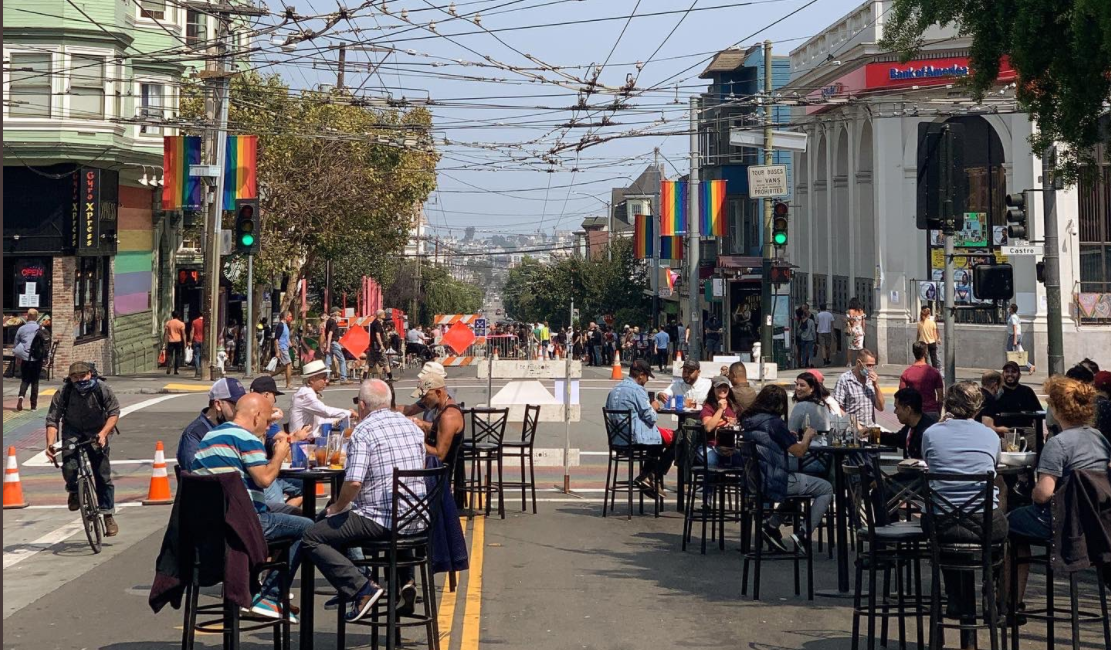 Photo of people enjoying the Shared Space street closure on 18th at Castro Street.
A major part of the program is full-street transformations where businesses, merchant groups and community organizations partner with the city to close one or more blocks to traffic and open them for people and businesses. This supports activities like outdoor seating for cafes and restaurants, retail display or sales and personal services with physical distance.
Applications are reviewed by a city committee composed of staff from SFMTA, Public Works, the Fire Department and SFPD to ensure the proposed closure does not interfere with emergency operations, meets accessibility requirements, and has a solid operation plan. Business owners self-manage the Shared Spaces and must have plans for public safety and compliance with the Americans with Disabilities Act (ADA). 
Visit a Shared Space or Shared Spaces street today to support our local merchant community and be sure to follow all current public health guidelines.
List of currently permitted Shared Space street closures [Updated 1/22/2021]
Grant - Chinatown
Grant Avenue from California to Washington streets

Saturdays and Sundays, 8:00 a.m. to 9:00 p.m. each day

Active: Saturday, July 18, through Sunday, December 27

Sponsor:

Chinatown Merchants Association
Valencia Street - Mission
Valencia Street from 16th to 17th streets; Valencia Street from 18th to 19th streets; Valencia Street from 20th to 21st streets

Fridays, 5:00 p.m. to 9:00 p.m.; Saturdays, 

12:00 noon to 9:00 p.m.; Sundays, 12:00 noon 
to 5:00 p.m.

Active: Friday, October 9, 2020, through Sunday, June 27, 2021
Taraval Street - Sunset/Parkside
Taraval Street from 46th to 47th avenues

Sundays, 9:00 a.m. to 7:00 p.m.

Active: Sunday, September 6, 2020, through Sunday, June 27, 2021

Sponsor:

People of Parkside Sunset

(POPS), SFMTA, OEWD
Galvez Avenue - Bayview
Galvez Avenue at 3rd Street

Saturdays, 9:00 a.m. to 2:00 p.m.

Active: Saturday, September 5, 2020, through Saturday, June 26, 2021

Sponsor:

Economic Development on Third
Irving Street - Sunset
Irving Street from 19th to 20th avenues

Thursdays and Fridays, 3:30 p.m. to 11:00 p.m. each day; Saturdays and Sundays, 10:30 a.m. to 11:00 p.m. each day

Active: Thursday, August 20, 2020, through Sunday, June 27, 2021

Sponsor: Outer Sunset Merchant and Professional Association
Austin Street - Lower Polk
Austin Street from Polk Street to Van Ness Avenue

Sunday through Tuesday, 10:00 a.m. to 10:00 p.m. each day; Wednesdays and Thursdays, 11:00 a.m. to 11:00 p.m. each day; Fridays and Saturdays, 10:00 a.m. to 11:59 p.m. each day

Active: Wednesday, July 29, 2020, through Wednesday, June 30, 2021

Sponsor:

Lower Polk CBD
Natoma Street
Natoma Street from 2nd Street to easterly terminus

Monday through Thursday, 9:00 a.m. to 9:00 p.m

. each day; 

Fridays, 9:00 a.m. to 10:00 p.m

. each day; 

Saturdays and Sundays, 11:00 a.m. to 10:00 p.m. each day

Active: Wednesday, 

September 9, 2020, through

Wednesday, June 30, 2021
Hayes Valley
Hayes Street from Laguna to Gough streets; Octavia Street from Hayes to Ivy streets; Hayes Street from Gough to Franklin streets

Fridays, 4:00 to 10:00 p.m., Saturdays and Sundays 10:00 a.m. to 10:00 p.m., each day

Active: Friday, August 28, 2020, through Sunday, June 27, 2021
West Portal
West Portal Parking Lot – 174 West Portal Avenue

Daily 10:00 a.m. to 6:00 p.m.

Active: Friday, August 14, through Thursday, December 31

Sponsor:

West Portal Merchants Association
Jane Warner Plaza - Castro
Jane Warner Plaza

Daily 11:00 a.m. to 6:30 p.m.

Active: Wednesday, August 5, through Thursday, December 31
18th Street - Castro
18th Street from Hartford Street to Castro Street; 18th Street from Castro Street to Collingwood Street

Sundays, 10:00 a.m. to 10:00 p.m.

Active: Sunday, October 11, through Sunday, December 27

Sponsor:

Castro Merchants
Larkin Street - Tenderloin
Larkin Street from Eddy Street to O'Farrell Street

Thursday through Sunday, 11:00 a.m. to 8:00 p.m. each day

Active: Thursday, September 17, 2020, through Sunday, June 27, 2021
37th Avenue - Outer Sunset Farmers Market & Mercantile
37th Avenue from Ortega to Quintara streets

Sundays, 6:00 a.m. to 7:00 p.m.

Active: Sunday, September 20, 2020, through Sunday, June 27, 2021

Sponsor: Sunset Mercantile
Beach Street - Ghirardelli Square
Beach Street (southernmost travel lane only) from Polk Street to Larkin Street

Closure: 24/7

Active: Thursday,

September 17

, 2020, through Wednesday, June 30, 2021

Sponsor: Ghirardelli Square
Ellis Street - Union Square
Ellis Street from Stockton Street to Powell Street

Saturdays and Sundays

, 11:00 a.m. to 8:00 p.m. each day

Active:

Sunday

,

September 27

, 2020, through

Sunday

,

June 27, 2021
Sponsor: Union Square BID
Ocean Avenue Parking Lot
Ocean and Junipero Serra Parking Lot located at 2500 Ocean Avenue

Closure: 24/7

Active:

Saturday, October 10

, 2020, through

Wednesday, June 30, 2021

Sponsor: Dinosaurs Sandwiches
Lilac and 24th Streets Parking Lot
Ocean and Junipero Serra Parking Lot located at 2500 Ocean Avenue

Every Friday thru Sunday, 12:00 noon to 8:00 pm each day

Active:

Friday, October 9

, through

Sunday, December 27

Sponsor: Calle 24
Noe Street - Castro / Duboce Triangle
Noe Street from Market Street to Beaver Street

Fridays, 4:00 p.m. to 10:00 p.m.; 

Saturdays and Sundays, 10:00 a.m. to 10:00 p.m. each day

Active: Friday, October 9, through Sunday, December 27

Sponsor:

Castro Merchants
37th Avenue - Sunset Wellness Mercantile
37th Avenue from Ortega to Pacheco streets

Mondays, Wednesdays, and Fridays, 6:00 a.m. to 9:00 p.m. each day

Active: Wednesday, January 6, 2021, through Wednesday, June 30, 2021

Sponsor: Sunset Mercantile
O'Farrell Street - Fillmore Merchants
O'Farrell Street from Fillmore to Steiner streets 

First and third Sunday of each month, 10:00 a.m. to 6:00 p.m. 

Active: Sunday, October 25, 2020, through Sunday, June 20, 2021

Sponsor: Fillmore Merchant and Neighborhood Collaborative, Japantown for Justice
Jessie Street - Westfield San Francisco Centre
Jessie Street from 5th to Jessie West streets; Jessie West Street from Mission to Jessie streets 

Monday through Thursday, 11:00 a.m. to 9:00 p.m. each day; Friday and Saturday, 11:00 a.m. to 10:00 p.m. each day; Sundays 11:00 a.m. to 8:00 p.m. 

Active: Monday, February 1, 2021, through Wednesday, June 30, 2021

Sponsor: Westfield San Francisco Centre
Single Business Sponsored Street Closures
Waverly Place
Waverly Place from Clay to Sacramento streets

Friday through Sunday, 10:00 a.m. to 10:00 p.m. each day

Active: Sunday, July 12, 2020, through Sunday, June 27, 2021

Sponsor:

Mister Jiu's
Jasper Place
Jasper Place from Green to Union streets

Monday through Friday , 5:00 p.m. to 11:00 p.m. each day; Saturday and Sunday, 11:00 a.m. to 11:00 p.m. each day 

Active: Friday, September 4, 2020, through Wednesday June 30, 2021

Sponsor: Vicoletto 
Jack Kerouac Alley
Jack Kerouac Alley from Columbus to Grant avenues

Monday through Wednesday, 10:00 a.m. to 10:00 p.m. each day; Thursday through Sundauy, 10:00 a.m. to 11:00 p.m. each day

Active: Friday, September 4, 2020, through Wednesday, June 30, 2021

Sponsor:

Vesuvio Café
Leidesdorff Street
Leidesdorff Street from Pine to California streets

Daily 10:00 a.m. to 8:00 p.m.

Active: Wednesday, July 15, 2020, through Wednesday, June 30, 2021

Sponsor:

Credo Restaurant
Beach Street
Beach Street (southernmost travel lane only) from Hyde to Larkin streets

Closure: 24/7

Active Wednesday, July 8, through Thursday, December 31

Sponsor:

Buena Vista Cafe
Via Bufano
Via Bufano from Greenwich Street to Columbus Avenue

Friday through Wednesday, 12:00 p.m. to 11:00 p.m. each day; Thursdays, 4:00 p.m. to 11:00 p.m

Active: Wednesday, July 22, 2020, through Wednesday, June 30, 2021

Sponsor:

Bodega
Steiner Street
Steiner Street from Chestnut Street to Lombard Street

Monday through Friday, 11:00 a.m. to 9:00 p.m. each day; Saturdays and Sundays, 10:00 a.m. to 10:00 p.m. each day

Active: Tuesday, September 1, through Thursday, December 31

Sponsor:

Izzy's Steaks & Chops
Leidesdorff Street
Leidesdorff Street from Sacramento to Commercial streets

Daily 10:00 a.m. to 11:00 p.m.

Active: Wednesday, July 8, 2020, through Wednesday, June 30, 2021

Sponsor:

Wayfare Tavern
Ritch Street
Ritch Street from Townsend to Lusk streets

Monday through Friday, 4:00 p.m. to 10:00 p.m. each day; Saturdays and Sundays, 10 a.m. to 10 p.m. each day

Active: Wednesday, August 5, 2020, through Wednesday, June 30, 2021

Sponsor: District
Washington Street
Washington Street from Fillmore to Steiner streets

Daily 9:00 a.m. to 10:00 p.m.

Active: Wednesday, June 17, 2020, through Wednesday, June 30, 2021

Sponsor:

Chouquet's
Gold Street
Gold Street from Montgomery to Balance streets

Daily 4:00 p.m. to 11:00 p.m.

Active: Wednesday, July 15, 2020, through Wednesday, June 30, 2021

Sponsor:

Bix
Ivy Street
Ivy Street from Gough Street to Octavia Street

Friday through Sunday

, 3:00 p.m. to 10:00 p.m. each day

Active: Friday,

September 18

, 2020, through Sunday,

June 27, 2021
Sponsor: Fig & Thistle
Polk Bush Garage
Top floor of SFMTA garage at 1399 Polk

Monday through Friday

, 6:00 a.m. to 8:00 p.m. each day; 

Saturday and Sunday, 8

:00 a.m. to 2:00 p.m. each day

Active: Thursday,

September 17

, 2020, through Wednesday, June 30, 2021

Sponsor: 

CrossFit Golden Gate
Michigan Street
Michigan Street from Marin Street to Cesar Chavez; Marin Street from Illinois Street to easterly terminus

Fridays, 4:00 p.m. to 10:00 p.m.; Saturdays and Sundays, 8:00 a.m. to 10:00 p.m. each day

Active:

Friday, September 25

, 2020, through Sunday

, June 27, 2021

Sponsor: 

The Midway
Beckett Street
Beckett Street from Pacific Street to Jackson Street

Saturdays and Sundays, 10:00 a.m. to 11:59 p.m. each day

Active:

Saturday, November 14

, 2020, through

Sunday,

June 27, 2021

Sponsor: Nightbird Restaurant
Thornton Street
Thornton Street from San Bruno Avenue to Easterly Terminus

Daily, 9:00 a.m. to 2:30 p.m.

Active:

Friday, November 13

, 2020, through

Wednesday,

June 30, 2021

Sponsor: Breakfast at Tiffany's
Fern Street
Fern Street from Polk Street to Van Ness Avenue

Fridays, 5:00 p.m. to 11:59 p.m.; Saturday and Sunday, 9:00 a.m. to 10:00 p.m. each day

Active:

Friday, November 20

, 2020, through

Sunday,

June 27, 2021

Sponsor: Mayes Oyster House
Rose Street
Rose Street from Market Street to 120-feet westerly

Wednesday through Sunday, 5:00 p.m. to 11:00 p.m. each day

Active:

Wednesday, December 2

, 2020, through

Sunday,

June 27, 2021
Octavia Street
Octavia Street, west frontage road only, from Lily Street to Page Street

Fridays and Saturdays, 4:00 p.m. to 10:00 p.m. each day

Active:

Friday, December 4

, 2020, through

Saturday,

June 26, 2021

Sponsor: Mercury Cafe
Church Street
Church Street (easternmost travel lane only) from 70-feet to 95-feet south of Market Street

Closure: 24/7

Active:

Wednesday, October 28

, 2020, through

Wednesday,

June 30, 2021

Sponsor: Pilsner Inn
Church Street
Church Street (easternmost travel lane only) from 120-feet to 145-feet south of Market Street

Closure: 24/7

Active:

Friday, December 4

, 2020, through

Wednesday,

June 26, 2021

Sponsor: Il Casaro Pizzeria & Mozzarella Bar
Completed Events
Latino COVID-19 Healing and Recovery - Mission (concluded)
19th Street from Florida to Harrison streets; Harrison Street from 18th to 20th streets; Mistral Street from Treat Avenue to Harrison Street

Saturday, September 5, and Sunday, September 6, 12:00 p.m. to 5:00 p.m. each day

Sponsor: Cultura y Arte Nativa de las Americas -

Carnaval SF
North Beach First Friday - September (concluded)
Grant Avenue from Columbus Avenue to Filbert Street; Green Street from Columbus Avenue to Grant Avenue

Friday, 12:00 p.m. to 10:00 p.m.

Active: Friday, September 4

Sponsor: North Beach Business Association
Coral Road - COVID-19 Testing Site (concluded)
Coral Road from Carolina Street to Wisconsin Street

Daily, 9:00 a.m. to 5:00 p.m.

Active: Monday, July 6, through Friday, July 31
Grove - Food Bank (concluded)
Grove Street from Polk Street to Larkin Street

Monday, 7:00 a.m. to 5:00 p.m.

Active: Monday, September 14, and Monday, September 21

Sponsor: SF-Marin Food Bank
North Beach First Friday - October (concluded)
Grant between Columbus and Filbert; Vallejo (eastbound only) between Columbus and Grant; Nobles between Grant and end; Fresno between Grant and Romolo

Friday, 4:00 p.m. to 10:00 p.m.

Active: Friday, October 2

Sponsor: North Beach Business Association
Shannon Street (concluded)
Shannon Street from Post to Geary streets

Daily 10:00 a.m. to 3:00 p.m.

Active: Monday, August 17, through Wednesday, September 30
Onondaga Avenue - Excelsior (concluded)
Onondaga Avenue from Mission Street to Alemany Boulevard

Sundays, 10:00 a.m. to 7:00 p.m.

Active: Sunday, October 4, through Sunday, October 25

Sponsor:

Livable City
Golden Gate Avenue - Tenderloin (concluded)
Golden Gate Avenue from Larkin to Hyde streets

Thursday through Sunday, 11:00 a.m. to 8:00 p.m. each day

Active: Thursday, September 17, through Sunday, November 15
Valencia Street - Screenprinting Workshop (concluded)
Valencia Street from 22nd Street to 23rd Street

Saturday, 9:00 a.m. to 6:00 p.m.

Active:

Saturday, November 21

, 2020

Sponsor: State Of Flux Shop
37th Avenue - Winter Market (concluded)
Bartlett Winter Market (concluded)
Bartlett Street from 21st to 22nd streets

Saturday and Sunday, 10:00 a.m. to 6:00 p.m. each day

Active: Saturday, December 19, 2020 through Sunday, December 20, 2020

Sponsor: kaleidoscope free speach zone
Stevenson Street - SoMa
Stevenson Street from 6th to 7th streets

Thursdays, 4:00 p.m. to 9:00 p.m.

Active: Thursday, September 10, through Thursday, December 17

Sponsor:

San Francisco Parks Alliance
Folsom Street "Sunday Streets" - SoMa
Folsom Street from 6th to 8th streets

Sundays, 8:00 a.m. to 6:00 p.m.

Active: Sunday, October 4, through Sunday, November 29

Sponsor:

Livable City
Yosemite Avenue - Bayview
Yosemite Avenue

at

Lane Street

Fridays, 3:00 p.m. to 11:00 p.m.

Active:

September 18, October 2, November 6, and December 4

Sponsor:

SF Black WallStreet
Powell Street
Powell Street from Columbus Avenue to Union Street

Friday through Wednesday, 12:00 p.m. to 10:00 p.m. each day; Thursdays, 4:00 p.m. to 10:00 p.m

Active: Monday, September 7, through Thursday, December 31

Sponsor: Lillie Coit's
Linden Street
Linden Street from Gough Street to Franklin Street

Saturdays, 10:00 a.m. to 10:00 p.m.

Active:

Saturday, September 26

, through

Saturday,

December 26

Sponsor: Nightbird Restaurant
Learn More or Apply for Your Own Shared Space
You can keep up with the program on Twitter and Instagram or check out our photo gallery 
For more information on the program or to apply, visit the Shared Spaces website or select one of the options below: