Speed Humps Kick Off Efforts for a Calmer, Safer Golden Gate Park
Thursday, November 10, 2016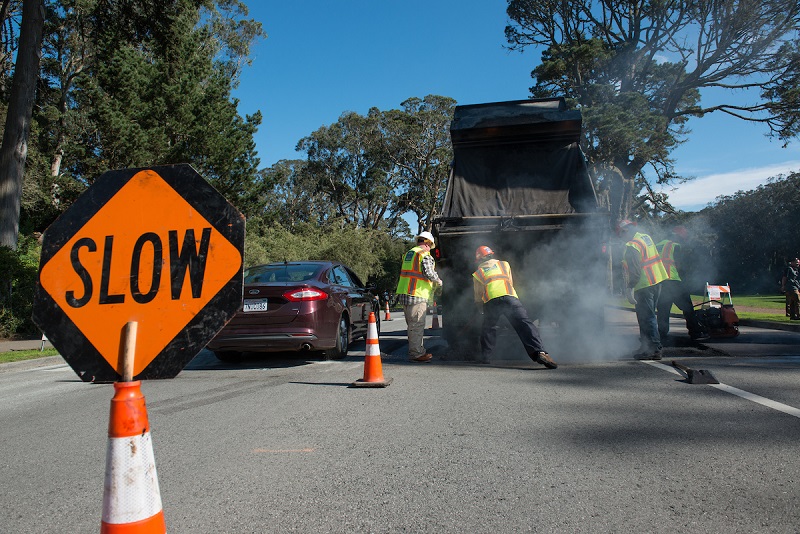 Our efforts to create a calmer, safer Golden Gate Park started with ten speed humps installed last week on western John F. Kennedy Drive. We joined Mayor Ed Lee, SF Public Works and the SF Recreation and Parks Department to mark their completion.
These speed humps are a quick, initial safety measure we were able to install as we create a plan for broader improvements to reduce car traffic and slow speeds in the park, as called for in the mayor's recent Executive Directive on Bicycle and Pedestrian Safety [pdf].
On December 3, the SFMTA and Recreation and Parks will host an open house to hear input from the community on the best ways to realize that vision.
"Golden Gate Park was built for people to enjoy being in, not to speed through," said SFMTA Director of Transportation Ed Reiskin. "We're pleased to be working with Rec. and Parks to help make the park safer and more enjoyable."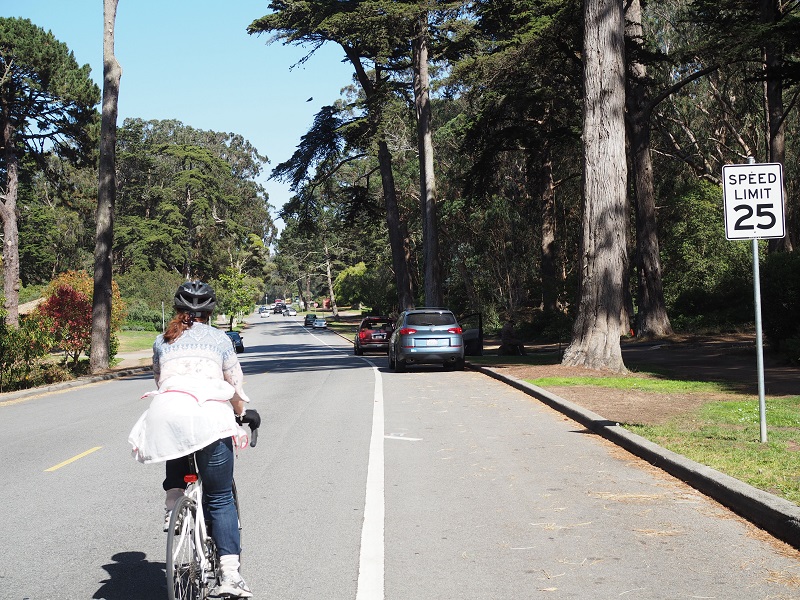 Western JFK Drive, before speed humps were installed.
The stretch of JFK Drive that received speed humps is where Heather Miller was tragically killed while biking on June 22 by a hit-and-run driver who was speeding in a stolen car. It's also part of the city's High-Injury Network, the 12 percent of city streets that see 70 percent of severe and fatal traffic collisions. We're looking to use all tools available to slow speeds on streets like these.
"City safety data shows that along JFK Drive, people regularly drive well over the speed limit by day, and even faster at night," said Reiskin. "Throughout the city, we have been using speed humps to great success in residential neighborhoods, reducing the number of vehicles traveling between 35 to 40 MPH by 73 percent."
"Our city's parks, especially our beloved Golden Gate Park, should be a safe place for families and visitors to enjoy," said Mayor Lee. "With more than 13 million visitors each year, we need to make sure the park's streets are safe for everyone."
To join the dialogue on long-term solutions for Golden Gate Park, come to our open house:
Golden Gate Park Traffic Safety Project Open House
Saturday, Dec. 3, 10 a.m. – noon
San Francisco County Fair Building Auditorium
1199 9th Avenue, San Francisco (inside Golden Gate Park near Lincoln Way)
Check out our video from last week's press event on JFK Drive: