Spring Forward With A Bang!
The first big event weekend of the year is here, and it's a doozy. Lunar New Year festivities continue in Chinatown with the Chinese Community Street Fair & Parade. Little League Baseball kicks off with the Opening Day Parade through Cow Hollow and the Marina. In the Bayview, it's delicious food and live music at the 35th annual Black Cuisine Fair. Plus, we spring forward as Daylight Saving Time begins on Sunday. If you still happen to have a manual watch or clock, remember to set it forward one hour.
Chinese New Year's Parade
Saturday, 5 p.m.
Chinatown
The pomp and pageantry of lion dancing, rhythmic sounds of firecrackers and a cavalcade of elaborate floats and costumed participants including crowd favorite, "Gum Long" the impressive 268 foot long golden dragon, will be on full display at the Chinese New Year Parade, celebrating the year of the ram.
Due to street closures and lots of crowds, traffic will be heavy. Help ease congestion by using Muni Metro subway service to Powell Station.
Muni service note: the 1 California, 8X Bayshore Express, 9 San Bruno, 10 Townsend, 12 Folsom/Pacific, 30 Stockton, 38 Geary, 38L Geary Limited, 45 Union/Stockton, 71 Haight/Noriega and 76X Marin Headlands Express routes will have re-routes. The 2 Clement, 3 Jackson, 5 Fulton, 6 Parnassus, 14 Mission, 14L Mission Limited, 21 Hayes, and 31 Balboa routes plus the Powell Hyde and Powell Mason Cable Car lines will have switch backs. The California Cable Car Line will have bus substitution. There will be no Powell Cable Car Line service during the parade.
Sunday Streets
Sunday, 11 a.m. - 4 p.m.
The Embarcadero
Sunday Streets is back and kicks off the 2015 season with over three miles of street activities accompanied by stunning and picturesque views along The Embarcadero waterfront. It will be a day of fun with music, roller disco, Zumba and more, plus Fisherman's Wharf will be hosting Family Day at the Wharf as part of the festivities.
Leave the car at home and hop aboard the F Market and Wharves Line, 10 Townsend, 19 Polk, 30 Stockton, 39 Coit, 45 Union/Stockton, 47 Van Ness, 49 Van Ness/Mission routes or any Muni Metro train to Embarcadero Station.
Muni service note: The 39 Coit will have a re-route, while the F Market, N Judah and T Third lines may see delays along The Embarcadero.
"On Tap" gives you a heads up about the big events in town and what Muni routes and lines will get you to the party. Look for this feature to be posted usually on Wednesdays for a look ahead to the weekend.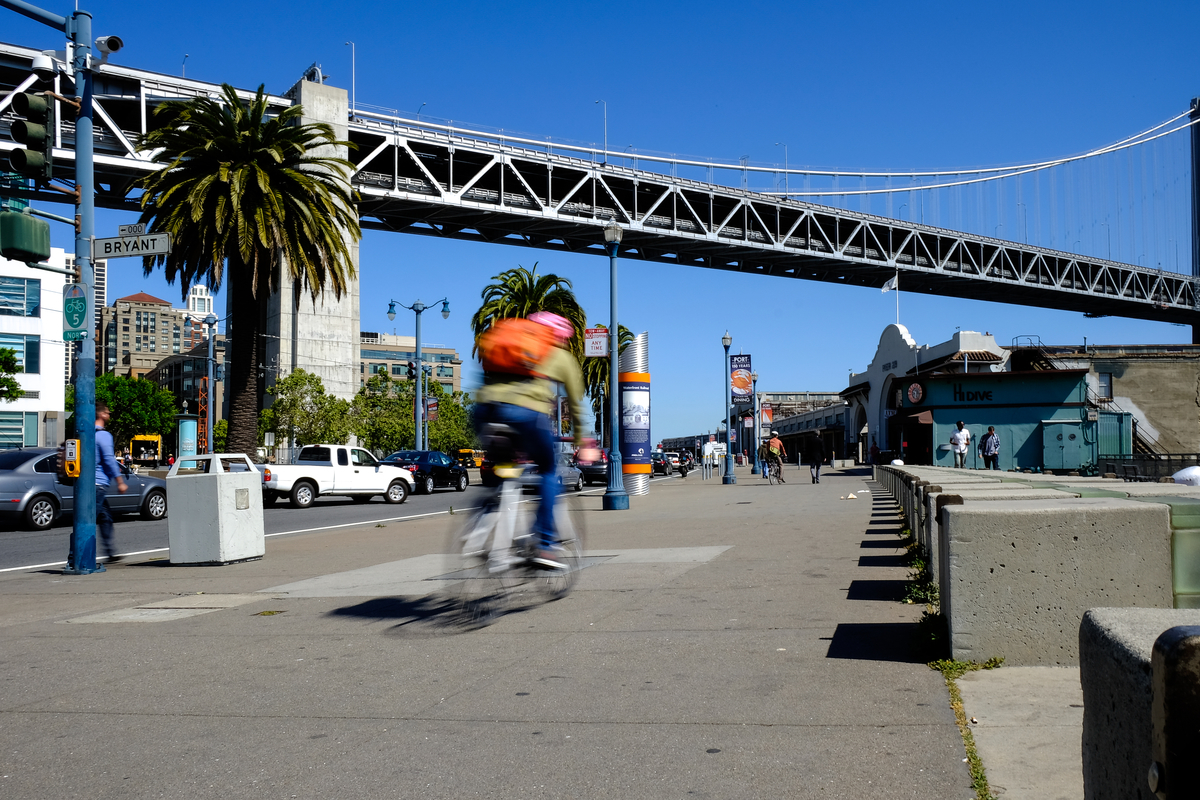 A bicyclist enjoying a sunny afternoon along The Embarcadero, May 14, 2006. SFMTA Archive