Super Bowl Transportation Plan Play-by-play
Tuesday, December 1, 2015
Last month we kicked off our Super Bowl 50 updates and today at the SFMTA Board of Directors meeting our planning staff started the rollout of San Francisco's Super Bowl transportation plan. The plan's main goals are to keep the city safe, secure and moving during the week of Super Bowl events. As much as we want visitors to get to the events safely and easily without a car, the plans also have to work for those who live and work in SF so that they can get where they're going with minimal disruptions.
Michael Cabanatuan's piece, S.F. hopes to block Super Bowl gridlock, in today's Chronicle is a great summary of the plan. We're working closely with the city family, the Super Bowl 50 Host Committee and our regional transit partners to do this right. 
Though the Super Bowl will be played in Santa Clara at Levi's Stadium, many of the pregame activities are going to be in San Francisco centered in two places: Super Bowl City, a fan village at the foot of Market Street that will be free to the public and the NFL Experience, a pro football interactive theme park at the Moscone Center that will be ticketed. The above map shows you where the events will be and how traffic and transit will move around them.
Below is a summary of what you'll need to know for the event. Of course, we'll be updating our website and sending e-mail and text updates, including details for walking, bicycling, paratransit and taxis, as the big event gets closer.
Super Bowl Transportation - What you need to know
All of the downtown activities will be easy to get to without getting behind the wheel.
All Muni lines will operate downtown except the E-line.
Muni Metro will continue to run in the subway.
Some bus lines that run downtown will be re-routed to nearby streets and may have a stop a block or two away from their original location. 
The F Line will be truncated with streetcars continuing to run from the Ferry Building to Fisherman's wharf. Buses will replace streetcars for service from the Embarcadero to the Castro.
Public transit will be prioritized — It's the most efficient way to get around in a busy city. 
Driving is not advised, but if you need to drive it's going to require a lot of extra patience.
Visitors won't be able to drive or park near the event — Taking transit into the city and then biking, walking or take Muni to the activities will be the best way to go.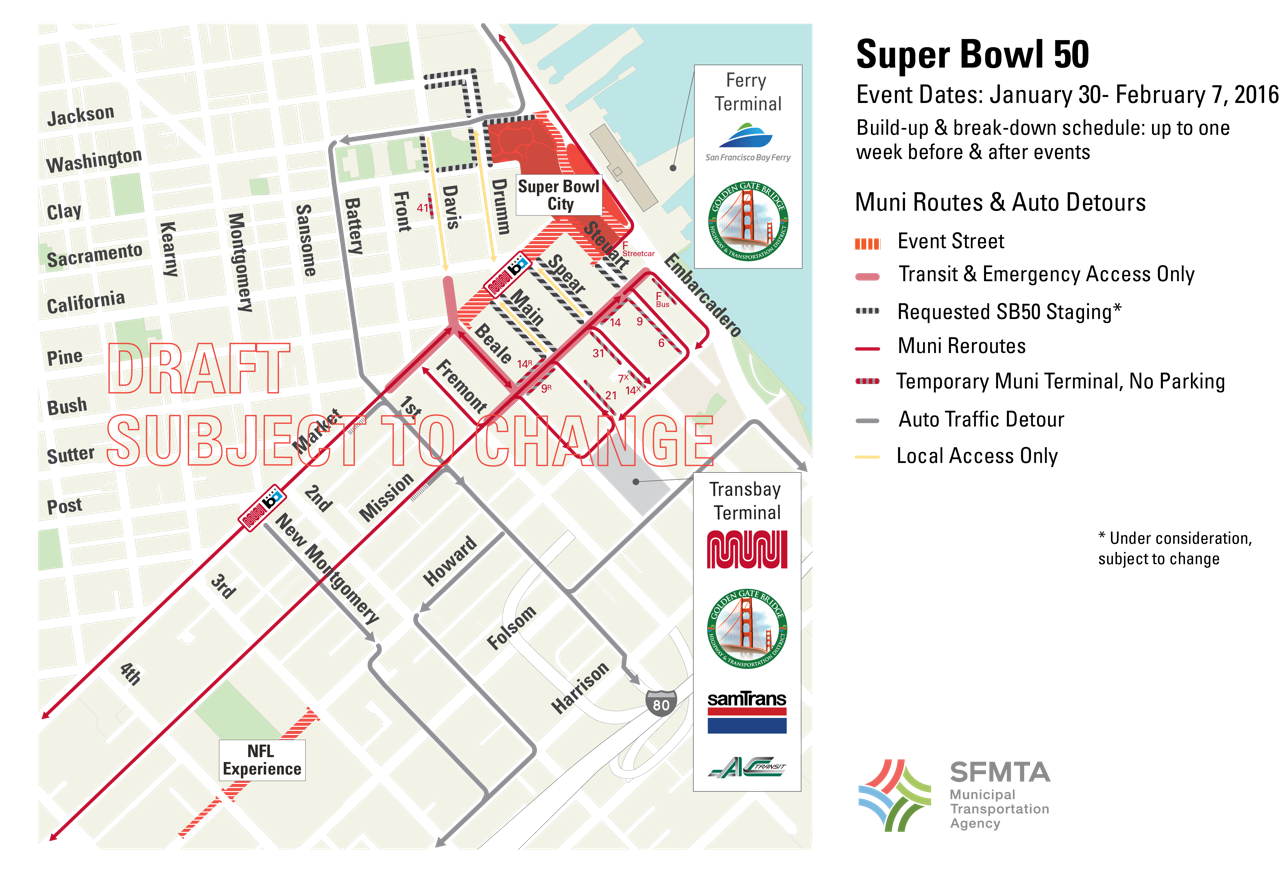 Starting in mid-January, set up for the two main Super Bowl events in SF will start closing streets and affecting traffic downtown as depicted in this map.