Supporting Community Needs in the Tenderloin
In the coming days, the SFMTA will implement a 4-block temporary project on Jones Street, from O'Farrell Street to Golden Gate Avenue for residents to have more pedestrian space in the Tenderloin while maintaining physical distance.  
To accomplish this, parking on the east side of the street as well as one of the three travel lanes on Jones Street will be removed. These four blocks are a small but significant part of city efforts to address the COVID-19 pandemic. The effort will support the local businesses by temporarily refashioning San Francisco streets.
COVID-19 has disproportionately impacted people who live and work in the Tenderloin. The SFMTA is working with our sister city agencies and community partners to be part of the solution.
The Tenderloin is a dense neighborhood with a high percentage of low-income people, people of color, seniors and transit-dependent San Franciscans who need more space for physical distancing and making essential trips. The SFMTA will be working on the following efforts within the Tenderloin to address community needs: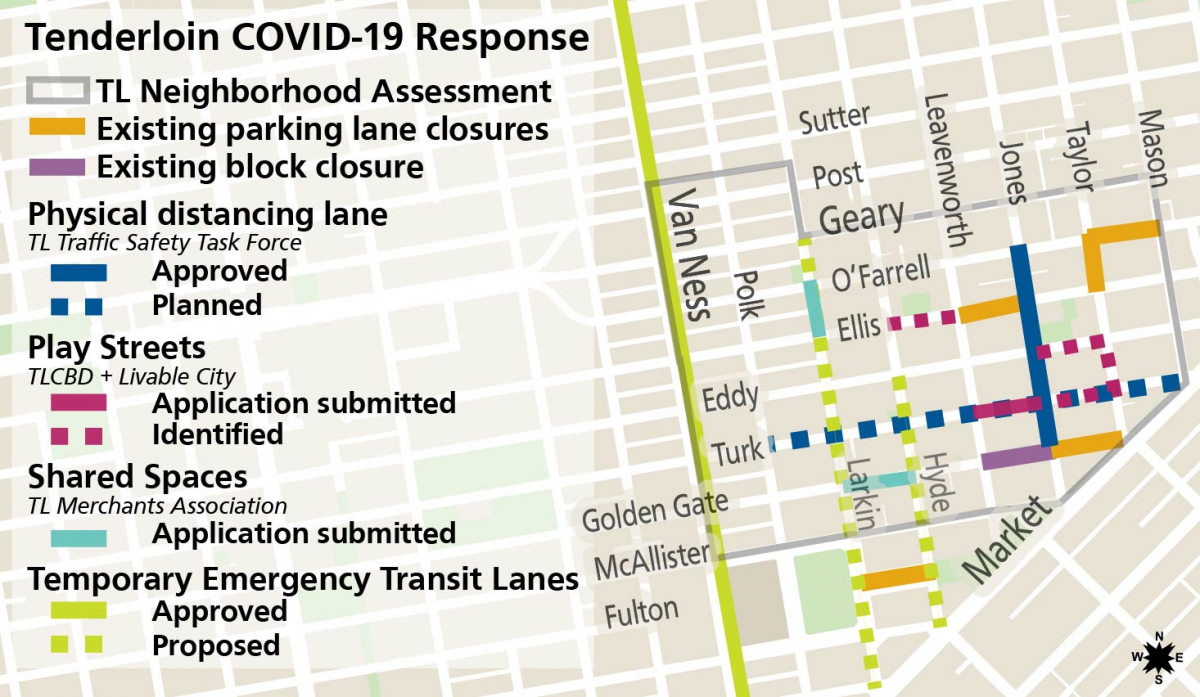 Physical distancing lanes: These lanes will provide an additional 5 to 8 feet of walking space, adjacent to a sidewalk, and protected from moving vehicles with concrete barriers known as k-rail or parked vehicles. On Jones Street, to make this possible, the SFMTA is removing a parking lane and a travel lane on the east side of the street.  
Play Streets: With the loss of playgrounds and schoolyards, the thousands of children living in the Tenderloin have limited space to play and move around. The Play Streets effort will fully close entire blocks on Saturdays to give kids and adults a safe place to be. 
Outdoor dining streets: In coordination with the restaurants on blocks, the SFMTA will assist with developing a "Shared Spaces" plan to support the small businesses as identified with the Tenderloin Merchants Association.  
Many people questioned why there are not more Slow Streets in this part of the city and we hear that concern. While Slow Streets have proven successful in creating more pedestrian space and calmer roads in some parts of the city, unfortunately the Tenderloin in general is not a good fit for the program due to its high number of streets with traffic signals, one-way streets, streets serving Muni lines, and emergency service corridors -- all of which limit our ability to implement a Slow Street. In addition, the neighborhood's taller, older buildings create unique conditions for Fire Department ladder trucks on each block. We had to invent an entirely new toolbox and are grateful for creativity of community-based organizations, the Fire Department, and other partners in helping us find creative solutions that work for the unique needs of Tenderloin residents in both the short-term and into the future. 
We will continue to support emerging community needs, such as curb changes needed to support testing sites and, food pantries and other needs that arise. From the beginning of the crisis, we have supported the Tenderloin community through changes such as a parking lane closure at the pop-up test site on Ellis Street, daytime street closure in front of St. Anthony's at 100 block of Golden Gate, and a parking lane removal for more pedestrian-queuing space at GLIDE on the 300 block of Ellis.  
But as the COVID-19 crisis evolves and the recovery period lengthens, the SFMTA recognizes that we must do more. Every street in the Tenderloin is a high-injury network street, and the city's Vision Zero plan has always included a specific focus on making it healthier and safer to walk and live in the neighborhood. For more than three years, the SFMTA has partnered with dozens of Tenderloin community groups focused on traffic safety, starting in with our Safer Taylor Street project. We are committed to its partnerships through this crisis and beyond. 
Finally, we want to express sincere appreciation and acknowledge the Tenderloin community groups who have been tenacious in advocating for traffic safety and travel options in their neighborhood - Central City SRO Collaborative, Tenderloin Community Benefit District, Tenderloin Neighborhood Development Corporation, Tenderloin People's Congress and many others. The SFMTA is committed to being responsive and partnering with the community as we work through this crisis together.