The Slow Streets team is excited to share the 2023 Slow Streets Evaluation Report, which looks at the current network of Slow Streets to assess how each corridor meets the targets established by the SFMTA Board for a successful Slow Street.
View the 2023 Slow Streets Evaluation Report Project Update to learn more about the evaluation and to read the report.  
Project Introduction
Slow Streets are safe, comfortable, low-vehicle-traffic routes that prioritize active transportation and community-building. These shared streets are thoughtfully designed and implemented on residential streets to provide safe, comfortable alternatives to driving. They are open to all forms of transportation, including vehicles accessing properties along the corridor, and emphasize slow and safe speeds to support a diverse mix of uses.  
Slow Streets support San Francisco's goals to create a connected, citywide Active Transportation Network, eliminate deaths and severe injuries related to transportation, and encourage more people to choose low-carbon ways to travel for their daily trips. They are part of a growing, connected network of streets that are safe and welcoming places to walk, bike and roll for people of all ages and abilities. On Slow Streets, kids can bike safely to school, families can run errands, and people with disabilities can find safe, accessible space to move through their communities.  
The Slow Streets Program was approved by the SFMTA Board of Directors on December 6, 2022.  Our How To Use Slow Streets fact sheet provides further information about how to use Slow Streets safely and respectfully.
The SFMTA Slow Streets program includes two complementary initiatives: 
Street design: The SFMTA will implement design treatments on San Francisco streets that meet the Program's eligibility criteria to create low-stress, shared corridors that prioritize active transportation. Slow Streets use a suite of durable design treatments to create these streets, including:  
Traffic diversion elements, including planters  
Turn restrictions  
Traffic calming elements I.e. speed humps   
STOP Signs  
Roadway narrowing/chicanes  
Wayfinding signs  
Pavement markings    
Community building: The SFMTA will be incorporating Play Streets into the Slow Streets program. Play Streets offers a streamlined permitting process for full block closures, so communities can activate the street and host events and gatherings. Through Play Streets, neighbors can set up regular block closures on a schedule that works for their community. Play Streets are offered as a complement to existing Slow Streets, and to any communities interested in organizing regular street activations. More updates to come on this soon.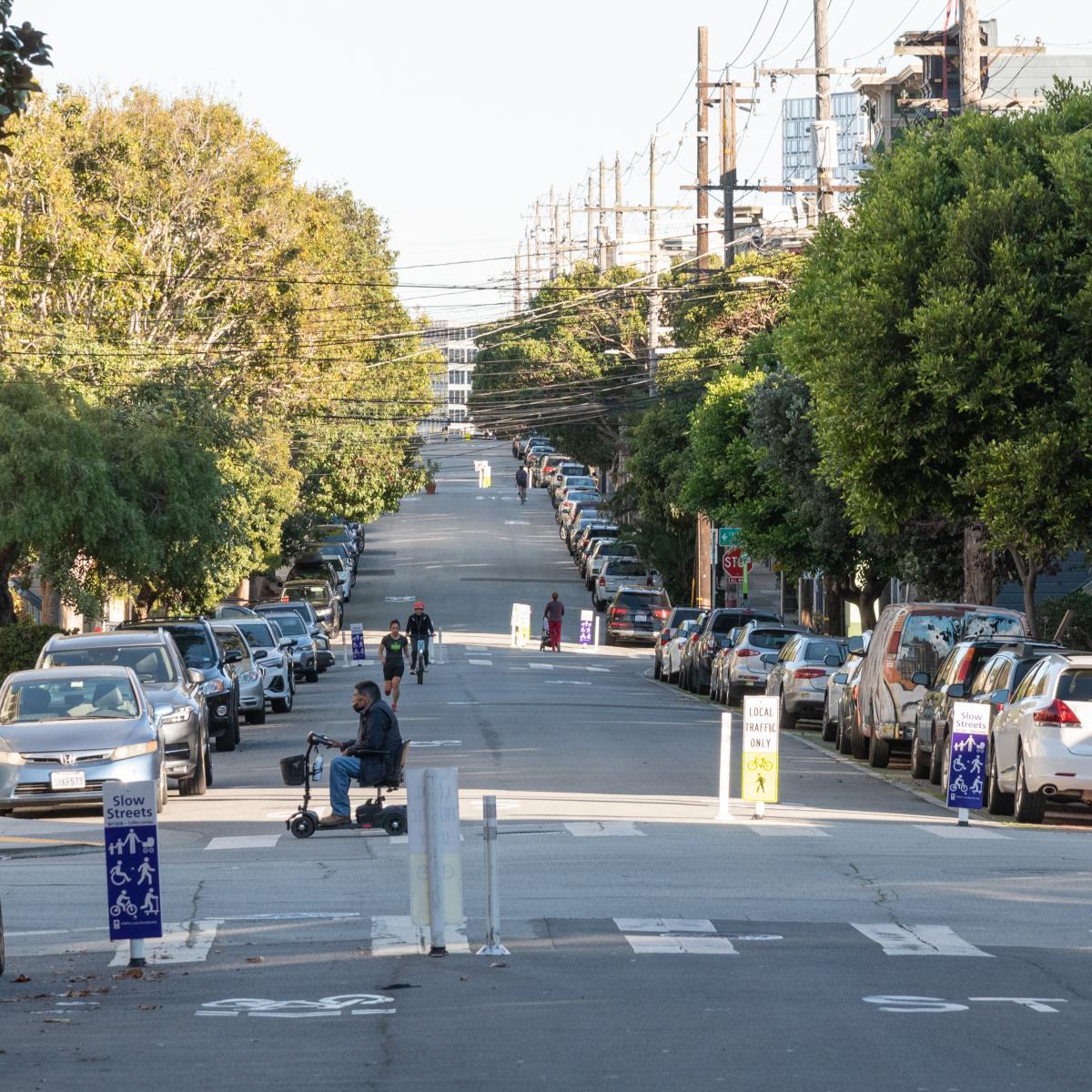 Where to find Slow Streets in San Francisco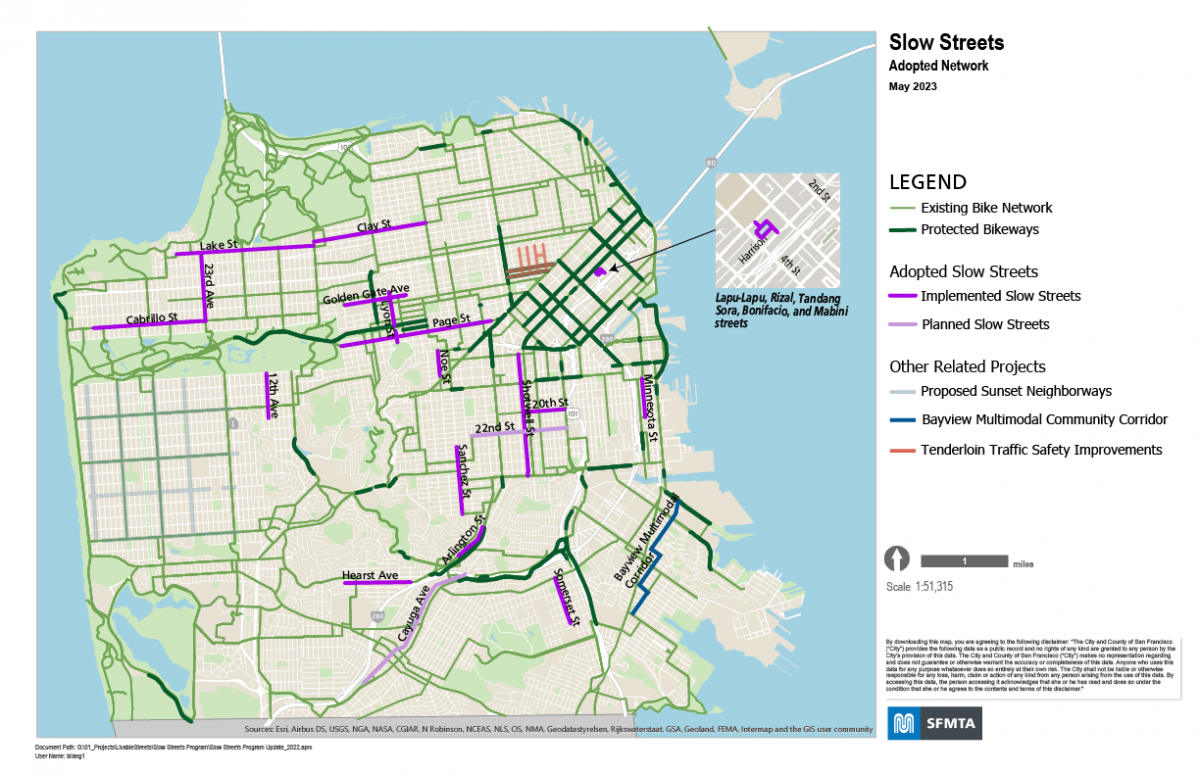 The Slow Streets concept works best on primarily residential streets that are relatively flat, straight, and have mostly stop-controlled intersections instead of traffic signals. MUNI routes and emergency response corridors do not work as Slow Streets. The current list of Program corridors includes: 
12th Avenue, from Lincoln Way to Lawton Street
20th Street, from Shotwell Street to Potrero Avenue
22nd Street, from Bryant Street to Chattanooga Avenue (Planned)
23rd Avenue, from Lake Street to Cabrillo Street
Arlington Street, from Roanoke Street to Randall Street
Cabrillo Street, from 45th Avenue to 23rd Avenue
Cayuga Avenue, from Naglee Avenue to Rousseau Street (Implementation in Progress)
Clay Street, from Arguello Boulevard to Steiner Street
Golden Gate Avenue, from Parker Street to Broderick Street
Hearst Avenue, from Ridgewood Avenue to Baden Street 
Lake Street, from Arguello Boulevard to 28th Avenue     
Lyon Street, from Turk Street to Haight Street     
Minnesota Street, from Mariposa Street to 22nd Street     
Noe Street, from Duboce Avenue to Beaver Street   
Page Street, from Stanyan Street to Octavia Boulevard
Sanchez Street, from 23rd Street to 30th Street
Shotwell Street, from Cesar Chavez to 14th Street
SoMa Slow Streets: Lapu-Lapu, Rizal, Tandang Sora, Bonifacio and Mabini streets between Folsom Street and Harrison Street  
Somerset Street, from Silver Avenue to Woolsey Street
Program goals and criteria 
Through the Slow Streets program, the SFMTA aims to expand the city's growing Active Transportation network and encourage more people of all ages and abilities to travel by low-carbon modes. It i's essential that Slow Streets are safe, comfortable, shared corridors for all. To make Slow Streets work, traffic volumes need to stay low, as do vehicle speeds. The SFMTA is taking a data-driven approach to ensuring Slow Streets meet the following low-stress criteria, taking guidance from National Association of City Transportation Officials standards:  
Vehicle volumes of 1,000 per day or less   
Vehicle speeds of 15 mph or less  
The SFMTA will collect data on both traffic volumes and speeds and adjust corridor designs as necessary to achieve true low-stress corridors. 
Additionally, it's important for all users of Slow Streets to follow guidelines for behavior and use on these corridors. At a high level: Everyone is welcome, and please go slow! For more in-depth guidelines, please review our How To Use Slow Street Fact Sheet for best practices to keep everyone feeling safe and welcome. 
Implementation and program expansion 
Following the establishment of the Slow Streets program by the SFMTA Board of Directors on December 6, 2022, the Program team will be focused on collecting data on all corridors to inform any additional design changes needed to meet the Program targets. 
Potential corridors for program expansion will be identified through community outreach, parallel SFMTA efforts like the Active Communities Plan, and resident input. Suggestions are always welcome, and we will be creating a form soon for residents to fill out and submit ideas for future corridors. 
The SFMTA Slow Streets Program team will report annually to the SFMTA Board of Directors on program progress and data.
---
---
Funding
This program was made possible in part by Proposition K Sales Tax dollars provided by the San Francisco County Transportation Authority.