Project Introduction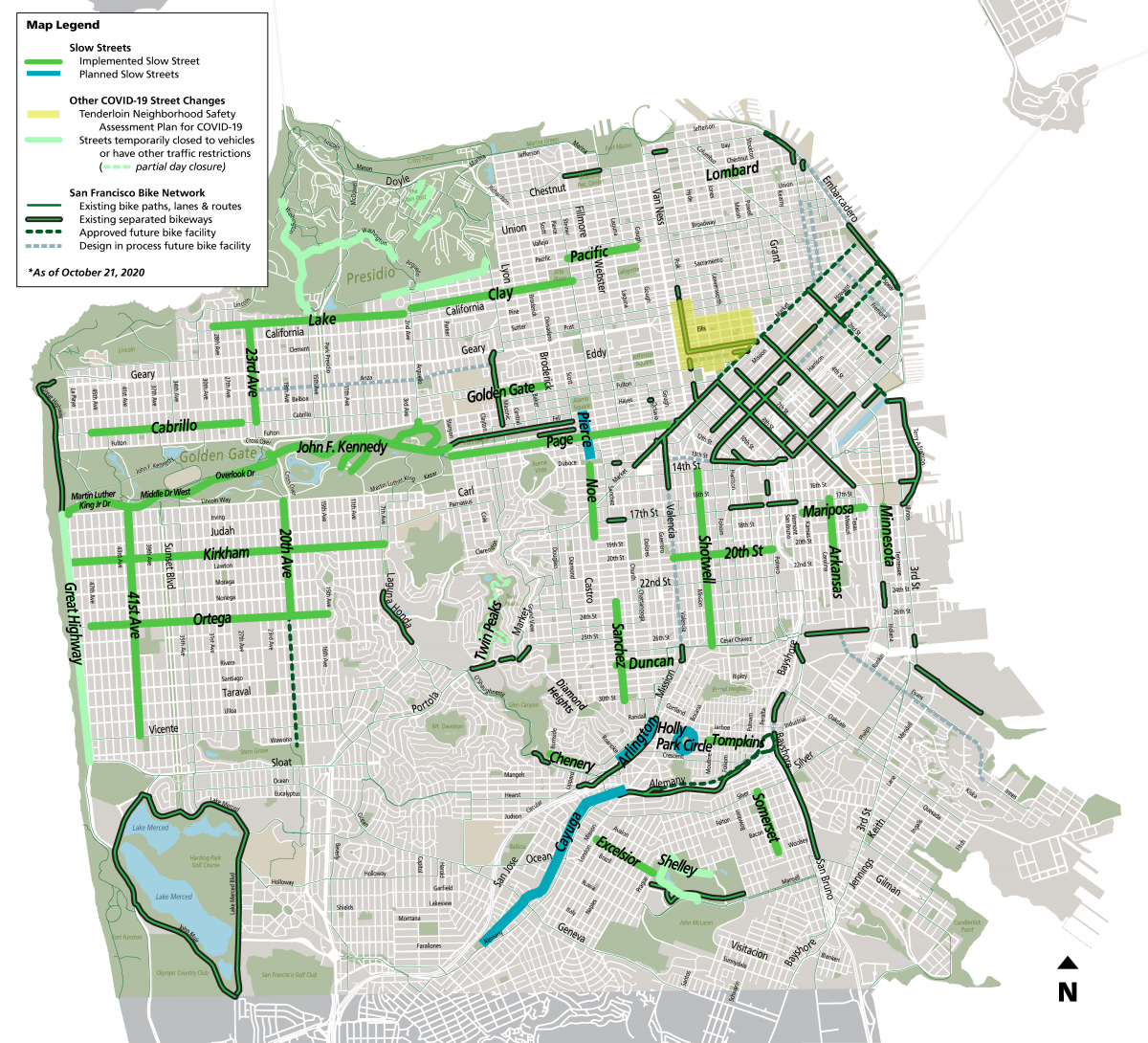 Map of Slow Streets and other COVID-19 Street Changes. For additional details on what we are doing in the Tenderloin, visit our blog.
The SFMTA's Slow Streets program is designed to limit through traffic on certain residential streets and allow them to be used as a shared space for people traveling by foot and by bicycle. Throughout the city, nearly thirty corridors have been implemented as a Slow Street. On these Slow Streets, signage and barricades have been placed to minimize through vehicle traffic and prioritize walking and biking. The goal of the Slow Streets program is to provide more space for socially distant essential travel and exercise during the COVID-19 pandemic.
In order to support further reopening of the economy, we need to make San Francisco more welcoming and accessible for people who want to travel on foot, bicycle, wheelchair, scooter, skateboard or other forms of micromobility. Slow Streets are critical infrastructure that attracts users of the full array of neighborhood demographics—including children, older adults, people with disabilities and people of color.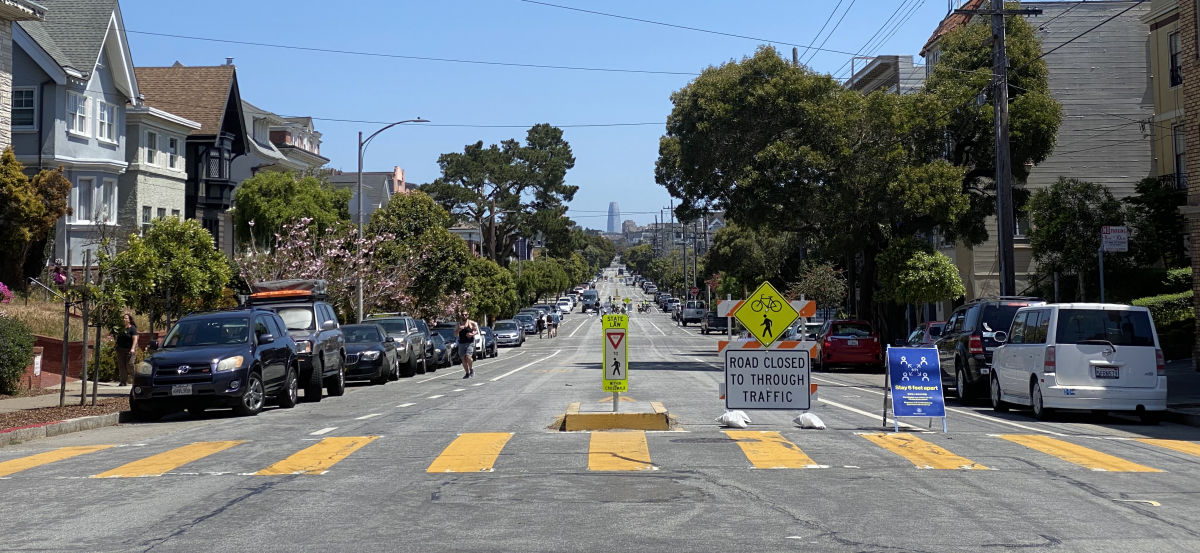 The following corridors have been implemented as Slow Streets:
20th Avenue from Lincoln Boulevard to Ortega Street

20th Street from Valencia Street to Potrero Avenue

23rd Avenue from Lake to Cabrillo streets

41st Avenue from Lincoln Way to Vicente Street

Arkansas from 23rd to 17th streets

Arlington from Roanoke to Randall streets

Cabrillo Street from 45th to 25th avenues

Chenery Street from Burnside Avenue to Lippard Avenue

Clay Street from Arguello Boulevard to Steiner Street

Duncan from Guerrero to Sanchez streets

Excelsior Avenue from London to Munich streets

Golden Gate Avenue from Masonic Avenue to Broderick Street

Kirkham Street from 7th Ave to Great Highway

Lake Street from 28th to Second avenues

Lombard between Mason and Powell streets

Mariposa Street from Kansas to Mississippi streets

Minnesota from Mariposa to 22nd streets

Noe Street from 18th to Duboce streets

Ortega Street from 47th to 15th avenues

Pacific Avenue from Steiner to Gough streets

Page Street from Stanyan to Gough streets

Sanchez Street from 23rd to 30th streets

Shotwell Street from Cesar Chavez to 14th Street

Somerset Street from Silver Avenue to Woolsey Street

Tompkins Avenue from Andover to Putnam streets
Other streets that have been approved as Slow Streets but not yet implemented due to a need for additional design/outreach include Cayuga Avenue, Holly Park Circle, and Pierce Street.
The Next Phase of Slow Streets
Since we started the Slow Streets program in April, through our limited public outreach we've heard from many residents and businesses about the program. We received over 6,500 responses to our online questionnaire and over 1,100 emails with your suggestions for additional streets to consider in the program. Thank you for sharing your thoughts with us.
However, those methods of online engagement were not reaching all San Franciscans equally-- there were big parts of the city that we just didn't hear from. So for Phase 4, we're seeking out those neighborhoods to determine where Slow Streets could work. We've identified several neighborhood groups that we'll be working with to develop future Slow Streets corridors.
For More Information on Slow Streets
We would love your feedback! Please complete our Slow Streets Questionnaire. 
Slow Streets Questionnaire - Chinese
Slow Streets Questionnaire - Spanish