Project Introduction
We would love your feedback! To comment on the program or suggest new corridors, please complete our Slow Streets Questionnaire.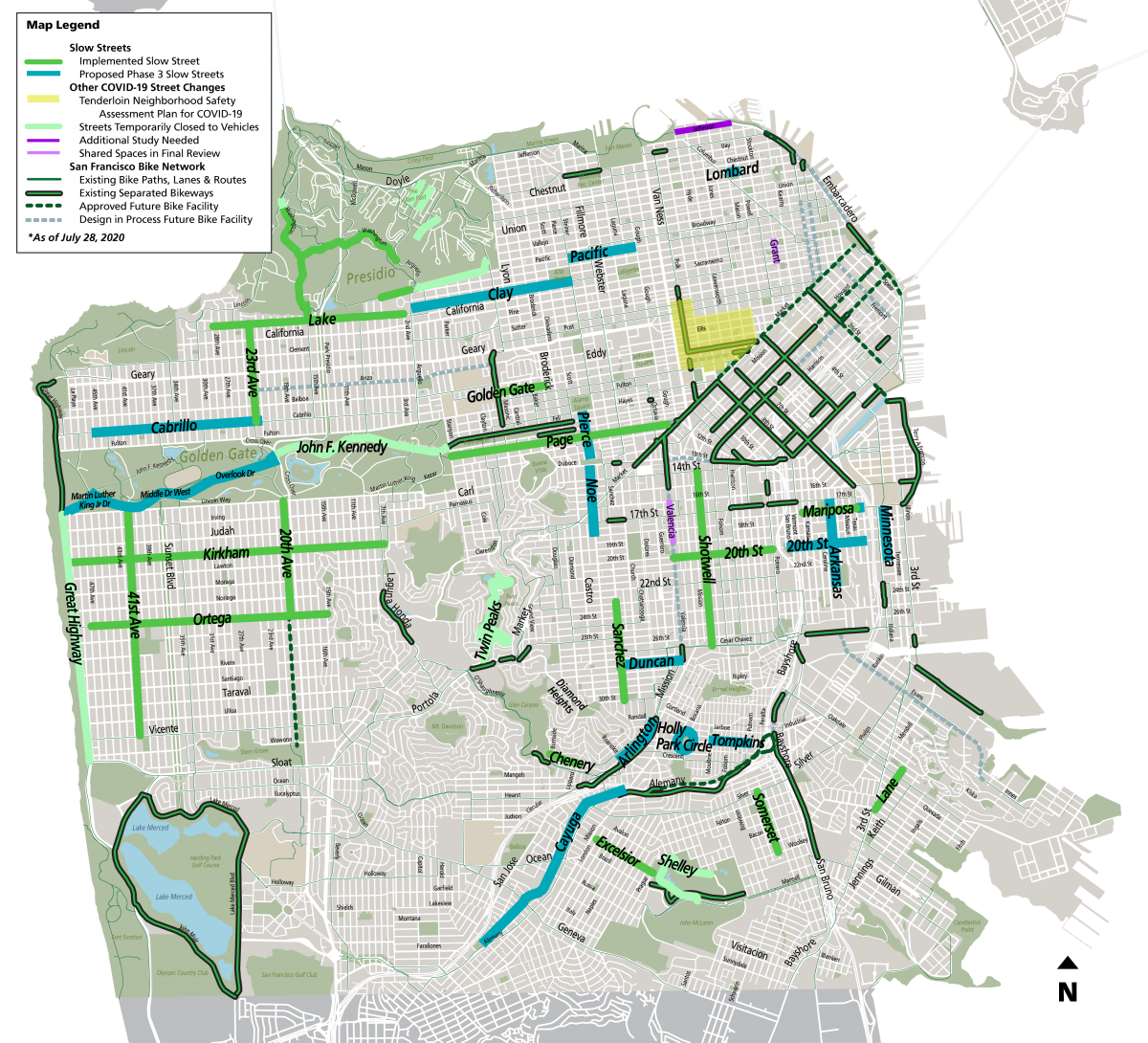 Map of Slow Streets and other COVID-19 Street Changes. For additional details on what we are doing in the Tenderloin, visit our blog.
In order to support further reopening of the economy, we need to make San Francisco more welcoming and accessible for people who want to travel on foot, bicycle, wheelchair, scooter, skateboard or other forms of micromobility. Slow Streets are critical infrastructure that attracts users of the full array of neighborhood demographics—including children, older adults, people with disabilities and people of color.
The SFMTA's Slow Streets program is designed to limit through traffic on certain residential streets and allow them to be used more as a shared space. Throughout the city, over thirty corridors have been planned or implemented as a Slow Street. Our crews have added signage to these streets to help minimize through vehicle traffic and prioritize walking/biking. The goal is to provide more space for social distancing during essential travel.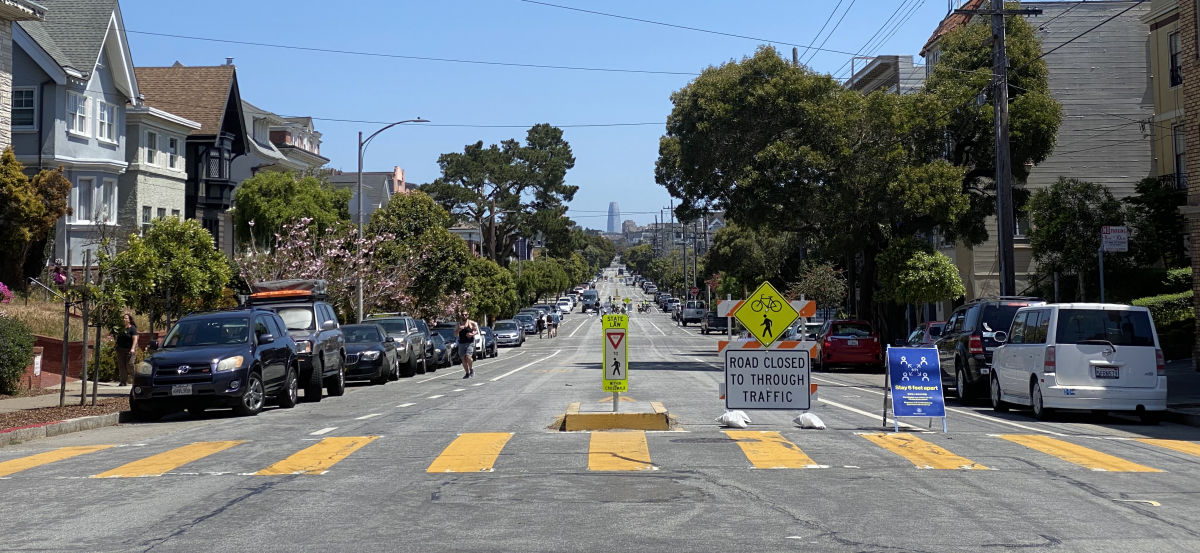 What do Slow Streets look like?
Simple tools such as temporary signs and cones will be used to divert through traffic and slow down overall speeds. The California Vehicle Code states that motor vehicles still have right-of-way in the street, but these simple strategies are designed to improve safety for people who are walking or jogging. Access to driveways and deliveries will be maintained for residents and businesses. We will also post signs about current health orders like maintaining social distance.
Why are there intersections with missing signage or barriers along this Slow Street?
Unfortunately, due to the current health crisis, there are limited materials available at this time. We are actively acquiring more signs/barricades and are working to balance both expanding the Slow Streets program and filling in gaps in the network with limited resources.  
To conserve materials while implementing a program across the city, we're initially installing signs/barricades at most -- but not all -- intersections along Slow Streets. We are also looking into new types of barriers that will stand up to the wear and tear that can occur on outdoor signage. We thank you for your patience!
What if I see damaged or missing signs?
You can email our Slow Streets project team or send us a message via Twitter @SFMTA_Muni, if possible please include a photo and the intersection in question.
Where are Slow Street corridors now, and where they might be added next?
Implemented:
20th Avenue from Lincoln Boulevard to Ortega Street

20th Street from Valencia Street to Potrero Avenue

23rd Avenue from Lake to Cabrillo streets

41st Avenue from Lincoln Way to Vicente Street

Chenery Street from Burnside Avenue to Lippard Avenue

Excelsior Avenue from London to Munich streets

Golden Gate Avenue from Masonic Avenue to Broderick Street

Kirkham Street from 7th Ave to Great Highway

Lake Street from 28th to Second avenues

Lane Street from Oakdale Avenue to Third Street

Lombard between Mason and Powell streets

Mariposa Street from Kansas to Texas streets

Ortega Street from 47th to 15th avenues

Page Street from Stanyan to Gough streets

Sanchez Street from 23rd to 30th streets

Shotwell Street from Cesar Chavez to 14th Street

Somerset Street from Silver Avenue to Woolsey Street
Phase Three Candidates:
20th Street from San Bruno to Pennsylvania avenues

Arkansas from 23rd to 17th streets

Arlington from Roanoke to Randall streets

Cabrillo Street from 45th to 23rd avenues

Cayuga Avenue from Naglee Avenue to Rousseau Street

Clay Street from Arguello Boulevard to Steiner Street

Duncan from Valencia to Sanchez streets 

Holly Park Circle

Mariposa from Texas to Mississippi streets

Minnesota from Mariposa to 22nd streets

Noe Street from 18th to Duboce streets

Pacific Avenue from Steiner to Gough streets

Pierce from Hayes to Duboce streets

Tompkins Avenue from Andover to Putnam streets
Do Slow Streets work everywhere?
Unfortunately, not all streets are good candidates for the Slow Streets program. Streets with traffic signals, one-ways, streets containing Muni lines, and emergency service corridors all limit our ability to implement a Slow Street. We are however using many of our other tools such as Shared Spaces, the bicycle network, Golden Gate Park and the Great Highway/Walkway to have a broader network that spans the city.  We are working with other city agencies to provide many different forms of outdoor space for all neighborhoods. We realize that outdoor space is even more important during these trying times and want to maximize our limited resources.
What is happening inside Golden Gate Park
On September 18th, 2020, new expansions to the Golden Gate Park Slow Streets program were opened up to the public. Walkers, bikers, runners and skaters can now enjoy a nearly car-free route from the east end of Golden Gate Park to the ocean. This is part of a collaboration between the SFMTA and San Francisco Recreation and Park Department.
Golden Gate Park Slow Streets begin at Stanyan Street and John F. Kennedy Drive East on the park's eastern tip, connecting with the stretch of JFK from Kezar Drive to Transverse Drive. The route then continues onto Overlook Drive, then Middle Drive and  Martin Luther King Jr. Drive to Ocean Beach, where it connects with the Great Highway, which has also been closed due to the pandemic, creating a continuous, family-friendly path from the Panhandle to the San Francisco Zoo.
More information on Golden Gate Park and how to access your favorite spot, attraction or museum can be found here.
What is happening in the Tenderloin and SoMa?
The Tenderloin Plan is part of a broader citywide effort that seeks to address and improve conditions in the neighborhood, with an initial focus on the 13 blocks in the Tenderloin that are most highly impacted. Implementation of the Plan will be iterative and informed by ongoing community input, with a goal of expanding to the other 36 blocks in the Tenderloin not specifically identified in the Plan.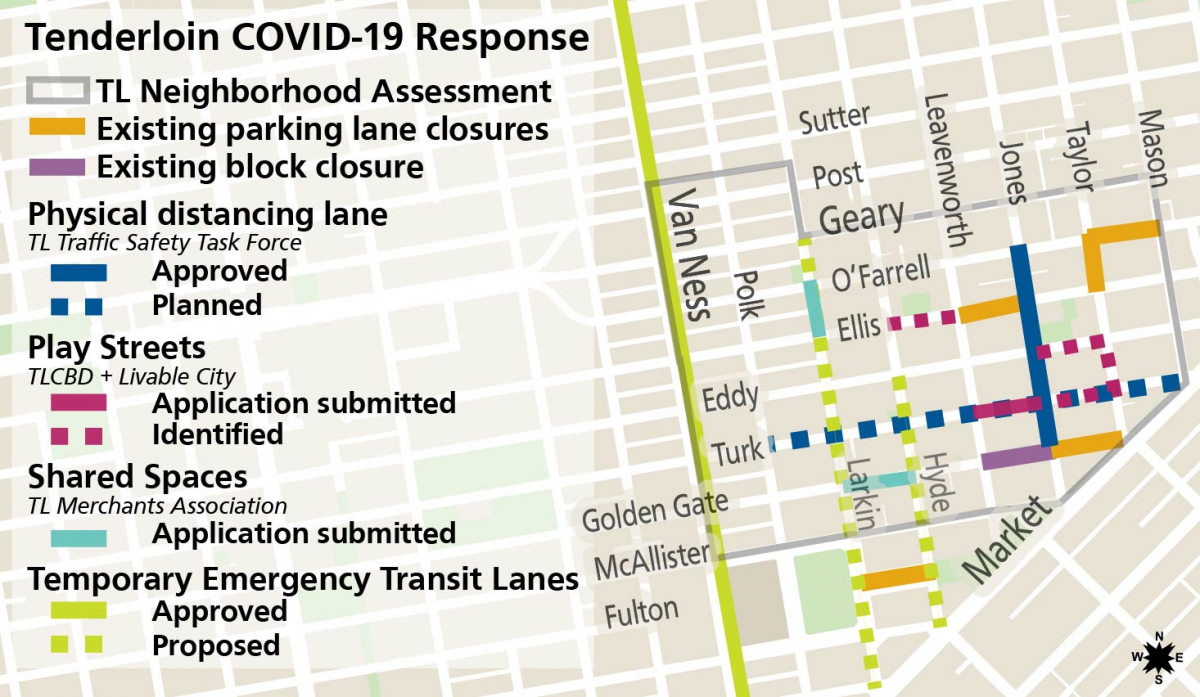 Map highlighting multi-agency and community efforts to repurpose streets space in the Tenderloin. 
The Plan has eight main goals:
Address encampments by offering safe sleeping alternatives to unsheltered individuals.
Facilitate social distancing compliance by closing streets and parking.
Ensure that housed residents in the Tenderloin have safe passage and access to their homes and businesses.
Improve access to hygiene station, restrooms and garbage disposal for unhoused individuals.
Address food and water insecurity for housed and unhoused residents alike.
Increase police presence in the neighborhood to focus on public safety concerns.
Increase health services in the neighborhood.
Increased education and outreach to residents and businesses through a 'care ambassador' program.
We are also focusing on the South of Market neighborhood to improve outdoor space with the use of quick-build projects, an improved bicycle network and Shared Spaces. The City is making it easier for businesses to use outdoor space. It is safer to do business outside during the coronavirus outbreak. Businesses can reopen or expand into the sidewalk and parking lane while we keep our residents healthy and safe.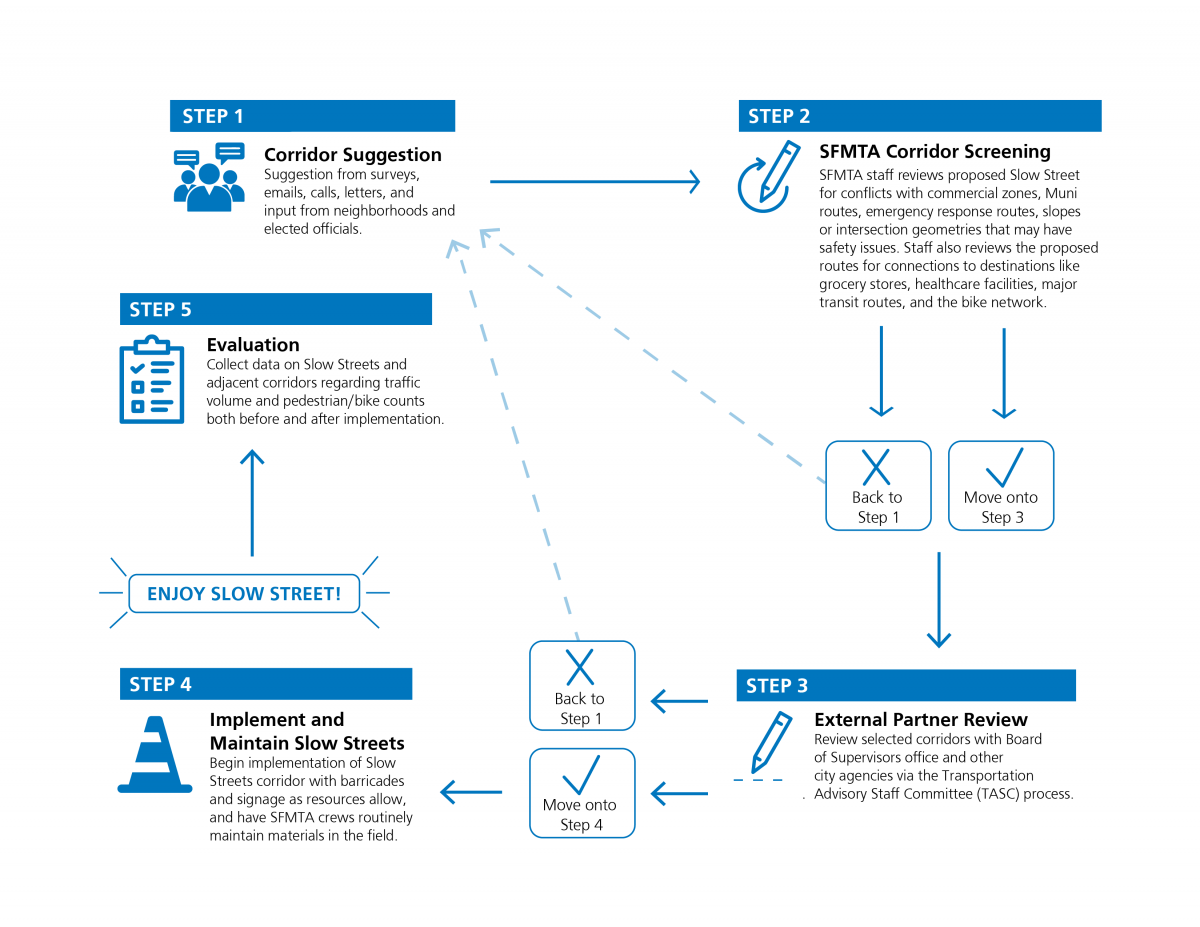 Why are these streets being restricted to local access only?
Slow Streets are one part of the city's efforts to reduce crowding by creating more space for those traveling on foot or by bicycle while still making sure people who live on the streets have full access.
How can businesses report concerns about impacts to parking?
There are no changes to parking proposed as part of the Slow Streets initiative. Slow Streets are designated with temporary signage and barriers aimed to reduce through vehicle traffic. We anticipate there will be no impact on parking for businesses/residents on or near Slow Streets. If you have specific concerns, please contact us at the email contacts below.  
Does this mean I can have a socially distant block party or BBQ on a Slow Street?
No, Slow Streets are intended to provide priority pedestrian and bicycle corridors for essential travel in San Francisco. While outdoor exercise is permitted under the Shelter in Place ordinance, these are not locations for public gatherings.
How will enforcement over parking and resident access, including disabled parking access, be affected?
There is no change to parking or resident access with these street restrictions. Local vehicle traffic will continue to be accommodated on all Slow Streets, and no changes to disabled parking are proposed. Due to other public safety staffing commitments, these streets are designed to be self-enforcing.
How can I provide feedback on the program?
We would love to hear your feedback on the Slow Street Program. To provide feedback, please take our questionnaire.
What else is SFMTA doing in response to COVID-19?
We have adapted many of our services during this public health crisis. For updates on everything from changes to Muni lines, fees/fines, parking regulations and more, visit SFMTA.com/COVID1