Project Introduction
Slow Streets Update (04/07/2021): 
The SFMTA Board of Directors approved a handful of the recommended Phase 4 Slow Streets at the April 6, 2021, Board meeting. Further outreach will be conducted on the streets from the Phase 4 recommendations that were not voted on at the Board meeting. The Slow Streets team will return at a later Board meeting to discuss these remaining streets from Phase 4 that have not been voted on yet. For more information on which streets were approved and will be implemented, please see the list below on this webpage of the streets that are implemented, planned, and pending further outreach.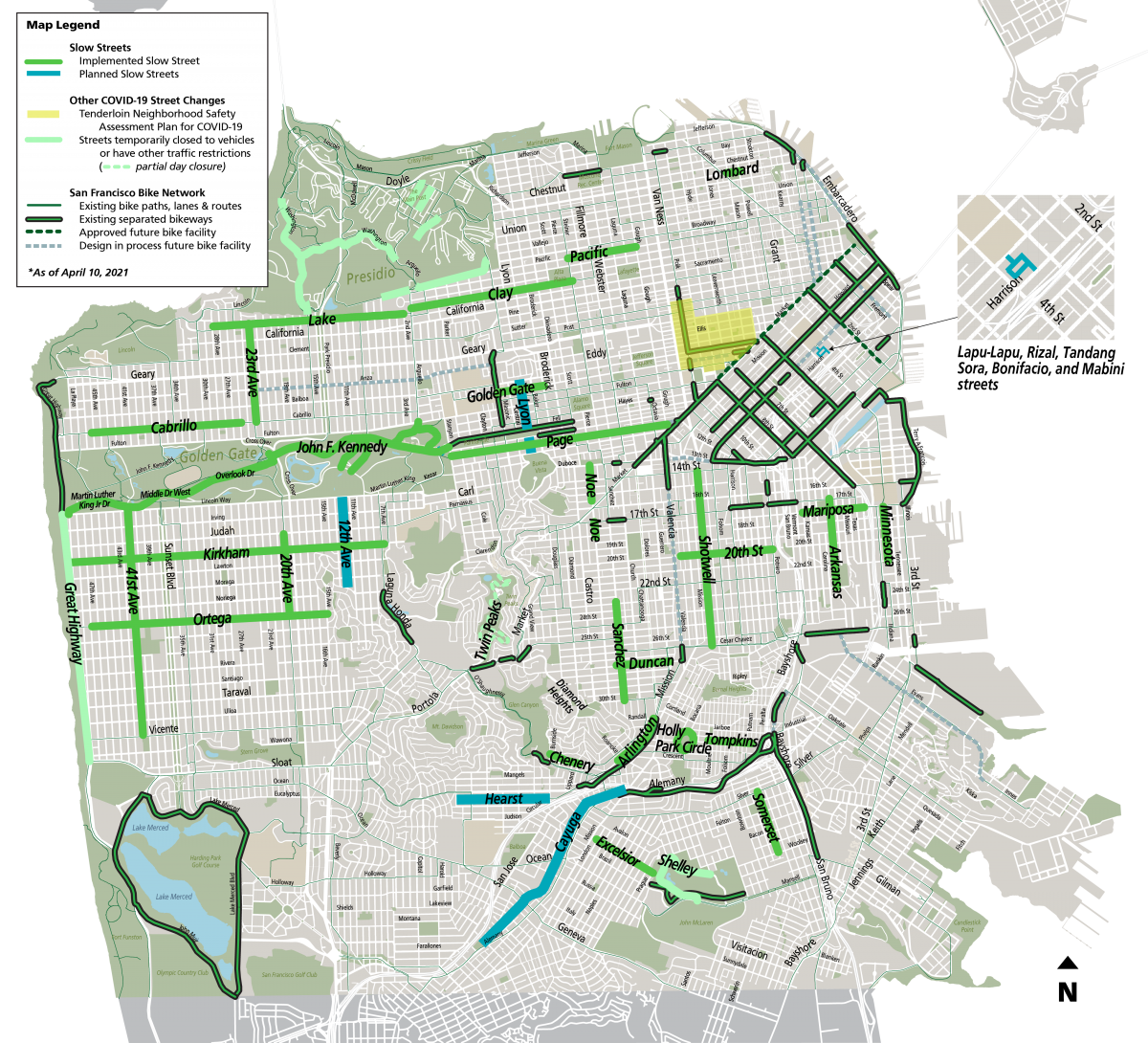 Map of Slow Streets and other COVID-19 Street Changes. For additional details on what we are doing in the Tenderloin.
The SFMTA's Slow Streets program is designed to limit through traffic on certain residential streets and allow them to be used as a shared space for people traveling by foot and by bicycle. Throughout the city, nearly thirty corridors have been implemented as a Slow Street. On these Slow Streets, signage and barricades have been placed to minimize through vehicle traffic and prioritize walking and biking. The goal of the Slow Streets program is to provide more space for socially distant essential travel and exercise during the COVID-19 pandemic.
In order to support further reopening of the economy, we need to make San Francisco more welcoming and accessible for people who want to travel on foot, bicycle, wheelchair, scooter, skateboard or other forms of micromobility. Slow Streets are critical infrastructure that attracts users of the full array of neighborhood demographics—including children, older adults, people with disabilities and people of color.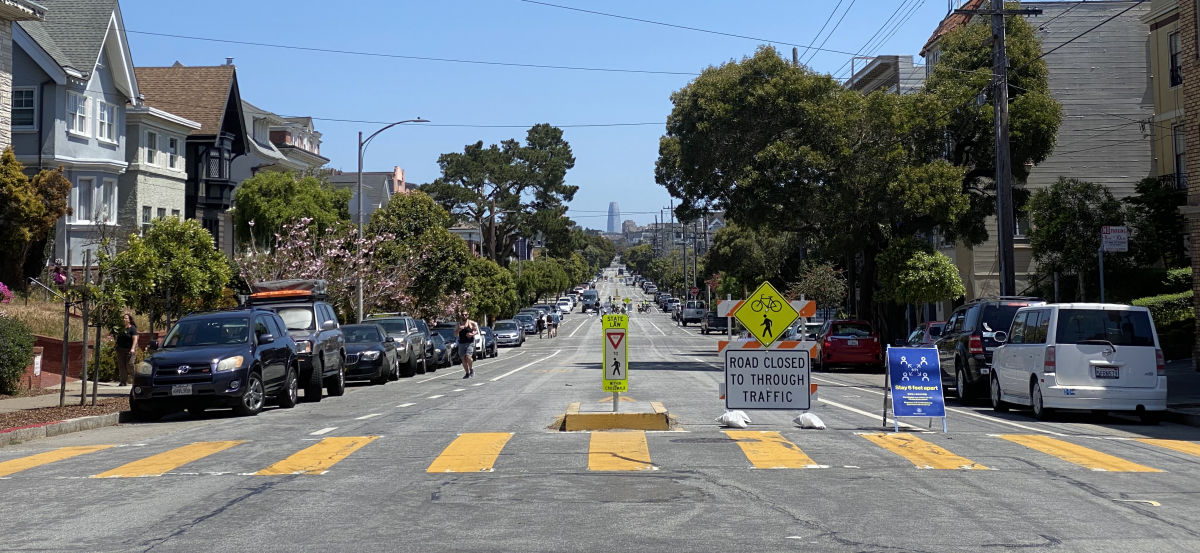 The following corridors have been implemented as Slow Streets:
20th Avenue from Ortega to Judah streets

20th Street from Lexington Street to Potrero Avenue

23rd Avenue from Lake to Cabrillo streets

41st Avenue from Lincoln Way to Vicente Street

Arkansas from 23rd to 17th streets

Arlington from Roanoke to Randall streets

Cabrillo Street from 45th to 25th avenues

Chenery Street from Burnside Avenue to Lippard Avenue

Clay Street from Arguello Boulevard to Steiner Street

Duncan from Guerrero to Sanchez streets

Excelsior Avenue from London to Munich streets

Golden Gate Avenue from Masonic Avenue to Broderick Street

Holly Park Circle

Kirkham Street from 7th Ave to Great Highway

Lake Street from 28th to Second avenues

Lombard between Mason and Powell streets

Mariposa Street from Kansas to Mississippi streets

Minnesota from Mariposa to 22nd streets

Noe Street from Duboce to Beaver streets and 17th to 18th streets

Ortega Street from 47th to 15th avenues

Pacific Avenue from Steiner to Gough streets

Page Street from Stanyan to Gough streets

Sanchez Street from 23rd to 30th streets

Shotwell Street from Cesar Chavez to 14th Street

Somerset Street from Silver Avenue to Woolsey Street

Tompkins Avenue from Andover to Putnam streets
Other corridors that have been approved as Slow Streets and will be installed in the coming weeks include:
12th Avenue from Lincoln way and Noriega Street

Cayuga Avenue from Naglee Avenue to Rousseau Street

Hearst Avenue from Ridgewood Avenue and Baden Street

Lapu Lapu/Rizal/Tandang Sora/Bonafacio/Mabini streets from Folsom and Harrison streets

Lyon Street from Turk and Haight streets
Other potential Slow Streets where we're still collecting community feedback include:
Armstrong Avenue/Kalmanovitz Street/Bitting Avenue from Newhall and Newhall streets

Hollister Avenue from Third and Haes streets

Leland from Hahn and Alpha streets

Mendell Street between Newcomb and Evans avenues

Scotia/Thornton/Thomas avenues between Silver Avenue and Griffith Street
Permanent Slow Streets
Since we started the Slow Streets program in April 2020 as a COVID response, we've heard very strong support for many corridors to remain Slow Streets even beyond the pandemic. Every Slow Streets corridor is being evaluated this spring to determine what's working (and what's not) and understand resident support for permanence. We will present these findings to the SFMTA Board of Directors in July 2021. 
For more information please visit our project webpage for permanent Slow Streets.
For More Information on Slow Streets
We would love your feedback! Please complete our Slow Streets Questionnaire. 
Slow Streets Questionnaire - Chinese
Slow Streets Questionnaire - Spanish
Slow Streets Questionnaire - Tagalog 
---
Funding
This program was made possible in part by Proposition K Sales Tax dollars provided by the San Francisco County Transportation Authority.