Project Introduction
We would love your feedback! To comment on the program or suggest new corridors, please complete our Slow Streets Questionnaire.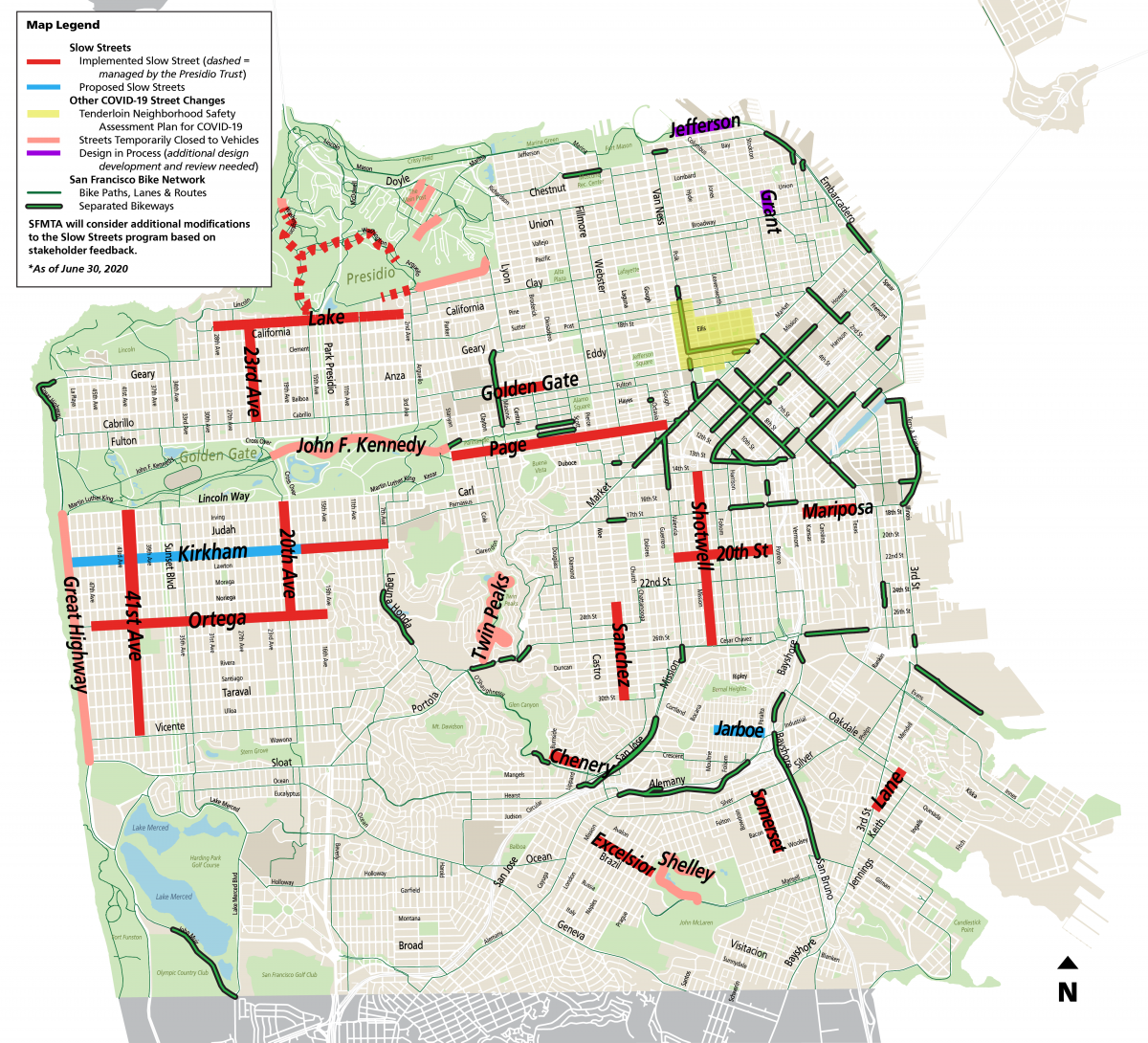 The SFMTA's new Slow Streets program is designed to limit through traffic on certain residential streets and allow them to be used more as a shared space for foot and bicycle traffic.
With Muni service temporarily reduced during the COVID-19 health crisis, many San Francisco residents need to walk and take other modes of transportation to make essential trips. However, sometimes it is difficult to maintain 6' of social distance on many sidewalks, park paths, and bikeways. Because of this, many pedestrians are choosing to walk in the street, exposing themselves to swiftly moving vehicle traffic.
Throughout the city, twenty corridors have been planned or implemented as a Slow Streets. Beginning immediately and rolling out across the network over the following weeks, our crews will add signage to these streets help minimize through vehicle traffic and prioritize walking/biking. The goal is to provide more space for social distancing during essential travel.
What will Slow Streets look like?
Simple tools such as temporary signs and cones will be used to divert through traffic and slow down overall speeds. The California Vehicle Code states that motor vehicles still have right-of-way in the street, but these simple strategies are designed to improve safety for people who are walking or jogging. Access to driveways and deliveries will be maintained for residents and businesses. We will also post signs about current health orders like maintaining social distance.
Why are there intersections with missing signage or barriers along this Slow Street?
Unfortunately, due to the current health crisis, there are limited materials available at this time. We are actively acquiring more signs/barricades and are working to balance both expanding the Slow Streets program and filling in gaps in the network with limited resources.  
To conserve materials while implementing a program across the city, we're initially installing signs/barricades at most -- but not all  -- intersections along Slow Streets. Thanks for your patience!
When will these changes go into effect?
Starting immediately, we hope to implement 2-3 Slow Streets corridors per week, iterating as needed to achieve the objectives of the program. We will continue to monitor the use of Slow Streets to minimize impacts on surrounding streets and welcome feedback from the community. For most Slow Streets, the rollout will be iterative based on our staff resources - approximately 8 blocks at a time - and may not initially cover the entire length shown on the map. Careful monitoring will be provided to ensure the transportation benefits of Slow Streets are not undermined by crowding and congregation. Please see the list below of slow streets already implemented and those that are planned: 
Implemented:
20th Avenue from Lincoln Boulevard to Ortega Street

20th Street from Valencia Street to Potrero Avenue

23rd Avenue from Lake to Cabrillo streets

41st Avenue from Lincoln Way to Vicente Street

Chenery Street from Burnside Avenue to Lippard Avenue

Excelsior Avenue from London to Munich streets

Golden Gate Avenue from Masonic Avenue to Broderick Street

Kirkham Street from 18th to Seventh avenues

Lake Street from 28th to Second avenues

Lane Street from Oakdale Avenue to Third Street

Mariposa Street from Kansas to Texas streets

Ortega Street from 47th to 15th avenues

Page Street from Stanyan to Gough streets

Sanchez Street from 23rd to 30th streets

Shotwell Street from Cesar Chavez to 14th Street

Somerset Street from Silver Avenue to Woolsey Street
Planned: 
Jarboe Avenue from Moultrie Street to Peralta Avenue

Kirkham Street from Great Highway to 18th Avenue
How were the Slow Streets corridors chosen?
These are lower-traffic residential streets that connect neighbors to essential services in the absence of Muni service. They have been vetted for feasibility and exclude Muni routes and major emergency traffic corridors. The identified streets are in neighborhoods that are especially affected by Muni service reductions, are designated bike routes that already serve as key connections, and lack conflicts with commercial streets or Muni routes.
Why are these streets being restricted to local access only?
Slow Streets are one part of the city's efforts to reduce crowding by creating more space for those traveling on foot or by bicycle while still making sure people who live on the streets have full access.
How can businesses report concerns about impacts to parking?
There are no changes to parking proposed as part of the Slow Streets initiative. Slow Streets are designated with temporary signage and barriers aimed to reduce through vehicle traffic. We anticipate there will be no impact on parking for businesses/residents on or near Slow Streets. If you have specific concerns, please contact us at the email contacts below.  
Does this mean I can have a socially distant block party or BBQ on a Slow Street?
No, Slow Streets are intended to provide priority pedestrian and bicycle corridors for essential travel in San Francisco. While outdoor exercise is permitted under the Shelter in Place ordinance, these are not locations for public gatherings.
How will enforcement over parking and resident access, including disabled parking access, be affected?
There is no change to parking or resident access with these street restrictions. Local vehicle traffic will continue to be accommodated on all Slow Streets, and no changes to disabled parking are proposed. Due to other public safety staffing commitments, these streets are designed to be self-enforcing.
How can I provide feedback on the program?
We would love to hear your feedback on the Slow Street Program. To provide feedback, please take our questionnaire.
What else is SFMTA doing in response to COVID-19?
We have adapted many of our services during this public health crisis. For updates on everything from changes to Muni lines, fees/fines, parking regulations and more, visit SFMTA.com/COVID19