Surveys on Muni: Better Understanding Our Riders' Needs
Tuesday, October 11, 2016
Update: As of February, the second round of these surveys has begun and is expected to be finished in May.
At its inception, Muni was dubbed the "People's Railway" for a reason: Making Muni the best system it can be starts with knowing the needs of the people it serves. This ongoing endeavor helps shape our outreach efforts, service changes and regular surveys.
This fall, we have blue-vested surveyors out at Muni stops and on Muni vehicles interviewing customers. It's part of our ongoing effort to learn what we need to improve service in the ways that matter most to our riders.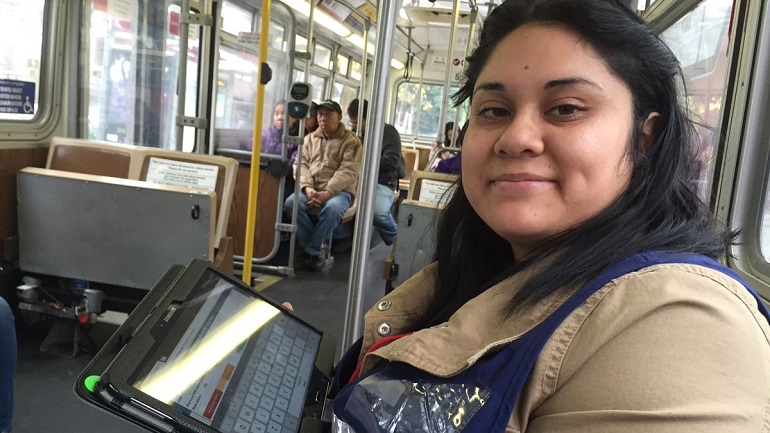 Our surveyors are on Muni to help us better understand our riders' needs. Photo: @cynthia_says / Twitter
Using tablet computers to record information, our surveyors ask customers voluntary questions about their trip: where it starts and ends, whether they had to transfer (and where), how long they waited at the stop and the type of fare they paid.
This survey round, which started last month, follows an initial round you also may have noticed in recent months. That round didn't involve interviews, but surveyors collected trip data by handing swipeable cards to participating customers, which were used to log their trip locations using GPS.
The current survey includes interview questions to help us better understand more about the people who ride Muni. These include questions about household car ownership, age, gender, ethnicity, physical disabilities, employment and household income. All survey responses are kept confidential.
These kinds of details provide insight into how and why people use Muni. And it's not just about knowing where to target different types of service improvements. This info guides our efforts to make the entire Muni system more accessible, whether it be by improving access to our affordable fare programs, better accommodating people with physical disabilities or providing useful information to help all customers navigate the city.
We're also working to ensure the survey responses we collect represent everyone who depends on Muni. Many of our surveyors speak Spanish, Cantonese and Mandarin. If a surveyor doesn't speak a customer's language, the surveyor will ask for their phone number to facilitate a survey by phone later.
In addition to the valuable insights these surveys provide, they meet reporting requirements for transit agencies around the country set by the Federal Transit Administration. This year, we're also using a new survey system standardized for the region by the Metropolitan Transportation Commission, which will make it easier to study the findings and compare them to those from other transit agencies in the Bay Area.
The surveyors will be on Muni this fall until about Thanksgiving, and they'll return to complete the survey in the spring.