Tuesday, January 14, 2020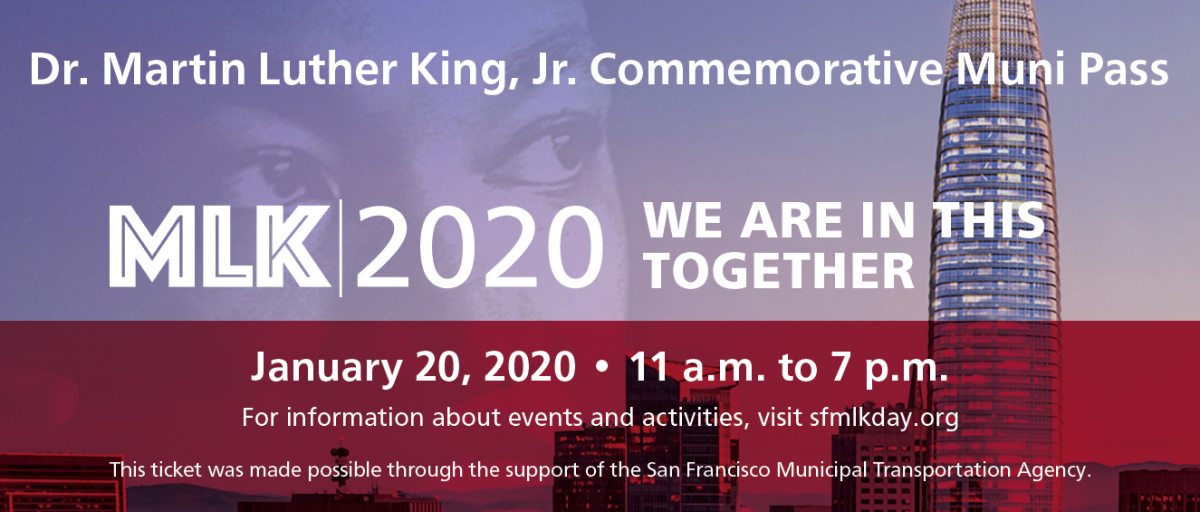 During the week of Jan. 13 to 20, residents of the Bay Area will come together to honor the legacy of Nobel Peace Prize recipient Dr. Martin Luther King Jr. with a week of community and service. The weeklong celebration will culminate with a march and faith lectures Monday, Jan. 20. For a complete listing of free activities and programs taking place at venues throughout San Francisco, please visit MLK2020 Schedule.
This year's 1.5-mile march begins at 11 a.m. and crosses the Lefty O'Doul Bridge, stopping at the Willie Mays Plaza at Oracle Arena to commemorate the crossing of the Edmund Pettus Bridge in Selma – a symbol of the civil rights movement. SFMTA participants are encouraged to walk together as a team and arrive early at the Caltrain Station, 700 4th Street.
At the conclusion of the march, the San Francisco Interfaith Council will bring together the region's faith leaders to commemorate Dr. King and to lead a spiritual reflection of his message.
Other celebratory events include MLK King and Faith Lectures, Black & Brown Comix Arts Festival, and the Health & Wellness Festival. For the complete listing of event times and locations, visit the NorcalMLK Foundation website.
The Time for Justice
On March 18, 1956, the day before he was to stand trial over breaking the state of Alabama's anti-boycott law over the Montgomery Bus Boycott, a then 27-year-old Baptist minister Martin Luther King, Jr. spoke about an 'obnoxious' peace during a sermon – the basis for this year's theme, The Time for Justice. More information about that historical event can be found at Norcal MLK2020.
Getting there
Each year SFMTA plays the vital role in connecting the public to San Francisco's MLK events, signaling a strong commitment to the principles and legacy of Dr. King. On Monday, Jan. 20, the SFMTA will be partnering with the Northern California Dr. Martin Luther King, Jr. Community Foundation to provide free commemorative MLK passes, complimentary shuttle service to events and support staff for the march/parade.
You can register for the Muni passes for the march and interfaith commemoration address at the Yerba Buena Gardens Esplanade Stage through MLK2020 Muni Commemorative Passes. Reserve your complimentary tickets now and pick them up at San Francisco's Mayor's Office of Neighborhood Services at City Hall by Friday, Jan. 17. Cable Car service is not included.
For those residing on the peninsula, consider catching the Caltrain NorcalMLK Celebration Train into the city in honor of the legacy begun by the late Coretta Scott King.
Live in North Bay? Take the MLK2020 Golden Gate Freedom Ferry courtesy of the Golden Gate Transit system who has provided the commemorative service since 2004.
And check BART for special service that day as well.