Track Work Through the Years
Wednesday, April 26, 2023
San Francisco's unique rail system brings together 150-year-old cable cars, historic electric streetcars of all shapes and sizes and modern light rail vehicles.  
Many trades across the SFMTA play a critical role in keeping the system moving. This month we look back in time at the work of one such group, the Track Department. While the lines and technologies of SF's street railway have changed over the years, some of the base-level work, tools and skills needed to maintain our tracks are the same today as they were over 100 years ago. 
A decade before Muni was founded, the United Railroads Company (URR) dominated San Francisco's transit system. URR owned and operated nearly 400 miles of street and cable car track all over the city. To keep this network in service, their track department was fully equipped to handle any possible construction or repair job.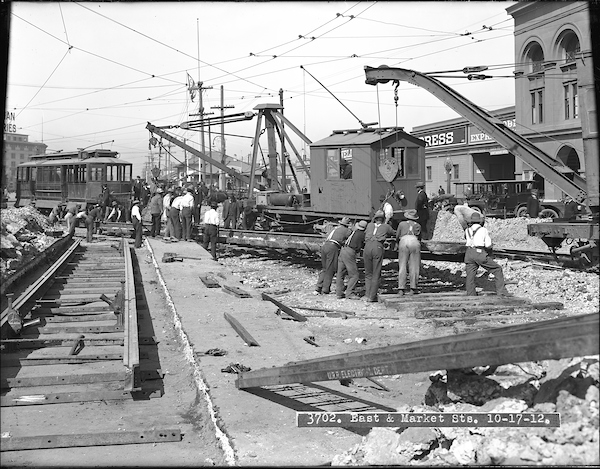 All hands were on deck for this job outside the Ferry Building in 1912. Here, two special work streetcars equipped with cranes lift an entire section of track in one piece. 
The Municipal Railway was built in 1912 and expanded over the next 16 years to include multiple lines and two dedicated tunnels. The city relied on its own team to maintain this system on a daily basis.  
Following World War II, many streetcar lines were converted to bus routes, but Muni retained the J, K, L, M, and N streetcar lines. With those core lines still in service, the work of the Track Dept. continued.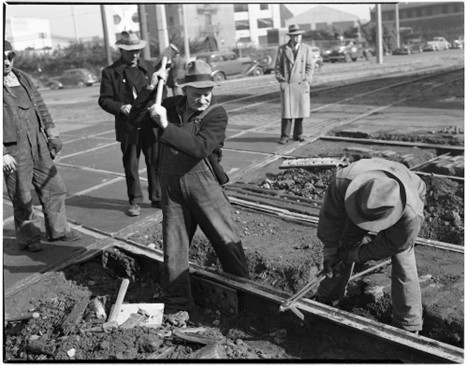 Taken on January 31, 1947, this photo shows Muni track workers Pat Kellerher and Con Maloney at Division and Bryant Streets.
In the 1970s, construction of the Market Street Subway transformed the city's streetcar lines into the Muni Metro system. Miles of tracks were rebuilt to handle light rail vehicle (LRV) traffic, and an automatic train control system was introduced for subway operations.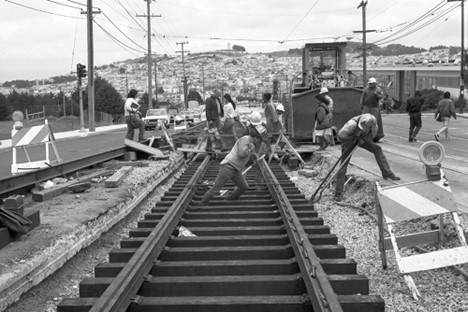 In this 1977 shot, a crew replaces K Line tracks on Ocean Avenue just outside Lick-Wilmerding High School.
Today the SFMTA Track Department is primarily responsible for maintaining and repairing our rail infrastructure. Outside of this, they take on other jobs moving cable cars to and from the cable car carpentry shop, hauling heavy equipment in the subway, and supporting the work of the teams that maintain and repair our stations. With the skilled labor, know-how, and equipment to do a variety of heavy jobs, the department plays a critical role in keeping Muni moving.
Whether it's 1903 or 2023, track work is a team effort. This photo was taken during the March 2023 Fix-It Week when the Track team replaced sections of rail in the Van Ness Crossover.