Traffic Collisions have Decreased on San Francisco's Slow Streets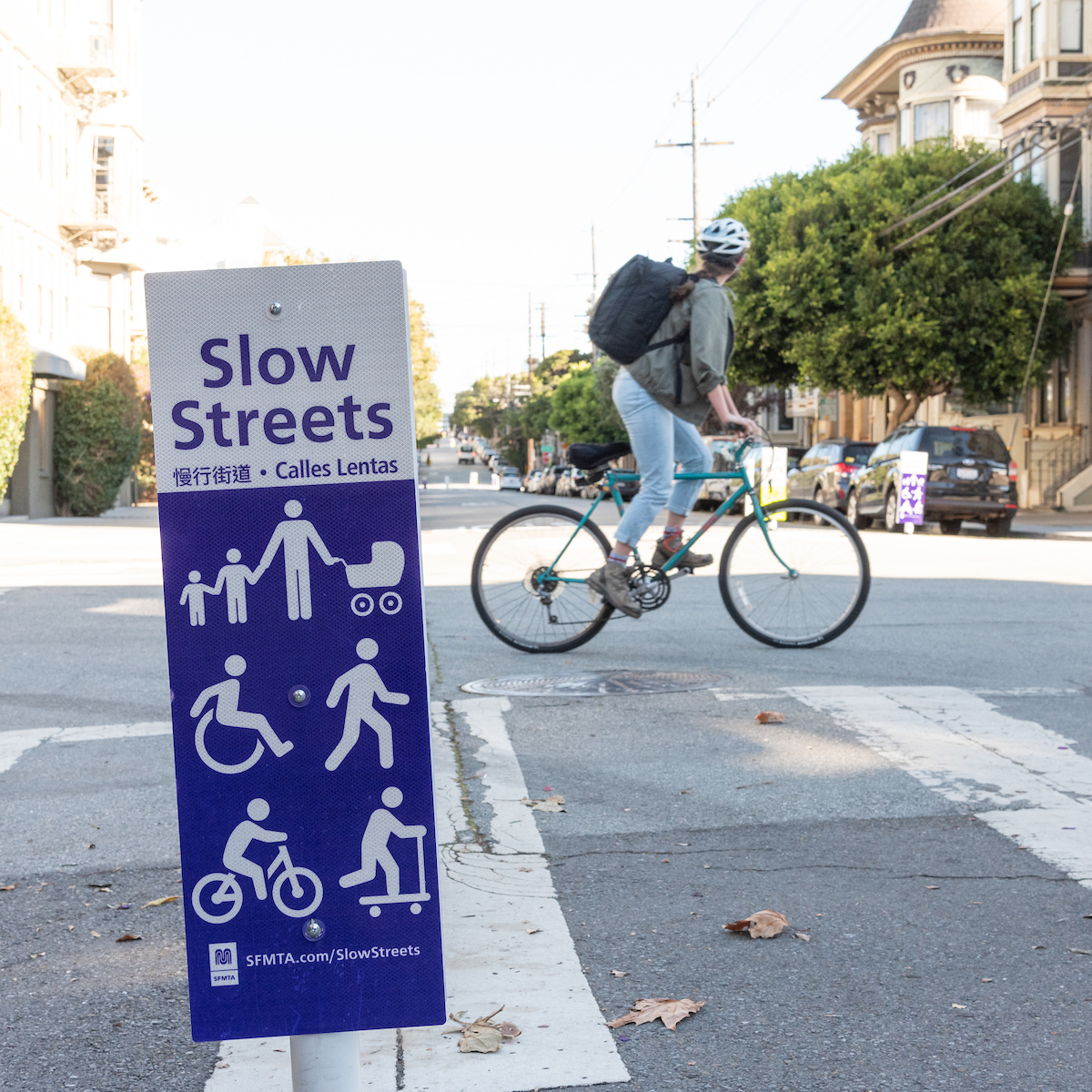 As a whole, Slow Streets are safer than they were before being designated Slow Streets 
Streets that are part of the SFMTA's Slow Streets Program have become measurably safer since the program began in 2020, with the number of traffic crashes falling by almost half. On average, these corridors have seen a 48% drop in collisions following their designation as Slow Streets, compared with a 14% drop in collisions citywide over the same period. Slow Streets also are more welcoming for people who walk, bike and roll. Fewer than 1,000 vehicles per day use all but four of the current Slow Streets (20th Street, Minnesota Street, Noe Street, and Page Street). 
The goal of the program is to create safe, shared streets that are comfortable and enjoyable for people of all ages and abilities, using any mode of transportation. We now can see how it's doing in a new evaluation report.
When the SFMTA Board approved the permanent Slow Streets Program in December 2022, the Directors required that every Slow Street meet certain safety and comfort targets: average vehicle speeds of less than 15 miles per hour (MPH) and average daily vehicle volumes lower than 1,000. The Slow Streets team has been collecting between January 2023 and April 2023 to understand how the streets are performing. We placed pneumatic tubes every four blocks along Slow Street corridors in January of this year to collect vehicle volume and speed from 16 of the 18 streets currently in the program (Cayuga Avenue and 22nd Street were not included in the analysis because they are not yet implemented).  
Not only is traffic volume down, but all the Slow Streets have median speeds of 20 MPH or slower. However, most have not met the 15 MPH target set by the Board. This means that traffic still is not moving slowly enough for our most vulnerable road users to feel safe. 
 The Slow Streets team will begin working on these changes now with updated designs expected by this summer. 
Here is the 2023 Slow Streets Design Toolkit  (SFMTA.com/SlowStreetsToolkit) including details on the methodology used in the evaluation, along with individual corridor findings. To learn more about next steps, Signup for Email and SMS Alerts from the Slow Streets Program (SFMTA.com/SlowStreets) and individual corridors. We look forward to sharing more about how this data will inform next steps for Slow Streets designs across San Francisco!