Turk Street Gets a New Protected Bike Lane
Last week, SFMTA crews finished sprucing up Turk Street with safety upgrades for people walking and biking in the city's Tenderloin neighborhood.
Welcome additions to the street include a protected bike lane, high visibility crosswalks, painted safety zones and signal improvements.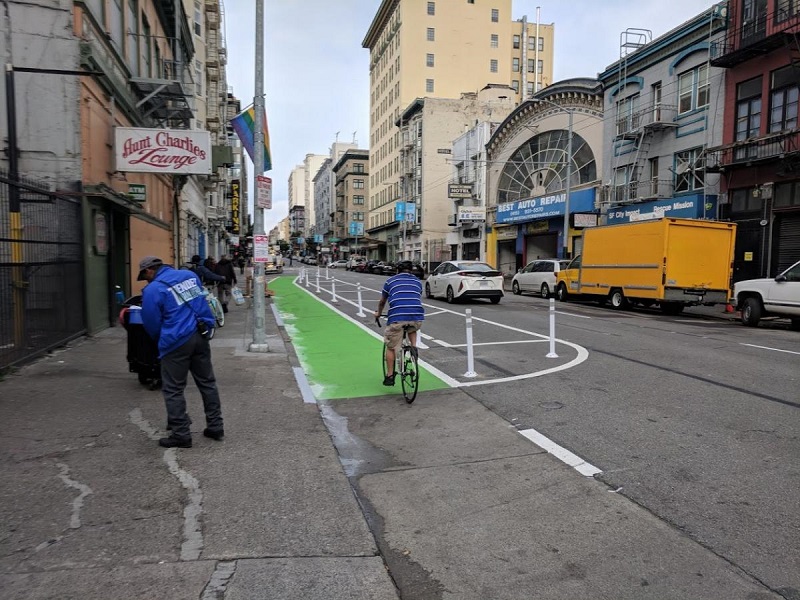 The improvements come as part of the SFMTA's Turk Street Safety Project, which is in support of Vision Zero, the city's goal to eliminate traffic fatalities.
Since the spring of 2016, the SFMTA worked with Supervisor Jane Kim and the Tenderloin community to develop and implement much-needed safety improvements on Turk Street from Mason to Polk. Over a five-year period, there had been a total of 174 traffic collisions in the area, with 92 of the reported collisions involving pedestrians and bicyclists. This put Turk Street on the city's "High-Injury Network" – the 13 percent of streets that account for 75 percent of traffic related injuries and fatalities.
For many, the highlight of the project is a new protected bikeway running from Mason to Polk streets, guarded by vertical flex-posts and a 10-foot buffer. While no parking will be allowed in this buffer, active loading will be allowed to support the needs of local merchants and residents.
When using the new Turk Street, there are just four simple things folks need to know:
Keep the protected bike lane clear

Parking is prohibited on the south side of Turk Street

Active loading is allowed in the buffer zone between the bike lane and travel lane

Do not stop or load when the curb is red