Under the Loupe: Fashions of Yesteryear
Thursday, January 15, 2015
While fashion isn't frequently a subject of photos in our Archive, it's often a "side story" found in the details of images that flesh out the past in an interesting way.  Today's publicity photo from 1906 catches a hint at what the women of the day were wearing the year San Francisco was largely destroyed by earthquake and fire.
This photo, likely taken to mark the Bryant Street Powerhouse coming back online less than a month after the devastating natural disaster, catches a pair of ladies sporting their fine dresses.  With Mayor Eugene Schmidtz just to the left of the women and other United Railroads company officials in the group, these were undoubtedly proper ladies of San Francisco's moneyed class.
Mayor Eugene Schmitz and Party Visiting the Bryant and Division Powerhouse | May 3, 1906 | U00836A
Looking closer, we can see that they're showing off the last vestiges of Victorian fashion trends.  Lots of embellishment and detail work mark the style with lace, embroidery and varying layers and cuts of fabric.  By 1910, the "S" shaped Victorian figure and long, sweeping skirts will have quickly modernized to the hugely popular skirt-suits of the Edwardian era.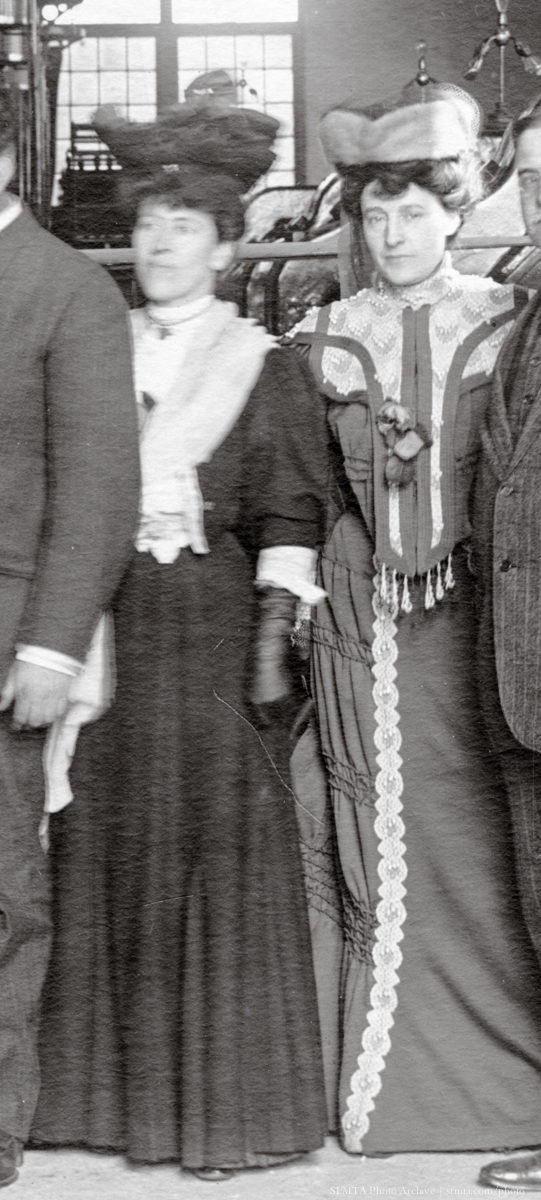 Dress Details, Ladies with the Mayor at Bryant Powerhouse | U00836A
Details like this one can serve to date an image based solely on the fashions of the day.  From about 1840-1890, women's fashions changed in so many ways that it's possible to date a photo within a couple of years just based on something as sublte as sleeve diameter!  
So next time you're out and about on the streets, just imagine how your outfit not only does its job for that day but in some ways may position you in this moment in history (give or take a couple years), at least for future archvists sifting through the image detritus of the modern era.
Check out more historic photos on the SFMTA Photo Archive website and follow us on Flickr, Twitter, Google+, and Instagram!