UPDATE: Salesforce Transit Center Closure
Wednesday, September 26, 2018
UPDATE 10/05/18
The Transbay Joint Powers Authority announced today that work on a shoring system beneath the Salesforce Transit Center at Fremont Street between Howard and Mission streets continues and that Fremont Street is scheduled to reopen by October 12, 2018 in time for the morning commute.
First Street, which has a similar design as Fremont Street, has received continuous inspections and monitoring since September 25, 2018, the date the first fissure was discovered on a beam at the Fremont Street location. To date, no fissures have been discovered at First Street and monitoring will continue. This design has been independently reviewed, and while no fissures have been found, this work is being done as the most prudent course of action.
First Street will be proactively reinforced with the similar reinforcement plan that Fremont Street will receive. The first step to reinforcing First Street is to install a similar type of shoring system. Preparation will begin on First Street this evening by removing ceiling panels and moving utilities. This will be followed by installing shoring. Work will occur during evenings (9pm – 5 am) outside of commute hours to minimize traffic impacts. This is expected to have no impact on weekend events happening in San Francisco this weekend.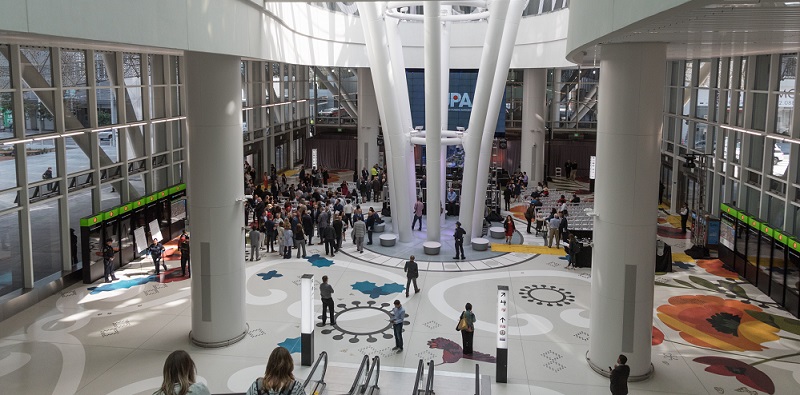 On Tuesday, crews working on the Salesforce Transit Center, discovered a fissure on a 3rd-floor steel beam near Fremont Street. Out of an abundance of caution, the Transbay Joint Powers Authority (TJPA) decided to close the terminal temporarily. All bus routes have been rerouted to the temporary Transbay Center at Howard and Main streets: The 5 Fulton, 5R Fulton Rapid, 7 Haight-Noriega, 25 Treasure Island, 38 Geary and 38R Geary Rapid are affected. The closure is ongoing until further notice.
At today's press conference, officials explained how inspections showed an additional fissure on an adjacent beam at the Fremont Street location. The TJPA will conduct additional ultrasonic testing to determine the extent of the damage and will continue to monitor the location.
There are several traffic impacts due to the terminal closure and the closure of Fremont Street between Mission and Howard, particularly during peak commute hours. Motorists are kindly asked to avoid driving downtown and to avoid the Fremont exit of the freeway. Transit riders are encouraged to allow extra time for their commute.
Ambassadors will be on site to direct riders to boarding locations and provide updated transit information, so be on the lookout for our staff wearing neon vests if you need assistance. Casual carpool drop-off, in the South of Market neighborhood, may be affected by the Fremont Street closure. Paratransit transfer points may change. No matter how you travel into San Francisco, please allow additional time during your commute.
We will continue to provide service updates and other relevant information as it becomes available. Be sure to check our webpage, Twitter and 511.org for service updates.