Valencia Bikeway Improvements Coming Soon
Wednesday, October 24, 2018
Valencia Street is one of San Francisco's highest utilized bike routes with 2100 cyclists riding along it on an average weekday. With parts of Valencia on the city's High-Injury Network, we had a series of workshops in July to address safety and improve infrastructure along this corridor.
Since the workshops, the project team received a lot of insightful feedback regarding the bikeway design alternatives and the near-term curb management (i.e., parking and loading) improvements from the community. This blog post provides a glimpse of what's to come for the project over the next few months.
Bikeway Update: Market to 15th streets
Per the directives and partnership of Mayor London Breed, parking-protected bike lanes will be piloted on Valencia from Market to 15th streets in early 2019. In tandem with the bikeway upgrade, curb management changes will also be implemented on this stretch of the corridor. The project team will be conducting door-to-door outreach with merchants and following-up with stakeholders in the upcoming weeks. At this time, the parking-protected bikeway pilot is anticipated to be heard at the SFMTA Board of Directors meeting on December 4, 2018. Following that, city crews would begin constructing the parking-protected bike lanes, using temporary, low-cost materials as much as possible. Following the implementation, the project team will evaluate the design to help inform the longer-term, corridor-wide project. Additional outreach and community conversations will be held in spring and summer 2019 to determine a preferred bikeway design alternative(s) for the entire corridor.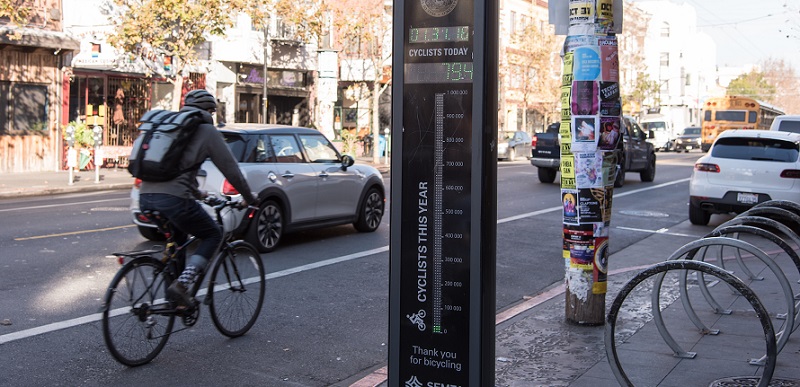 Curb Management Update: 15th to 24th streets
In the upcoming weeks, the project team will also be conducting another round of merchant door-to-door outreach to get feedback on impacts of potential color curb changes on Valencia Street from 15th to 24th streets. Most curb management improvements in this portion of Valencia include consolidating loading (passenger and commercial) zones and implementing more passenger loading zones that will be in effect past 6 p.m. The project team plans to share these proposals with the community later this fall. Please be on the lookout for another update in a few weeks detailing the next community event.
Thanks for your interest and involvement in the Valencia Bikeway Improvements project. To stay in the loop about the project and upcoming events, please sign up for project updates.