VIDEO: Islais Creek Motorcoach Facility Now Open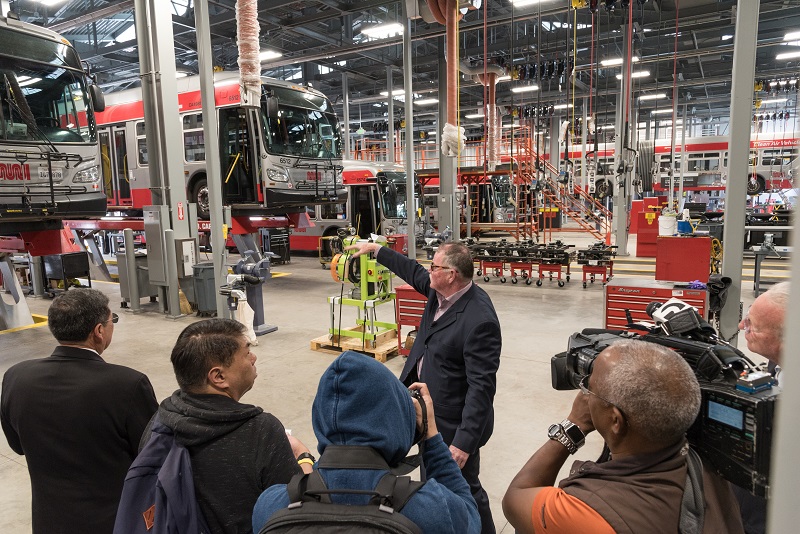 Last Friday, SFMTA staff, community leaders, and elected officials "raised the gates" on a brand new bus maintenance and operations facility, Islais Creek. A long time coming, the new facility will provide Muni operators with a modern working environment and help us roll out service throughout San Francisco.
The Islais Creek Hybrid Motor Coach Facility is an 8.3-acre bus maintenance yard located at the convergence of the Bayview, Dogpatch and Potrero Hill neighborhoods adjacent to I-280, Cesar Chavez, and Indiana Streets. The facility can accommodate both 40-foot and 60-foot hybrid buses – keeping them clean, in good working order and on the road moving San Franciscans and visitors. Along with creating space to house Muni's growing fleet of environmentally-friendly hybrid motor coaches, the facility is modern and energy efficient and will house a full operator, dispatch, and maintenance staff. Additionally, neighborhood amenities beautify the area and add an important meeting space that embraces the needs of the neighborhood.
Not long ago, Muni had one of the oldest fleets in the nation, but now has one of the nation's most modern – and greenest. The Islais Creek Yard is a modern maintenance facility built with the technology needed to safely and effectively maintain the new low-floor buses. Many older Muni facilities have low ceilings and no bus lifts, requiring employees to work outside. Old yards make it more difficult and less safe for workers maintaining the buses.
The new facility will not only allow Muni to fuel buses, service and maintain buses, as well as store them when not in use, but the buildings will also house 130 operators and administrative personnel, including dispatchers.
The new yard also provides amenities that contribute to a vibrant community in the growing Dogpatch neighborhood. A meeting space that will be available by reservation for community groups and other city agencies is included in the new building. The SFMTA constructed Shoreline Park, with art by Nobuho Nagasawa as part of an earlier project phase. The artwork, a large structure in the form of a "Liberty" ship, common in San Francisco after World War II, honors the creek's port operations and shoreline history.
You can learn more about the facility by visiting the Islais Creek Motor Coach Facility Project page.