VIDEO: Tour of Central Subway's Chinatown Station
Excavation is now complete at the soon-to-be Chinatown station, therefore excavation is complete for the entire project! Earlier this week, Mayor Mark Farrell joined us for a journey underground to tour the station site at Washington and Stockton streets. After lowering down twelve stories into the cavern, site visitors were greeted by the construction crew working diligently to bring Muni riders grand improvements to our transportation network. Crews have removed the last of the shotcrete separation walls and begun installing the waterproofing barrier. With an opening date of December 2019, the Central Subway Project will improve public transportation in the city by extending the Muni Metro T Third line through Chinatown, SoMa, and Union Square. By providing a direct, rapid transit link between downtown and the existing T Third Line route on 3rd Street, the Central Subway will vastly improve transportation to and from some of the city's busiest, most densely populated areas.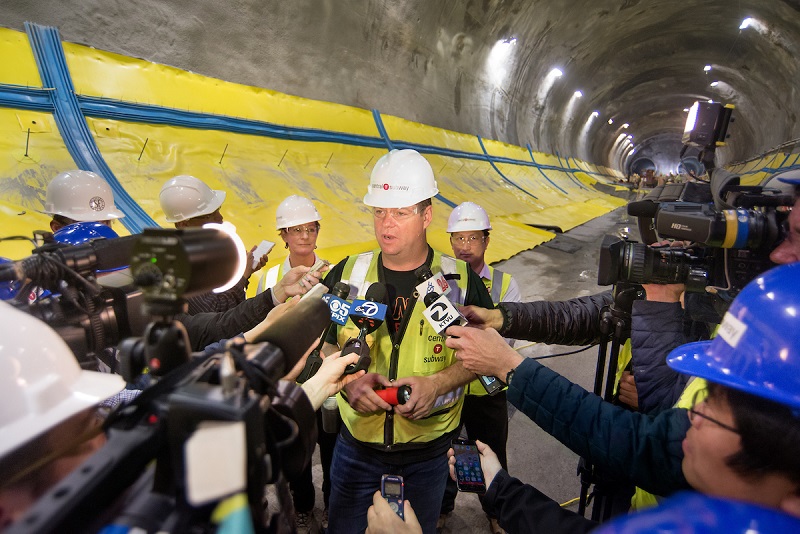 The Central Subway Chinatown station will deliver passengers into the heart of a bustling commercial and retail district. Chinatown is home to approximately 10,000 residents and is one of the city's top tourist destinations with millions of annual visitors. As of now, travelers to and from Chinatown rely on Muni bus routes such as the 30 Stockton and 45 Union/Stockton. These routes have long been overcrowded and slow due to traffic congestion and capacity limitations.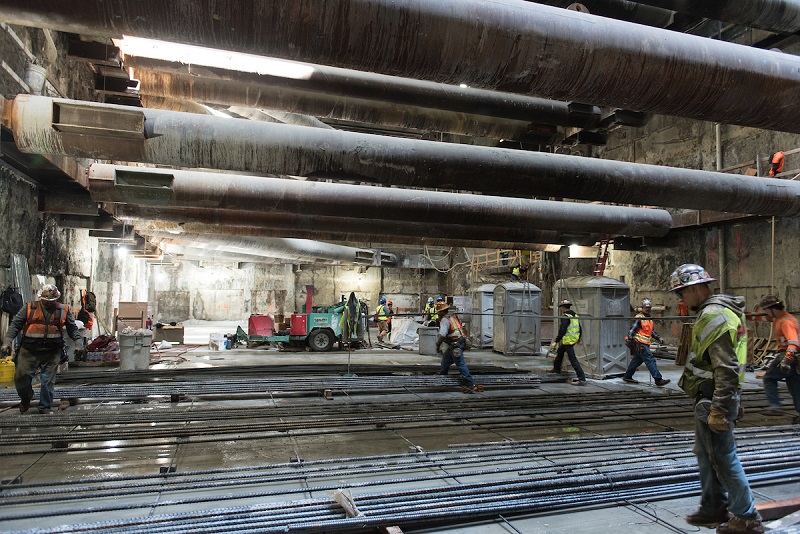 Upon completion, the T Third Line will have trains travel mainly underground from the 4th Street Caltrain Station to Chinatown, bypassing heavy traffic and improving travel times for our riders. The average travel time between Chinatown and 4th & King streets on the Central Subway will be eight minutes. Currently, that same trip takes more than 20 minutes on the 30 Stockton or 45 Union/Stockton during peak hours.
Four new stations will be built along the 1.7-mile alignment:
4th and Brannan

Station at 4th and Brannan streets (street level)

Yerba Buena/Moscone Station

at 4th and Folsom streets (subway)

Union Square/Market Street Station

on Stockton Street at Union Square (subway)

Chinatown Station

at Stockton and Washington streets (subway)