This is a great week for personal expression and Muni. While those two things don't always go well together, at yesterday's 52nd Cable Car Bell Ringing Contest, six Cable Car Grips and Conductors and four community participants rang their hearts out to a cheering crowd in Union Square. And today, we're excited to share the voting campaign for the Muni Art project. Along with our partners at San Francisco Beautiful, the Community Challenge Grant Program and Neighborland, we're asking you to choose from 10 finalists who were chosen to compete for five top Muni Art slots--10 buses that will showcase their art. These 50 buses will roll this fall and feature the art selected by you!
In addition to each artist having the interior ad areas on 10 buses to use as a canvas, the artist who receives the most public votes will be awarded $2,000 and each of the remaining four will be awarded $1,250. Cash? Sweet!
Cast your vote either by texting the first name of the artist (listed below) to 415-200-3025 or by visiting www.neighborland.com/muni-art/vote. The voting period ends next Friday, July 17 at 5 p.m.
Can't decide? That's cool. Feel free to vote for as many options as you like both by text and online.
The ten finalists are:
Todd Berman - San Francisco, CA
Reynaldo Cayetano Jr. - San Francisco, CA
Ariel Dunitz-Johnson - San Francisco, CA
Creativity Explored (group submission) - San Francisco, CA
Lynnea Holland-Weiss - Berkeley, CA
Phillip Hua- San Francisco, CA
Krystal Lauk - San Francisco, CA
Andria Lo - Berkeley, CA
Annica Lydenberg - San Francisco, CA
Cameron Moberg - San Francisco, CA
The contestants had between May  1 – June 19 to submit applications that reflected their artistic concept of "the spirit of San Francisco."  Of the more than 130 applications received, 10 were chosen over three days by a seven-member jury, which included a member of the San Francisco Arts Commission, a local art gallery owner, a working artist, a community arts programmer and a curator at a public art cultural center.  Decisions were based upon quality of concept, expression of theme, diversity and the likelihood of the artist to be able to deliver the completed work by the August 17 deadline.
The Muni Art program is funded in part by the Community Challenge Grant program which facilitates neighborhood beautification projects throughout San Francisco. Local arts organizations Asian Art Museum, ArtSpan, SOMArts, SF Transit Riders, Mamá Art Cafe, and the Bayview Opera House proudly support this exciting new program; however, sponsors are still actively being sought. 
For more details on sponsorship opportunities, please visit www.sfbeautiful.org/muni-art.
For a different perspective on a few of the finalists, check out this piece on Mission Local about those with connections to The Mission.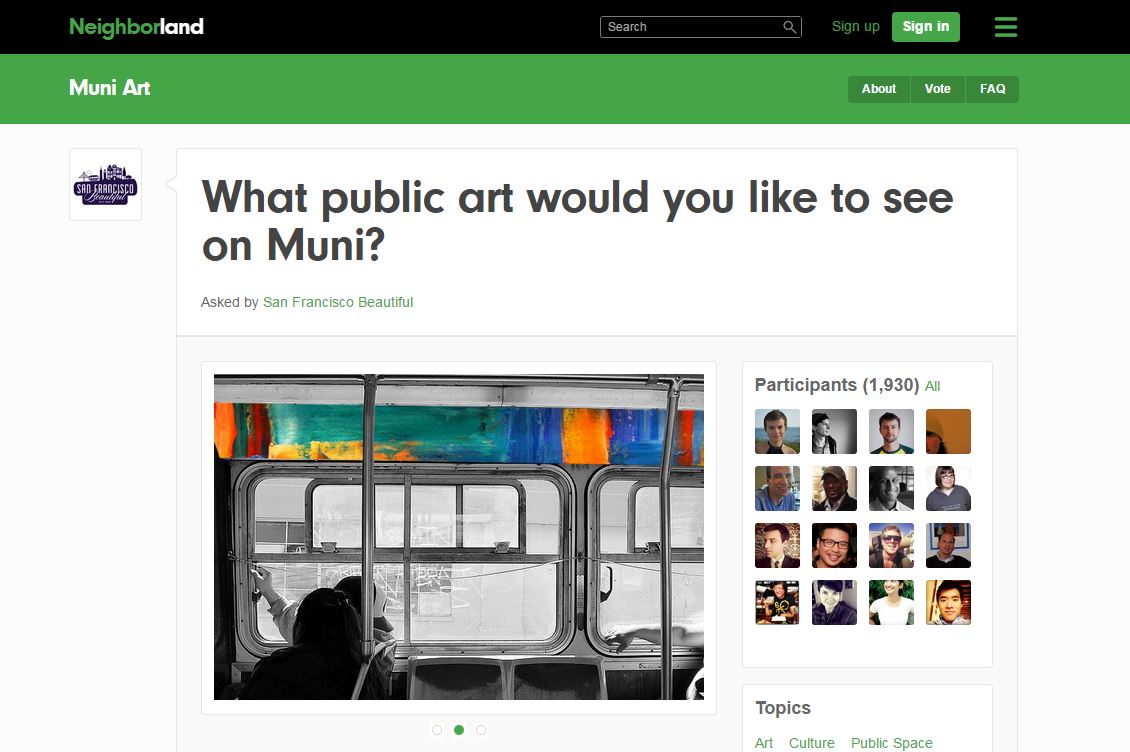 Go to www.neighborland.com/muni-art/vote to cast your vote!