We Welcome the Harvey Milk Streetcar Back into Service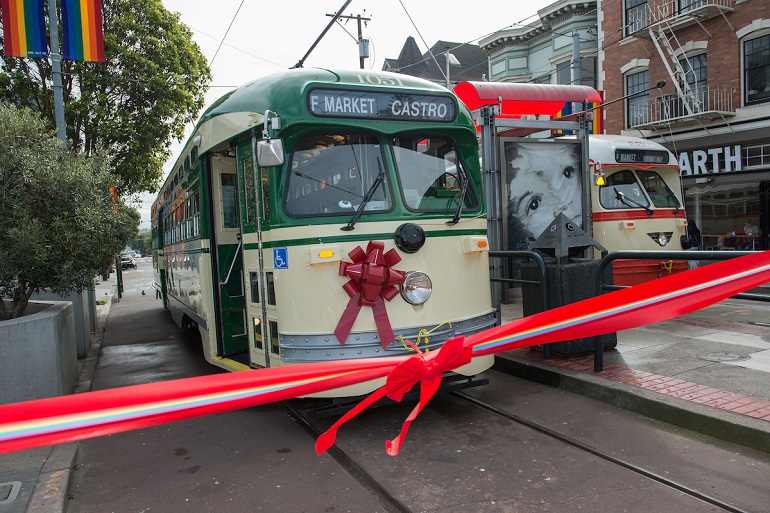 The Harvey Milk Streetcar PCC 1051 at its reintroduction ribbon cutting on March 15, 2017. SFMTA Photo Archive
Last Wednesday, media, community groups, local merchants and government officials gathered as the Harvey Milk Streetcar PCC 1051 went back into service. This rolling tribute to former Supervisor Harvey Milk is painted in the same green-and-cream livery that Muni used when Milk was elected to the Board of Supervisors in 1977. The "museum in motion" also features interior placards with text and photos detailing the life of Milk and his impact on both transportation advocacy and the LGBTQ movement. Supervisor Milk was the first San Francisco Supervisor to regularly use a Muni Fast Pass.
The reintroduction of 1051 is another investment in Muni's fleet, as it is the first vehicle in a 16-streetcar rehabilitation contract to return to service fully restored, rebuilt and upgraded with the latest security cameras, improved braking and other features.
"We are proud to welcome this streetcar back into Muni service fully restored, rebuilt and ready for action," said Ed Reiskin, SFMTA director of transportation. "The Harvey Milk streetcar honors the memory of Supervisor Milk. His legacy is well-known, and this permanent exhibit honors his life and draws additional attention to his efforts to improve Muni and make San Francisco a better place to live."
This project is part of a larger, $31.5 million fleet expansion program that will see the rehabilitation of 26 historic streetcars. Sixteen of these streetcars comprise the original fleet that opened the F line in 1995 and were in need of a full overall. All of the projects in the program will be funded by federal, state and local funds, including $3.5 million in Prop. K funds.