Weekend Escape: Adventures in the City
Contest Reminder:
The submission deadline for the Muni Art Project is approaching fast! Help transform Muni buses into rolling art galleries by submitting your project proposals to SF Beautiful by 6 p.m. on Friday, June 17. To learn more about the Muni Art Project contest check out our May 5 blog post.
Events: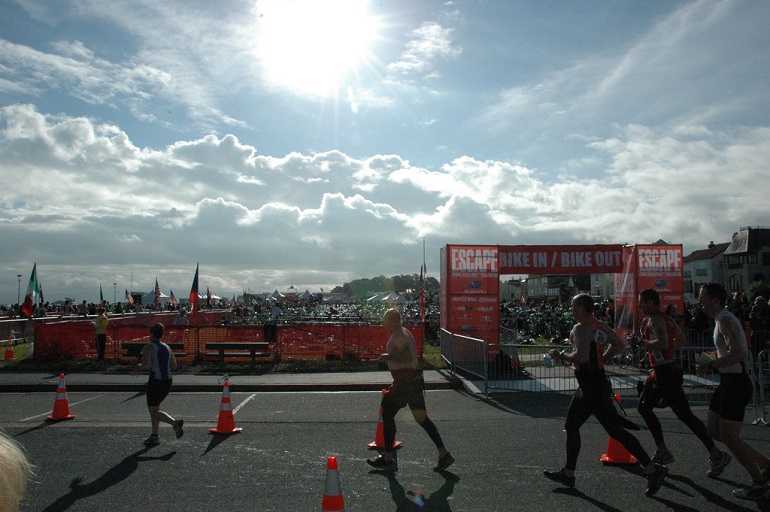 Triathletes racing to the bike station during the Escape From Alcatraz Triathlon on June 5, 2011. Photo credit: Beau Lebens/Flickr.
This weekend will be one of the busiest event weekends you'll see all summer. On Friday, the San Francisco Giants begin a six-game home stand against the Los Angeles Dodgers and the Milwaukee Brewers (Muni service to AT&T Park). On Saturday, the Tenderlove SF Hood Games debut in the Tenderloin (the 31 Balboa will have a re-route). Then on Sunday, the Escape From Alcatraz Triathlon wades ashore (the 18 46th Avenue, 29 Sunset, 38 Geary, and 38R Geary Rapids will have re-routes); plus the Sunset will host the longest Sunday Streets of the season (the 18 46th Avenue will have a re-route). We'll dig a little deeper into the North Beach Festival and the Haight Ashbury Street Fair below.
North Beach Festival
Saturday and Sunday, 10 a.m. to 6 p.m.
North Beach
Saints Peter and Paul Church, Washington Square Park, and City Lights Bookstore are just a few of the reasons why people are drawn to North Beach. Famed for being the city's Italian-American enclave and the birthplace of the Beatnik generation, the neighborhood still inspires and captivates.
Walking through the neighborhood never gets old, and with the North Beach Festival you'll have a chance to visit over 100 booths of arts and crafts and gourmet foods, plus there will be multiple entertainment stages. There will also be a Kids' Chalk Art area. A special blessing of the animals will be held at the National Shrine of St. Francis of Assisi.
Due to street closures and the expected large crowds, public transportation will likely be your best option. Service on the 8 Bayshore, 10 Townsend, 12 Folsom/Pacific, 30 Stockton, 39 Coit, and 45 Union/Stockton routes will get you to close to the festivities.
Muni service note: The 8 Bayshore Route will have a re-route, while other routes may see residual delays due to increased ridership.
Haight Ashbury Street Fair
Sunday, 11 a.m. to 5:30 p.m.
Haight Ashbury
Synonymous with the Summer of Love and hippie counterculture, as well as for being home to notable music acts of the day such as Jefferson Airplane, the Grateful Dead and Janis Joplin, the music and cultural legacy of Haight Ashbury endures.
Starting out as way to preserve the cultural and historic contributions of the neighborhood, the Haight Ashbury Street Fair now provides residents and businesses an opportunity to showcase their art, music and creativity. Three music stages will provide established and up-and-coming acts a chance to shine, plus dozens of booths will allow visitors to see and purchase arts and crafts and sample neighborhood cuisine. Children's Alley will let kids explore their creative side.
Due to street closures and large crowds, public transportation is the recommended option. The 6 Haight/Parnassus, 7 Haight/Noriega, 33 Stanyan, 37 Corbett and 43 Masonic routes will take you there.
Muni service note: the N Owl, 7 Haight/Noriega, 33 Stanyan, 37 Corbett, and 43 Masonic will have re-routes.
On Tap for next weekend: Juneteenth Parade and Noe Valley Summerfest,
"On Tap" gives you a heads up about the big events in town and what Muni routes and lines will get you to the party. Look for this feature to be posted usually on Wednesdays for a look ahead to the weekend. Check out our Weekend Traffic & Transit Advisory for more details.