This Weekend: Festival of Light and the Fairmont Gingerbread House
Wednesday, November 27, 2019
Holiday Service and Parking Reminder: In observance of the Thanksgiving holiday on Thursday, November 28th, Muni will operate on a Sunday schedule. On Friday November 29th, Muni will operate on a weekday, non-school schedule with some express and specialized routes temporarily discontinued. For more details please visit our Muni Holiday Service Schedules page. Parking meters and other SFMTA Parking programs will not be enforced on Thursday (11/28), however, meters and nighttime street sweeping will be enforced on Friday (11/29). For more details, please visit our Holiday Street Parking Enforcement Schedule page.
Events: From the SFMTA family to yours, we hope you have a happy, safe Thanksgiving. Those looking to explore the city during the long holiday weekend will have several options beginning on Thanksgiving itself with the annual Indigenous Peoples' Sunrise Ceremony on Alcatraz. Also on Thanksgiving and continuing through January 1, the annual Festival of Light will illuminate over a dozen neighborhoods around the city. Head over to Golden Gate Park for the yearly SF Turkey Trot, also a Thanksgiving Day tradition. On Saturday, the Fairmont's yearly two-story gingerbread house will open for the holiday season. Read more about our featured events below.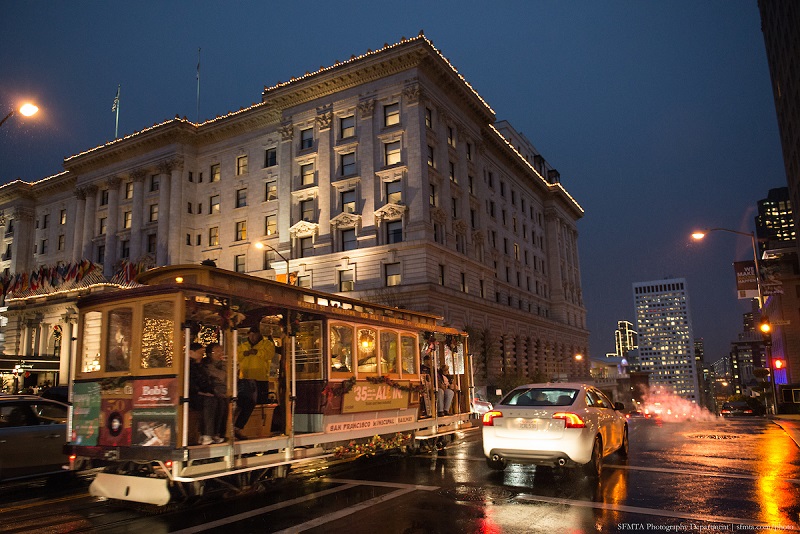 Hop aboard the California Cable Car Line for a trip directly to the Fairmont to see its annual two-story gingerbread house. Photo: SFMTA Archive
Festival of Light
Every evening Nov. 28 through January 1
Various Locations
The seventh annual Festival of Light will see a return of bright, colorful, seasonal light art around the city. There will be over 40 different light sculptures scattered throughout the city that have been created by more than 30 artists. Not all of the installations will be permanent, so don't delay in planning a night (or two) to see them all. 
---
How to Get There on Muni: Utilize Muni's Trip Planner to find the best routes to and from the myriad light sculptures around the city.
Muni Service Notes; There are no service changes planned for this event.
Fairmont Gingerbread House
Saturday through January 1
Nob Hill
Truly a sight to behold --with smells that are equally delightful-- the Fairmont Hotel's culinary and engineering teams have paired up again to design and construct a two-story high Victorian-style gingerbread house. The massive sweet treat will be over 25-feet high, 35-feet wide, over ten-feet deep and will consist of more than 6,000 gingerbread bricks, 1,650 pounds of candy, and 3,300 pounds of royal icing. The impressive culinary marvel will be on display in the hotel's grand lobby beginning this Saturday through New Year's Day. 
How to Get There on Muni: To gaze upon the glazed wonder, consider the Powell/Mason, Powell/Hyde, or California Cable Car lines, as well as the 1 California, 8 Bayshore, 30 Stockton, or 45 Union/Stockton routes.
Muni Service Notes: There are no planned service changes for this event.
Remember that you can take Muni for the entire day for a single $5 fare. The new $5 Day Pass, available on MuniMobile®, is part of Muni's recent fare changes. The pass is intended to encourage a safe, convenient way to pay your fare and quickly board Muni vehicles, which reduces overall travel time for everyone. The $5 Day Pass is Muni bus, rail and historic streetcars only.
"On Tap" gives you a heads up about the big events in town and what Muni routes and lines will get you to the party. Look for this feature to be posted usually on Thursdays for a look ahead to the weekend. Check out our Weekend Traffic & Transit Advisory for more details.