Weekend Half Marathon & 5K in Golden Gate Park
Wednesday, February 1, 2017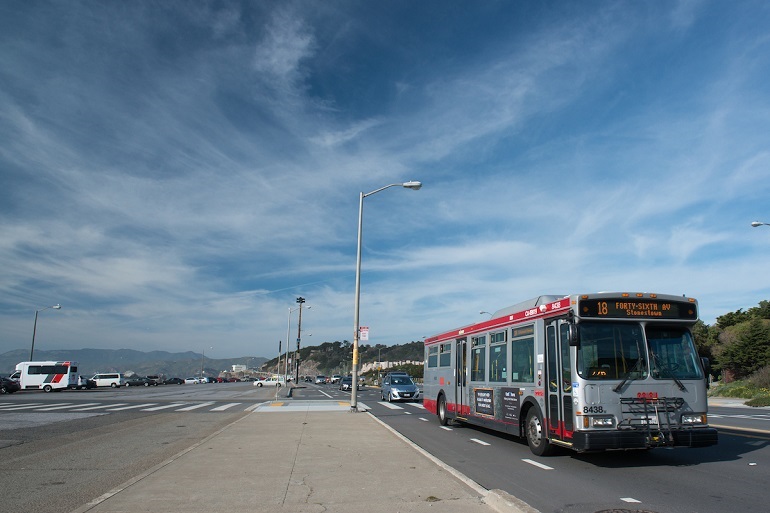 A southbound 18 46th Avenue bus on the Great Highway in February 2015.
Event:
KP SF Half Marathon & 5K
Sunday, 8 a.m.
Golden Gate Park
While many people will be spending their Sunday morning getting ready for the big game in Houston, a dedicated few will be lacing up their running shoes to tackle the most scenic running course in the country — the Kaiser Permanente Half Marathon. This certified 13.1 mile course will lead participants through picturesque Golden Gate Park and out onto the Great Highway for the natural beauty of Ocean Beach. Runners will then head south to the San Francisco Zoo and then back up to the park to hit the finish line on JFK Drive.
If 13.1 miles seems too daunting, then try your hand at the 5K (3.1 mile) race which will be completely contained within Golden Gate Park. All registered participants will receive a finisher medal and t-shirt.
Muni provides a number of service options to Golden Gate Park: the N Judah, 5 Fulton, 6 Haight/Parnassus, 7 Haight/Noriega, 18 46th Avenue, 21 Hayes, 22 Fillmore, 23 Monterey, 24 Divisadero, 28 19th Avenue, 29 Sunset, 33 Ashbury/18th Street, 43 Masonic and 44 O'Shaughnessy routes.
Muni service notes:
Re-routes will be in place for the 18 46th Avenue, 23 Monterey, 33 Ashbury/18th Street, 43 Masonic, and 44 O'Shaughnessy.
The following routes and lines may have some delays near Golden Gate Park: N Judah, 5 Fulton, 6 Haight/Parnassus, 7 Haight/Noriega, 21 Hayes, 22 Fillmore, 24 Divisadero, 28 19th Avenue, and 29 Sunset.
On Tap for next week: Chinese New Year Parade, Chinatown Community Street Fair, and SF Giants Fan Fest
Van Ness Construction Reminder
All left turn lanes on Van Ness Avenue have been removed with the exceptions of those at Broadway (southbound), Lombard Street (northbound), and temporarily at Hayes Street (northbound).
Van Ness traffic lanes have been reduced from three to two on these segments:
Northbound from Post to Filbert Street
Southbound from Filbert to Washington Street
For complete details on these changes, please our Van Ness Improvement Project page.
Temporary J Church and K Ingleside Service Changes Reminder:
Due to Balboa Park Station Area and Plaza Improvement construction work, there are now temporary stop changes in effect for the J Church and K Ingleside lines at Balboa Park Station. These stop changes will be in place through the end of February. For details, please read our September 1 blog post.
"On Tap" gives you a heads up about the big events in town and what Muni routes and lines will get you to the party. Look for this feature to be posted usually on Wednesdays for a look ahead to the weekend.