This Weekend: Japanese New Year's Festival
Thursday, January 2, 2020
Muni Holiday Schedule Change Reminder:
Muni will operate on a weekday, non-school schedule for the remainder of this week, January 2nd and 3rd. Additionally, some express and specialized routes will remain discontinued until the start of service on Monday, January 6th. Read more about the affected routes on our holiday service schedule page.
Events: There will be several unique events taking place around the city this weekend to help kick off the new year. On Saturday in Japantown, the 48th annual Japanese New Year's Festival will celebrate the Year of the Rat. Check out one of the West Coast's largest collections of postcards, trading cards, photographs and more at the Vintage Paper Fair on Saturday and Sunday in Golden Gate Park. For those who want the holiday season to last just a little longer, head up to Fisherman's Wharf for Pier 39's final tree lighting shows Saturday and Sunday beginning at 5 p.m. Read more about our featured event below.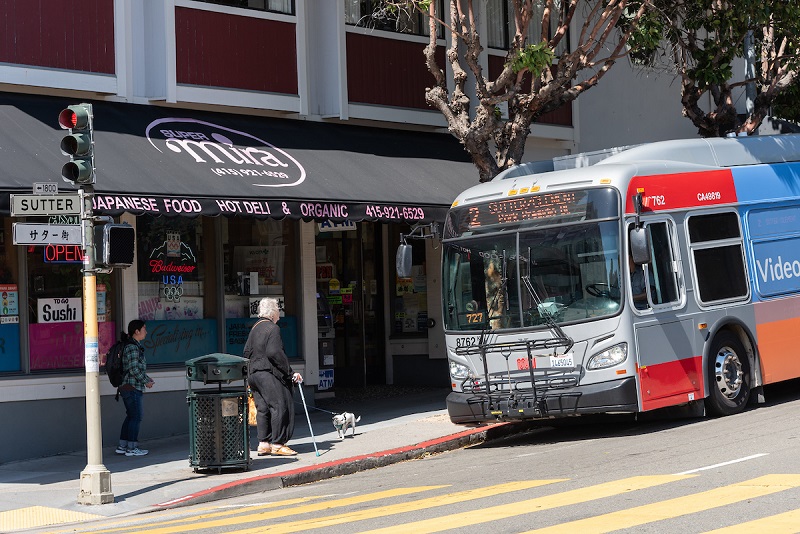 The 2 Sutter/Clement Route is a convenient option for those heading to the Japanese New Year's Festival this Saturday. Photo: SFMTA Archive
Japanese New Year's Festival
Saturday, 11 a.m. to 3 p.m.
Japantown
The 49th annual Oshogatsu Matsuri Celebration will usher in the Year of the Rat at the Japanese Cultural Center in Japantown this Saturday. The celebration will include cultural arts and crafts, a children's art contest, food and live entertainment. This event is free to the public.
---
How to Get There on Muni: Riders may take the 2 Sutter/Clement, 3 Jackson, 22 Fillmore, 38 Geary or the 38R Geary Rapid routes to near the event at 1840 Sutter Street.
Muni Service Notes: There are no planned service changes for this event.
Remember that you can take Muni for the entire day for a single $5 fare. The new $5 Day Pass, available on MuniMobile®, is part of Muni's recent fare changes. The pass is intended to encourage a safe, convenient way to pay your fare and quickly board Muni vehicles, which reduces overall travel time for everyone. The $5 Day Pass is Muni bus, rail and historic streetcars only.
"On Tap" gives you a heads up about the big events in town and what Muni routes and lines will get you to the party. Look for this feature to be posted usually on Thursdays for a look ahead to the weekend. Check out our Weekend Traffic & Transit Advisory for more details.