This Weekend: Nihonmachi Street Fair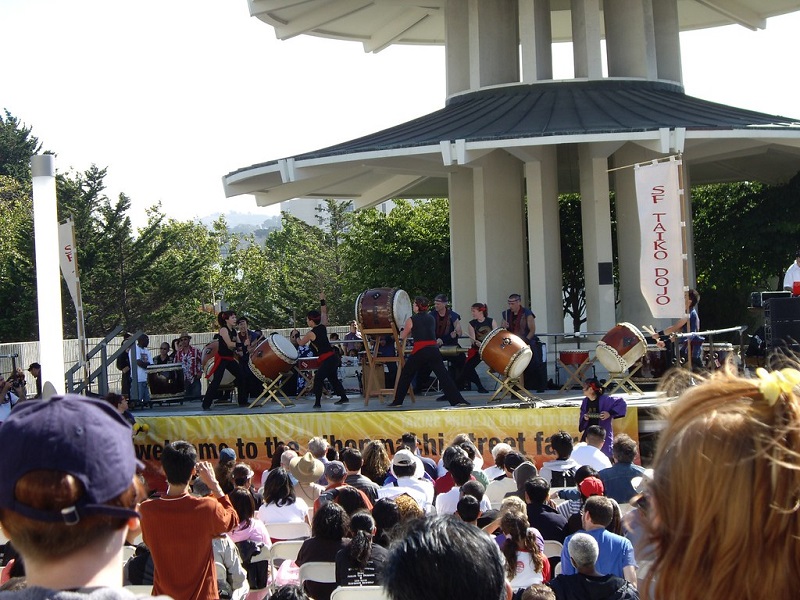 There will plenty of entertainment at the Nihonmachi Street Fair, ranging from local rock bands to Japanese taiko drummers. Photo: greychr/Flickr
Nihonmachi Street Fair
Saturday and Sunday, 11 a.m. to 6 p.m.
Japantown
Founded in 1973, the Nihonmachi Street Fair was created to provide leadership and mentorship opportunities for the youth of Japantown and honor the cultural heritage of the neighborhood. Entering its 46th year, the festival has grown from a small neighborhood gathering with a handful of booths to a significant two-day festival that draws over 30,000 people. A perennial highlight of the fair is the Webster Street stage that features local musicians spanning genres from Taiko to salsa, rock to bluegrass and more. 
---
How to Get There on Muni: The 2 Clement, 3 Jackson, 22 Fillmore, 24 Divisadero, 31 Balboa and 38 Geary/38R Geary Rapid routes will take riders close to the event.
Muni Service Note: There are no scheduled service reroutes, but Muni service near Japantown may see minor delays due to increased ridership.
Upcoming next weekend: Outside Lands returns to Golden Gate Park next weekend (August 9-11), the surging Giants take on the Philadelphia Phillies in a four-game set at Oracle Park, and the Pistahan Parade and Festival returns to Yerba Buena Gardens for its 26th year.
Remember that you can take Muni for the entire day for a single $5 fare. The new $5 Day Pass, available on MuniMobile®, is part of Muni's recent fare changes. The pass is intended to encourage a safe, convenient way to pay your fare and quickly board Muni vehicles, which reduces overall travel time for everyone. The $5 Day Pass is Muni bus, rail and historic streetcars only.
"On Tap" gives you a heads up about the big events in town and what Muni routes and lines will get you to the party. Look for this feature to be posted usually on Thursdays for a look ahead to the weekend. Check out our Weekend Traffic & Transit Advisory for more details.