This Weekend: Nihonmachi Street Fair and Giants Baseball
Wednesday, August 2, 2017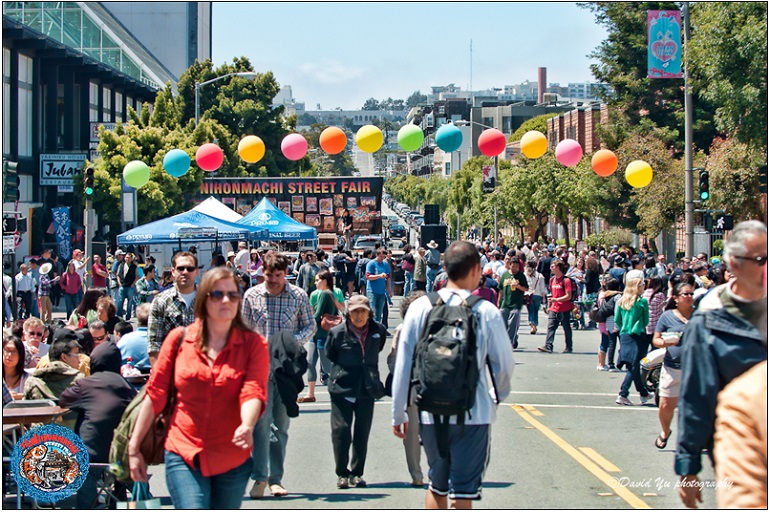 People enjoying the Nihonmachi Street Fair in Japantown on August 13, 2011. Photo credit: David Yu/Flickr
Nihonmachi Street Fair
Saturday and Sunday, various times
Japantown
Founded in 1973, the Nihonmachi Street Fair was created to provide leadership and mentorship opportunities for the youth of Japantown and honor the cultural heritage of the neighborhood. Since then, the event has grown from a small neighborhood affair with four booths to a two-day festival that draws over 30,000 people and incorporates local music that spans genres from Taiko to salsa, rock and jazz. This year's fair will showcase work from local Asian artists, the fourth annual co-ed basketball tournament, Sunday's Doggie World, and a food fest.
How to Get There on Muni: The 2 Clement, 3 Jackson, 22 Fillmore, 31 Balboa and 38 Geary/38R Geary Rapid routes will take riders close to the event.
Muni Service Note: There are no scheduled service reroutes, but Muni service near Japantown may see minor delays due to increased ridership.
SF Giants Baseball Games
Friday through Sunday, various times
AT&T Park
Catch the Giants in the midst of their most recent home stand as they take on division rivals the Arizona Diamondbacks for a three-game series. On Saturday, the first 40,000 fans through the gates will receive a Giants 1997 commemorative trading card pack.
How to Get There on Muni: E Embarcadero, T Third, Metro Ballpark Shuttles, 10 Townsend, 30 Stockton, 45 Union/Stockton and 47 Van Ness will take riders close to the ballpark.
Muni Service Note: Due to the weekend subway closure, there will be no Muni Metro service between West Portal and Montgomery stations. Baseball fans can get to the ballpark by catching a Muni train from Embarcadero Station. Metro Bus shuttles will operate between Embarcadero and West Portal. 
On Tap for next weekend: Outside Lands, Lady Gaga at AT&T Park, the Pistahan Parade and Festival, Escape from The Rock Duathlon and the Inner Sunset Flea.
Reminder: Muni Subway Shutdowns for New Train Tests
Muni Metro subway closures for tests on new Muni trains will continue until Sunday, Aug. 20, except for Aug. 11 - 13. Subway service will close early on weekdays at 9:30 p.m., and all weekend from Fridays nights until Monday mornings. Muni bus shuttles will operate between Embarcadero and West Portal stations. Muni Metro trains will continue to operate on the surface during the test period. For complete details, please visit our service alert page.
Reminder: J Church Stop Changes at Balboa Park
Due to construction for the Balboa Park Station Area and Plaza Improvement Project, the J Church Line will continue to serve alternate stops on San Jose Avenue until the fall.
For details, please visit our Green Light Rail Center Track Replacement Project page.
Reminder: Van Ness Construction
All left turn lanes on Van Ness Avenue have been removed with the exceptions of those at Broadway (southbound), Lombard Street (northbound) and temporarily at Hayes Street (northbound).
Van Ness traffic lanes have been reduced from three to two on these segments:
Northbound from Post to Filbert Street
 
Southbound from Filbert to Washington Street
For complete details on these changes, please visit our Van Ness Improvement Project page.
"On Tap" gives you a heads up about the big events in town and what Muni routes and lines will get you to the party. Look for this feature to be posted usually on Wednesdays for a look ahead to the weekend. Check out our Weekend Traffic & Transit Advisory for more details.