This Weekend: North Beach and Juneteenth Festivals
If you're a fan of nice weather and historic festivals, then this weekend should please you. Check out our featured events below.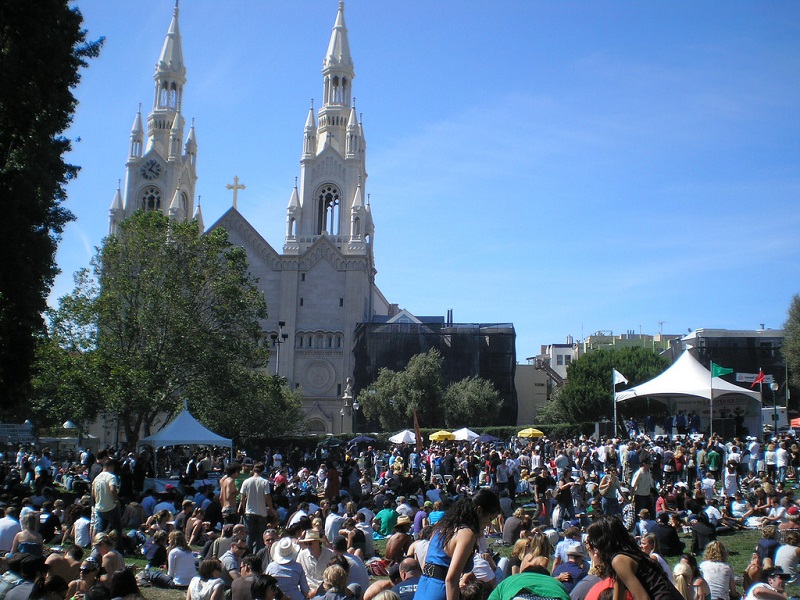 The crowd soaking up the sun in Washington Square Park during North Beach Festival 2009. Photo: Javi Vázquez/Flickr
North Beach Festival
Saturday and Sunday, 10 a.m. to 6 p.m.
North Beach
Considered one of the country's original outdoor festivals, the North Beach Festival is back this weekend for its 63rd year. Situated in the North Beach neighborhood – San Francisco's Little Italy – this event will feature over 125 arts and crafts booths, two stages of live entertainment, gourmet food, beverage gardens and much more for the whole family to enjoy. 
How to Get There on Muni: The 8 Bayshore, 30 Stockton, 39 Coit and 45 Union/Stockton will take riders close to the event.
Muni Service Note: The 8 will have a reroute while the 30, 39 and 45 may see increased ridership and possible delays.
Juneteenth Parade and Festival
Saturday, 11 a.m. to 6 p.m.
Western Addition
Dating back to June 19, 1865, Juneteenth is an annual commemoration of the end of slavery in the United States aimed at building historical awareness and celebrating African-American culture. The Juneteenth Parade and Festival started in San Francisco in 1951, when Dr. Wesley Johnson Sr. invited the Bay Area's African-American community to gather and celebrate at the Texas Playhouse on Fillmore Street.
That tradition continues more than six decades later. The parade kicks off this Saturday at 11 a.m. from Fulton and Laguna streets, heading north on Laguna and west on Turk Street to the festival on Fillmore between Turk and Geary streets. The festival will connect local organizations with the community, feature live entertainment, carnival rides, a petting zoo, and food and drink vendors.
How to Get There on Muni: The 5 Fulton, 22 Fillmore, 31 Balboa and 38 Geary/38R Geary Rapid routes will take riders close to the festival.
Muni Service Note: The 22 will have a reroute while the 5, 31, and 38/38R may see increased ridership and possible delays.
Reminder: J Church Stop Changes at Balboa Park
Due to construction for the Balboa Park Station Area and Plaza Improvement Project, the J Church Line will continue to serve alternate stops on San Jose Avenue until the fall.
For details, please visit our Green Light Rail Center Track Replacement Project page.
Van Ness Construction Reminder
All left turn lanes on Van Ness Avenue have been removed with the exceptions of those at Broadway (southbound), Lombard Street (northbound) and temporarily at Hayes Street (northbound).
Van Ness traffic lanes have been reduced from three to two on these segments:
Northbound from Post to Filbert Street
Southbound from Filbert to Washington Street
For complete details on these changes, please visit our Van Ness Improvement Project page.
"On Tap" gives you a heads up about the big events in town and what Muni routes and lines will get you to the party. Look for this feature to be posted usually on Wednesdays for a look ahead to the weekend. Check out our Weekend Traffic & Transit Advisory for more details.