Weekend Outings: Treasure Island Music Festival and Sunday Streets in the Excelsior
Wednesday, October 12, 2016
In addition to the Treasure Island Music Festival and Sunday Streets, the Potrero Hill Festival will take place Saturday on 20th Street between Missouri and Wisconsin streets from 11 a.m. to 4 p.m. (the 10 Townsend will be affected). A culinary competition, Heritage BBQ, will take place on Sunday in Dogpatch on 22nd Street between 3rd and Illinois streets from 4 to 8 p.m.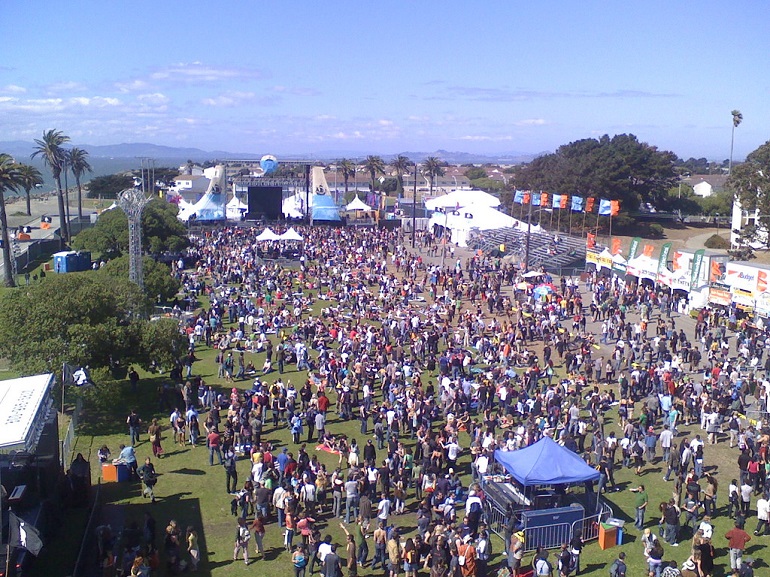 Fans enjoying the Treasure Island Music Festival on September 15, 2007. Photo credit: Ben Chun/Flickr
Treasure Island Music Festival
Saturday and Sunday, 11 a.m. to 11 p.m.
Treasure Island
After nine years on the Great Lawn, the 10th annual Treasure Island Music Festival moves to the southeast corner of the island near Pier 1 for stunning views of the Bay Bridge and the East Bay. While the location may be new, the artistry, the energy, and the anticipation remain as high as ever.
Gathered from different genres of music, this year's line-up plays on two stages — Saturday's headliner will be hip-hop icon Ice Cube, on Sunday it's the experimental rock of Iceland's Sigur Ros.
Due to limited parking, event shuttles will provide pick-up and drop-off service to and from the Bill Graham Civic Center. Visit the event's "Getting There" webpage for complete transportation details. Festival goers can also utilize Muni's 25 Treasure Island Route.
Muni service note: The 25 Treasure Island Route will have additional bus service during both days of the festival. Once on Treasure Island the 25 service will have a re-route.
Sunday Streets: The Excelsior
Sunday, 11 a.m. to 4 p.m.
Excelsior District
Sharing the spotlight, Sunday Streets will host its seventh event of the season on Mission Street between Theresa Street and Geneva Avenue while the Excelsior Arts and Music Festival will take at Persia Triangle. Family friendly activities will include an art walk, music, dance, theatrical performances, Zumba, free bike repairs and so much more.
Due to street closures, congestion in the neighborhood will be heavy. Use public transportation to get to all the festivities. The 8 Bayshore, 14 Mission, 14R Mission Rapid, 29 Sunset, 43 Masonic, 44 O'Shaughnessy, 49 Van Ness/Mission and 52 Excelsior will get you close to the events.
Muni service note: due to street closures the 14 Mission, 14R Mission Rapid, 29 Sunset, 49 Van Ness/Mission and 52 Excelsior will have re-routes.
Temporary J Church and K Ingleside Service Changes Reminder:
Due to Balboa Park Station Area and Plaza Improvement construction work, there are now temporary stop changes in effect for the J Church and K Ingleside lines at Balboa Park Station. These stop changes will be in place through the end of the year. For details, please read our September 1 blog post.
On Tap for next weekend: Wharf Fest, Superhero Street Fair, and Bayview LIVE
"On Tap" gives you a heads up about the big events in town and what Muni routes and lines will get you to the party. Look for this feature to be posted usually on Wednesdays for a look ahead to the weekend. Check out our Weekend Traffic & Transit Advisory for more details.