This Weekend: Russian Festival and Chinese New Year 5K/10K
Wednesday, February 27, 2019
Events: This weekend will have no shortage of unique events across the city, starting with the 31st annual Russian Festival in the Pacific Heights neighborhood which kicks off this Friday and lasts throughout the weekend. Foodies can enjoy delicious soul food in the Bayview neighborhood during Saturday's Black Cuisine Festival while those looking for a little taste of springtime can head to Union Square for American Tulip Day. On Sunday, Chinatown will host the Chinese New Year 5K/10K. Read more about our featured events below.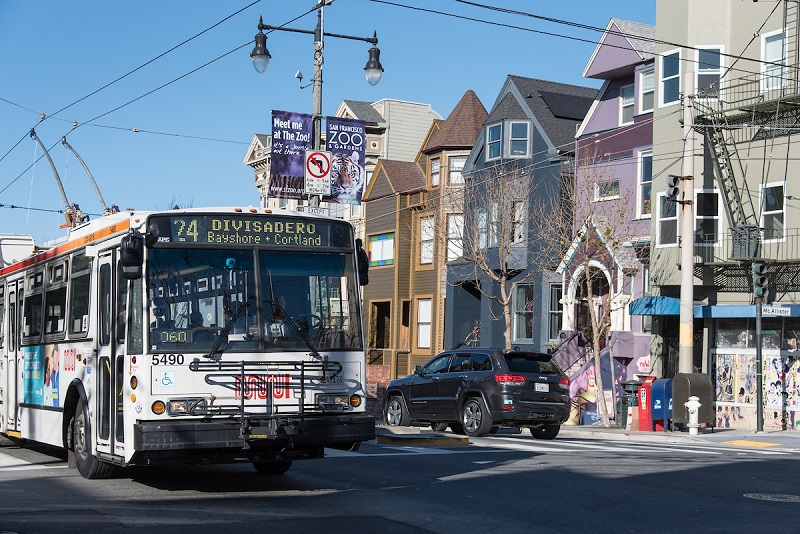 The 24 Divisadero Route is a great way to this weekend's Russian Festival in Lower Pacific Heights. Photo: SFMTA Archive
Russian Festival
Friday-Sunday, various times
Pacific Heights
Piroshki, borsch, pelmeni and the ever popular flavored vodkas will be just a few of the highlights of this weekend's Russian Festival. This annual event showcases the Russian-American experience with food, drink, folk dances, art and so much more over the course of three days at the San Francisco Russian Center in Lower Pacific Heights.
---
How to Get There on Muni: The 1 California, 2 Sutter/Clement, 3 Jackson, 22 Fillmore, 24 Divisadero, 38 Geary, 38R Geary Rapid and the 43 Masonic routes all have stops within easy walking distance of the event.
Muni Service Notes: There are no planned service changes for this event.
YMCA 5K and 10K
Sunday. 8 a.m.
Chinatown area
The Chinese New Year Run is an annual fundraiser benefiting the Chinatown YMCA's Physical Education Program and Community Center now entering its 41st year. The starting line will be at Grant Avenue and Sacramento Street with the course proceeding north along Grant to Stockton before turning onto The Embarcadero and winding its way back to the Kearny and Sacramento streets finish line.
How to Get There on Muni: Let Muni take you close to the starting line on the Powell/Mason, Powell/Hyde or California Cable Car lines as well as the 1 California, 8 Bayshore, 10 Townsend, 12 Folsom/Pacific, 30 Stockton or 45 Union/Stockton routes.
Muni Service Notes: The 10 and 12 routes will have reroutes during this event. Other routes in the area of the race course may see some minor delays.
Remember that you can take Muni for the entire day for a single $5 fare. The new $5 Day Pass, available on MuniMobile®, is part of Muni's recent fare changes. The pass is intended to encourage a safe, convenient way to pay your fare and quickly board Muni vehicles, which reduces overall travel time for everyone. The $5 Day Pass is Muni bus, rail and historic streetcars only.
"On Tap" gives you a heads up about the big events in town and what Muni routes and lines will get you to the party. Look for this feature to be posted usually on Thursdays for a look ahead to the weekend. Check out our Weekend Traffic & Transit Advisory for more details.