We're Saying Thank You for Transit Driver Appreciation Day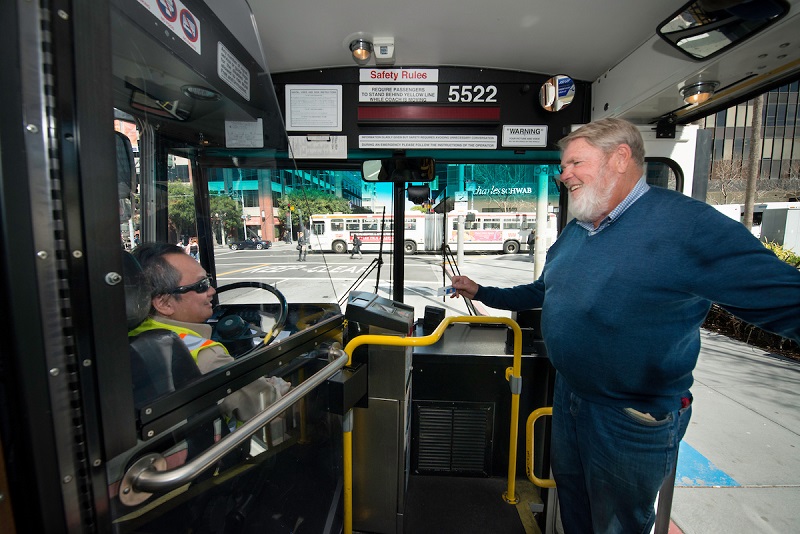 A Muni operator greets a customer with a smile.
As many celebrate all things Irish tomorrow, we'll also be celebrating our Muni drivers for Transit Driver Appreciation Day. While the official day is on Saturday, we want to recognize the men and women who serve the city's visitors and residents as bus and rail operators for their efforts to ensure we arrive safely at our destinations.
Among the thousands of people it takes to keep Muni and the rest of our transportation system moving, Muni operators have one of the toughest jobs. For hours on end, they keep the city moving,  announce stops, answer questions for customers and so much more. And they do this all while safely maneuvering an extra-large vehicle through unpredictable city traffic, some really tight spaces and difficult terrain. We want to say thanks.
In his message to SFMTA staff today, Ed Reiskin, our director of transportation, said, "Join with me in celebrating these hard-working men and women who transport our customers, and us, safely to and from our destinations, day after day. They are the face of this agency and the heart of Muni."
In that spirit, we are honoring the heart of Muni and we hope you will join us. Many customers already make a habit of letting us know that they love their Muni operator. Here are few of our favorite recent comments:
Driver was very considerate and asking everyone when they were getting on the bus if they needed help.  He just seemed like a really nice person and seemed to care about people. – Linda M.
 
She's very sweet. So very kind and beautiful. They have a hard job and she goes the extra mile to do her job and be courteous. It makes me have a better day! – Winnifred M.
 
My favorite thing about muni drivers are when they are amazing ambassadors of the city, when they make a tourist or resident feel welcome. An amazing ambassador for the city. Very friendly and funny. – Raymond D.
 
I want to compliment my driver. He was very good. He had a wheelchair customer and was very kind and handled it very well asking for people to make way. And he seems to love his job!" – Patricia S.
 
The driver was great announcing the connecting lines along the F route as well as the points if interest along the route. It is great to see drives like him providing outstanding customer services for the local and visitor. – Norman T.
Show your appreciation for your Muni operator, tomorrow or any day, with a simple smile or thank you. You can also show your love your operator on Twitter by tweeting with the hashtags #TDAD and #SFMuni. And to really make it official, you can submit your commendation via 311.
Transit Driver Appreciation Day is inspired by Portland's TriMet.