What Happened to My Friday Commute?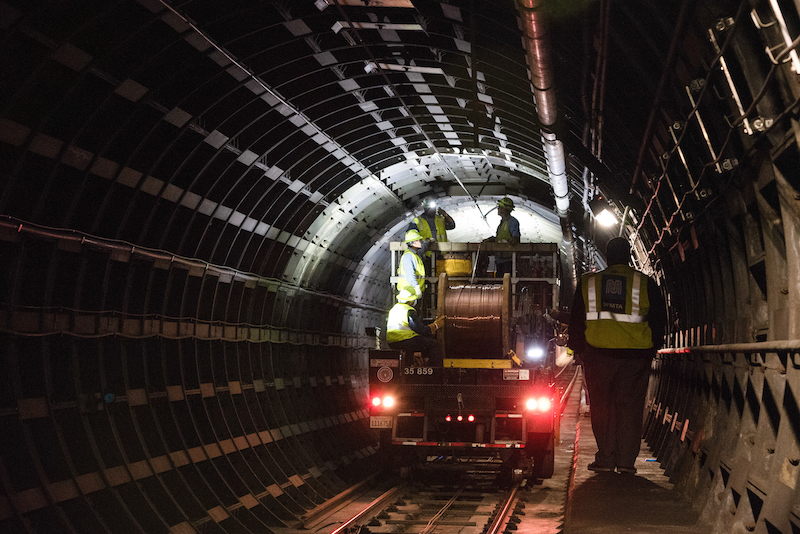 UPDATE: As of 7:25 p.m., subway service has been fully restored. We apologize for today's delays, and appreciate your patience. 
We know that this has been an exceptionally difficult week for Muni customers. Whether it's been concerns over the safety of the new Siemens LRV4 trains, the ongoing operator shortage or today's service delays, it has been a frustrating period to be sure. We apologize for the inconvenience to all of our customers. 
Subway service was suspended this morning, the result of overhead lines down in the subway. 
At 6:33 a.m., the lines that provide the power to Muni light rail vehicles became detached between the Powell Street and Civic Center stations, causing a train to stall in the tunnel and halting train service from Church to Embarcadero. 
A "rescue train" was dispatched to pull the disabled train out of the tunnel and crews are in the process of repairing the lines. There were no injuries and at no time were Muni customers or staff in any danger. 
The SFMTA responded immediately, alerting the public via social media, dispatching transit fare inspectors, safety staff and ambassadors from across the agency to assist customers and direct them to bus shuttles. Shuttles continue to provide alternate service between the Church and Embarcadero stations. BART is providing mutual aid and accepting Muni fares for travel between downtown stations. 
The subway is the backbone of Muni's light rail system, serving more than 160,000 customers each day. It is a single trunk line, which serves the J, K/T, L, M and N lines. The impact of even a single incident such as this one in the subway causes delays across the entire system. 
Infrastructure issues; including overhead lines, switches, rails and more; account for 49% of subway delays and stem from decades of underinvestment in "state of good repair" projects. These type of projects are necessary to keep the system working safely and at full capacity. For the past several years, Muni has been working to upgrade the system and improve reliability, but there is still a lot of work to be done. 
Some have suggested a connection between this infrastructure-related incident and the operator shortage that is currently impacting service on our bus and trolley lines. We want to be very clear: while an investigation into the cause of today's incident is already underway, there is no evidence of any kind to suggest a connection. 
Every day, Muni carries more than 720,000 trips throughout San Francisco, making it possible for residents, and visitors to the city, to get where they need to go. We are grateful to our customers for continuing to ride Muni and appreciate their patience even as we work hard to get the system back on track. 
Crews are working diligently to make the necessary repairs to get the system up and running as soon as possible. Staff with yellow safety vests are at stations to assist customers. Please follow us on Twitter, @sfmta_muni, for real time updates. We also offer a free electronic subscription service that allows our customers to receive real-time email or text alerts about Muni service by route and time of day. 
We will continue to provide additional information through these various channels as it becomes available.