Why Muni Arrival Times Are Off This Week, and How We're Working to Fix Them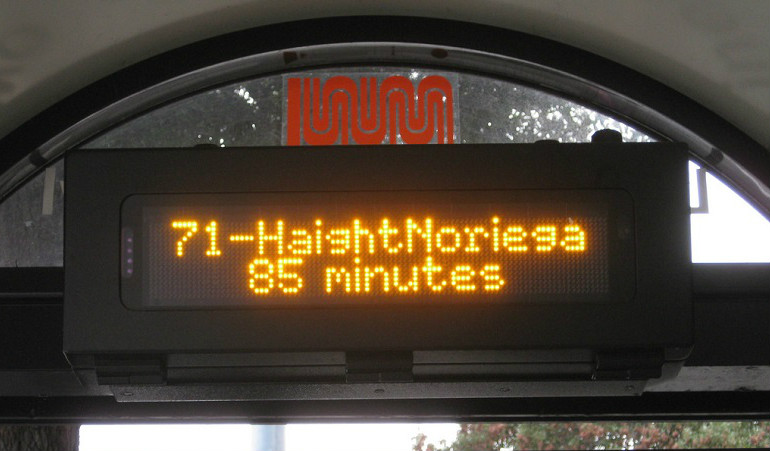 Due to a technical issue that started this week, long wait times shown on NextMuni signs may not be accurate. Photo: Michael Ocampo/Flickr
Wednesday, Feb. 22 Update:
All Muni arrival predictions have been restored. Once again, we appreciate your patience during this inconvenience.
Friday, Jan. 27 Update:
Nearly all Muni arrival predictions have been restored. This weekend, we expect to complete modem upgrades on the last of our diesel buses in service. (As a reminder, all Muni Metro vehicles have already been upgraded for predictions.)
As we complete final upgrades on electric trolley buses over the next month, there may still be occasional prediction gaps for those vehicles on the routes below (depending on the location and vehicle):
1 California
2 Sutter
3 Jackson
5 Fulton / 5R Fulton Rapid
6 Parnassus
22 Fillmore
24 Divisadero
30 Stockton
31 Balboa
33 Ashbury
41 Union
45 Union-Stockton
We once again apologize and appreciate your patience as we've worked every day to bring all predictions back online.
Friday, Jan. 13 Update:
As of yesterday, all Muni rail vehicles have upgraded vehicle modems. Approximately half the bus fleet is currently predicting. By the start of next week, we anticipate having more than 90 percent of citywide NextMuni coverage back online.
We learned about the 2G deactivation in 2012 and have been working with the vendor to upgrade Muni shelters and vehicles. We understood we had more time until the phasing out of the 2G network would impact NextMuni. 
Each night as vehicles finish service, their equipment is being replaced and reprogrammed to connect to the higher grade (3G) network. We've deployed every available resource to make sure this work gets done as quickly and cost effectively as possible. 
We understand that riders rely on arrival predictions and it is frustrating to not have them available. We sincerely apologize for the inconvenience and appreciate your continued patience while we work to get the system back up and running. 
Tuesday, Jan. 10 Update:
While our ability to offer NextMuni predictions remains limited, we were able to work quickly over the past several days to upgrade connections for the majority of our Muni Metro light rail vehicles. As of this morning, NextMuni is correctly showing most Muni Metro train arrivals. Customers who use third-party apps for NextMuni predictions should start seeing improvements on those apps as well. Muni Metro subway screens will be phased back on this week.
Over the coming weeks, we will continue replacing and reprogramming outdated vehicle modems on the remainder of the Muni fleet. We will continue to upgrade our rail fleet and move onto the approximately 500 buses that have not already been upgraded as part of the Computer Aided Dispatch and Automated Vehicle Location System (CAD/AVL), also know as the radio replacement project. All of this work is being completed by Muni staff along with our NextBus partners.
 As we work expeditiously to bring NextMuni back online, customers can consult the Frequency Schedule on this blog to approximate how often vehicles can be expected. We understand how frustrating not having Muni predictions can be and we sincerely apologize for the inconvenience this has caused to our customers.
###  
If you've ridden Muni this week, you may have had problems receiving accurate NextMuni predictions for when your next bus or train will arrive. If you notice longer wait times, many Muni vehicles are not being predicted on arrival screens, so your wait may be shorter than indicated.
The inaccurate predictions are due to a technical issue that we're working aggressively to resolve. As we develop a solution to end further disruption, we wanted to help explain what we know about the issue so far.
At this point, we expect it will take at least a matter of weeks to restore and phase in all missing Muni predictions. By early next week, we expect to have enough information to provide a more detailed time frame.
We know how important arrival predictions are to planning your trip, and how frustrating it can be not to know how long you'll have to wait. We sincerely apologize for the inconvenience.
Muni Frequency Guide: For those looking to use a Muni line or route which lacks accurate arrival predictions, please see our Muni Frequency Guide to see how frequently Muni service is scheduled to arrive throughout the day. There's a table for weekday service, followed by another one for weekends. (Note: This post was updated on Feb. 15, 2017 when the guide was moved to a separate webpage.)
We've also programmed this information to display on digital message screens on Muni stop shelters and in our subway stations, as well as on NextMuni.com, along routes where prediction info may be missing. This info can also be found alongside the Muni map on any stop shelter.
Why Some Muni Predictions Aren't Showing
NextMuni data is transmitted via AT&T's wireless cell phone network. As Muni was the first transit agency to adopt the system, the NextMuni infrastructure installed in 2002 only had the capacity to use a 2G wireless network – a now outdated technology which AT&T is deactivating nationwide. As you may have noticed, we've displayed messages on our NextMuni signs in recent months to communicate about upgrades to them.
Simply put, the deactivation work that affects our vehicles started sooner than expected and outpaced our ongoing upgrade of all Muni vehicles to a new communications and monitoring system.
That means Muni vehicles that haven't been upgraded can't transmit the data that allows NextMuni screens to predict their arrival. At this point, that's nearly 70 percent of Muni vehicles, including all Metro trains. 
Developing Solutions
We've put high priority on finding the best option to restore predictions for all Muni vehicles as quickly as possible. As mentioned, we expect to have enough information to provide a more detailed time frame early next week.
How the NextMuni System Works
NextMuni, known more widely as NextBus, is a third-party vehicle tracking system used by many transit agencies to provide information to customers and transit service managers.
It uses data from GPS (Global Positioning System) devices and transit schedules to provide customers an estimated time for when their vehicle will arrive, displayed on digital screens and online at NextMuni.com. We also use those screens to display info about Muni service, such as alerts about delays, and our transit service managers use NextMuni information to monitor Muni vehicles and make adjustments.