Women Pioneers at Muni: Adeline Svendsen and Muni's First Newsletter
Wednesday, March 30, 2022
To close out Women's History Month, here's a look back at one woman whose work to bring Muni staff together in the late 1940s created a legacy that lives on to this day. Adeline "Addy" Svendsen was founding editor of Muni's first internal newsletter, "Trolley Topics."
Adeline Svendsen sits at her desk in the Geneva Carhouse office building in this 1949 shot.
Trolley Topics was a new venture when it started in February 1946. As Svendsen wrote in the first issue it was created, "to bring a little fun, a little news, and a lot of good will to all our fellow employees in the Railway."
Just two years prior in 1944, Muni merged with the Market Street Railway Company, expanding the small municipal operation into the largest transit provider in the city with hundreds of employees, vehicles of every shape and size, and dozens of facilities scattered across town. The newsletter was meant to help unite the two workforces (which historically had been in competition with each other) and keep everyone on the same page about what was happening across the railway.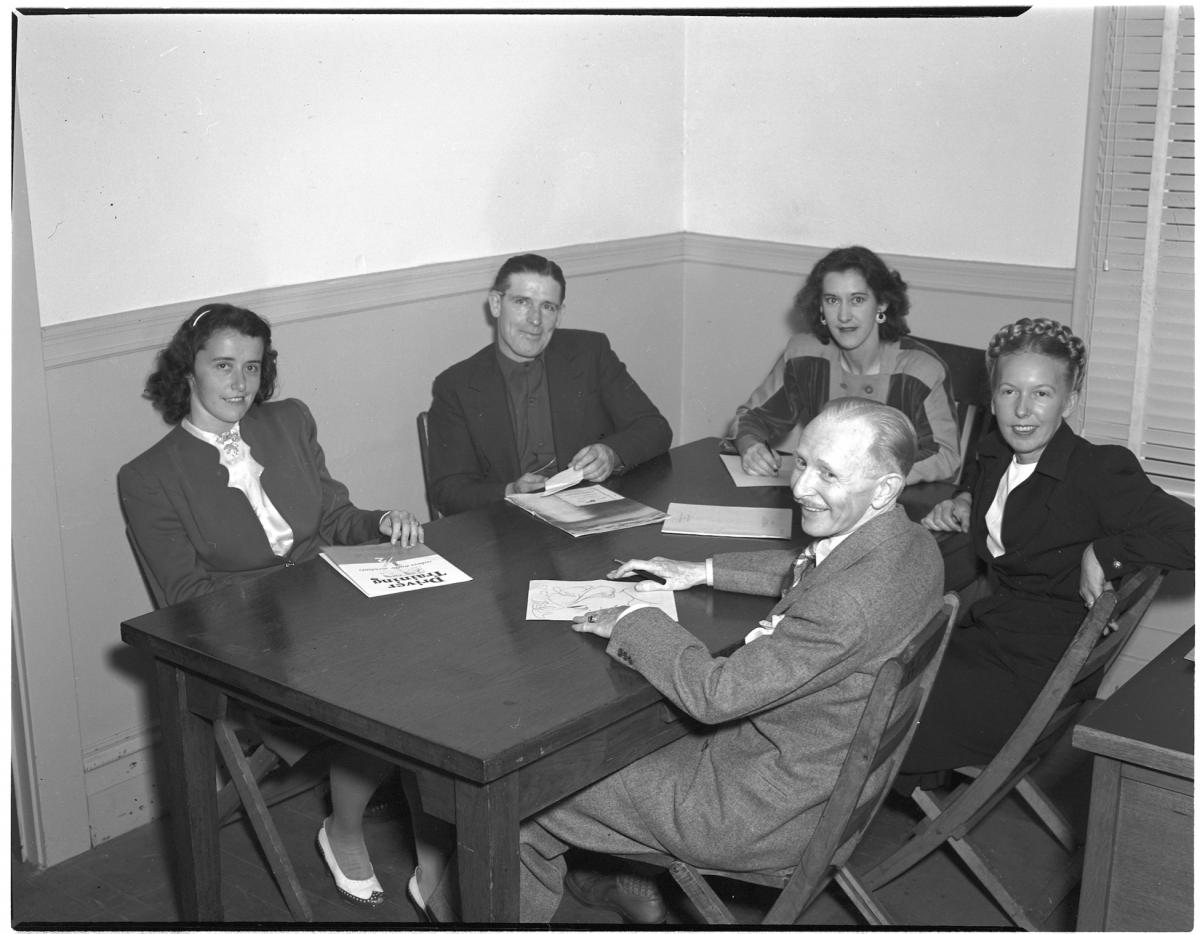 Group photo of Trolley Topics contributing staff in 1946. Clockwise from left: reporters Dolores Shea, Robert Fish, Maybelle Paetzel, editor Adeline Svendsen, and cartoonist Charles Reed.
Through her perseverance and editorial savvy, Svendsen's monthly quickly evolved from a bare-bones typewritten handout to a proper paper within just six-months of the first issue. Properly printed with an eye-catching front page, nicely laid out columns and photographs supplied mainly by the Muni Photography Department, Trolley Topics looked much like any professional magazine of the day.
Typically, each issue had sections for employee commendations, news from each division about staff activities, goofy transportation-centric cartoons, and articles about general railway announcements and programs. As the years progressed, the paper expanded its scope to include messages from the mayor, announcements about policy changes affecting city employees, more photos from staff events and awards, and occasional news from other departments.
Svendsen poses with one of Muni's newest buses in this 1947 photo taken at a bus garage once located on 24th and Utah streets. 
Unfortunately, Adeline Svendsen left the Railway abruptly in 1952 and with her departure, the publication ceased production. Despite the short-lived run of the paper, Svendsen's nearly seven-year project left an important mark on Muni.
Recognizing the importance of Svendsen's original Trolley Topics, the newsletter was revived using the same name in 1973. Much like its predecessor, the 1970s Trolley Topics covered staff awards and events but also focused on major programs to improve the system. In mid-1980, the second run of the paper ceased production due to budget problems, with no replacement until the 1990s.
Not only did Adeline Svendsen's Trolley Topics bring staff together and provide much needed information at the time it was published, her work offers inspiration for our ever expanding efforts to connect our nearly 6,000 colleagues today. Additionally, the stories and photos published in both the original and the revived Trolley Topics give us an invaluable glimpse into the operations and culture of Muni during those times.