Your Questions, Answered: Central Subway Special Weekend Service
Wednesday, November 23, 2022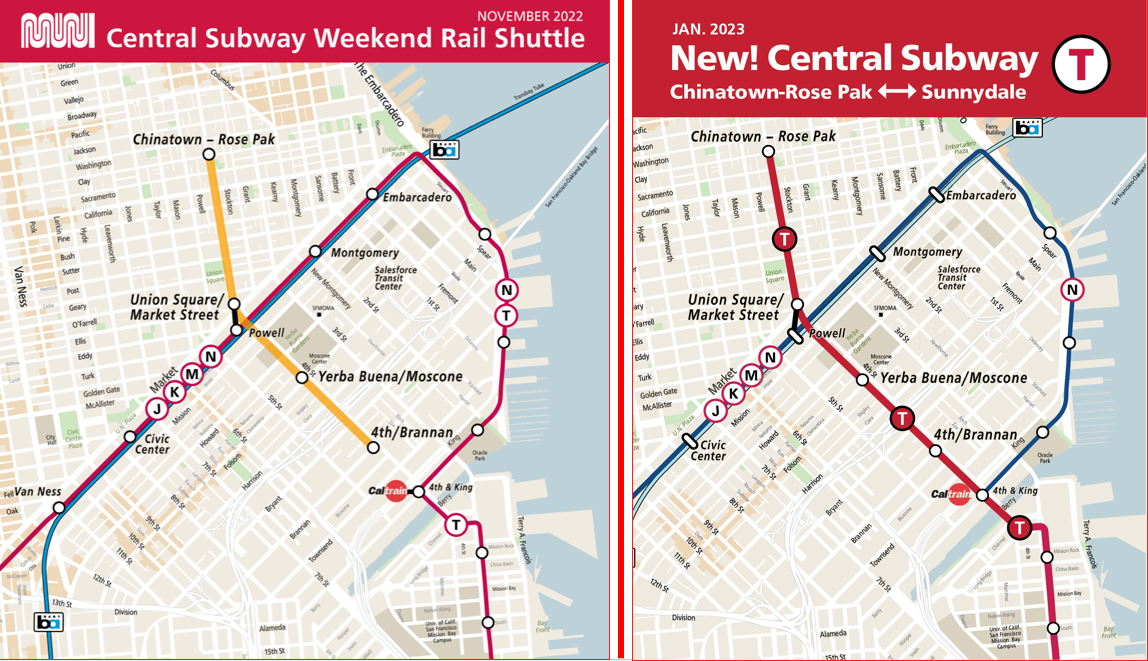 Central Subway special weekend service shuttles customer between Chinatown-Rose Pak Station and 4th & Brannan to explore the new stations. And on January 7, T Third service will connect from Chinatown-Rose Pak to Sunnydale.
What has four brand new stations, thousands of curious customers and really long escalators? It's Central Subway! Special weekend service launched Saturday and Sunday, November 19 and 20 with a steady stream of Muni customers excited to experience the SFMTA's historic new subway. They were greeted by ambassadors in orange giving out fortune cookies and Muni squishy trains and answering lots of questions. Customers got to see the new Central Subway stations for the first time and start to learn how to navigate new connections with special shuttle service operating between Chinatown-Rose Pak and 4th & Brannan stations.
We know this is a big change for everyone and it will take time to adjust. As we ready for the official launch of the new T Third line from Chinatown-Rose Pak to Sunnydale on January 7, 2023, we are making final preparations, like installing and updating signage and other improvements over the coming weeks. We are also taking steps to respond to customer feedback we heard over the weekend. Here are some of the most common questions we heard.
What's the difference between special weekend service and January 7 service?

Will there be more signage to help customer navigate the new stations and connections?

How do I get to Chinatown from Powell Station?

Can I take the T Third from 4th and King to Chinatown?

What's the best way to connect to Powell Station from Union Square/Market Street Station?

How do I know which side of the platform to board on?

The stairs are long! Is there an alternative?
To get the answers to these and other frequency asked questions, visit our service changes page (SFMTA.com/ServiceChanges) and click on the Central Subway Service FAQs.
And please remember, safety first! Always stay behind the yellow lines on the train platforms.