L Taraval 1919 to 2019 Exhibit at West Portal Library
Monday, May 6, 2019 - 2:00pm

to

Friday, May 31, 2019 - 12:00pm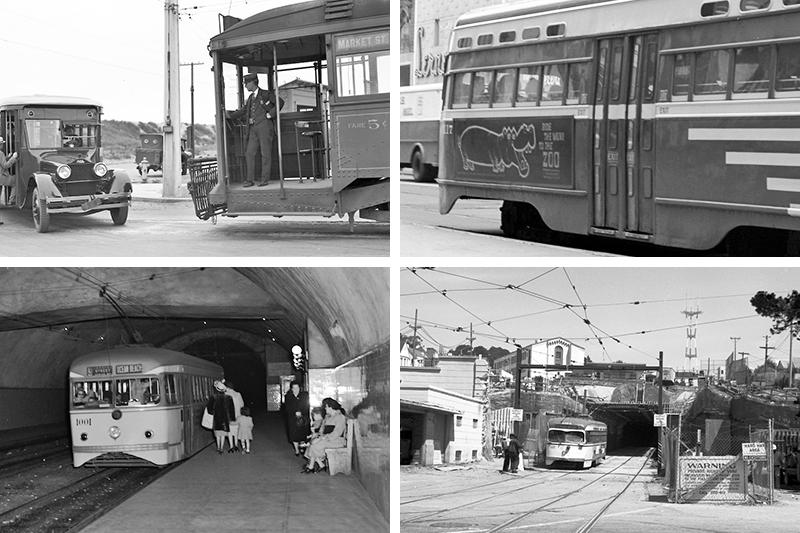 100 Years on the L Taraval
The lovely L Taraval turns 100 years old in April of this year! The line had its opening day on April 12th, 1919, although at that time it only ran from the West Portal of the Twin Peaks Tunnel to Taraval and 33rd Avenue.
By fall of 1923, the "L" was running a route much similar to today, from the Ferry Building out to Taraval and 48th Avenue. The full extension to the SF Zoo and Fleishhacker Pool occurred in 1937.
America in the 1930s was mired in the Great Depression, but the federally-funded Works Progress Administration contributed resources to building the zoo, as well as the extension of the L Taraval. With the L established, San Franciscans could get to the zoo and other nearby attractions including the enormous Fleishhacker Pool, the Dentzel Carousel and the Little Puffer Steam Train.
What's Happening to Celebrate
The SFMTA Photo Archive will be showing a traveling exhibit on the history of the L Taraval. Find the exhibit:
May 6th to May 31st - West Portal Library, 190 Lenox Way, 1 block from the Muni West Portal Station. The West Portal Library will host the L Taraval History Exhibit for the month of May. Find it near the main entrance to the library in the entry hallway, starting at 2 p.m. on May 6th and running through May 31st.
See and share L Taraval photos on social media with the hashtag #100YearsontheL
To get a glimpse into what the "L" looked like 100 years ago, check out the SFMTA Photo Archive's online historic photos
Dive into history via our History in Motion blog Dunes to Destinations: 100 Years on the L Taraval
---
The San Francisco Zoo is also celebrating their 90th anniversary this year: find more on their website at 90 Years of Magic and share zoo photos with #SFZoo90.
---
The L Taraval "then and now"-- on the left, an electric streetcar with an L Taraval sign in 1934. On the right, the L Taraval in present day near Taraval and 32nd Avenue.