L Taraval Improvement Project
Project Introduction
Segment B Work Has Begun! 
The L Taraval Improvement Project continues infrastructure work along the L Taraval line from Sunset Blvd. to 15th Ave., and on Ulloa St. near West Portal.
Potholing and sewer related preparation work is underway at specific locations and includes excavation, sewer trench work, saw cutting of the concrete and pavement with water, installation and waterline work.  Temporary small scale staging areas are being set up near specific work sites.
Background
In response to numerous collisions and reported safety concerns, an early implementation of measures known as the L Taraval Rapid project improved safety by adding temporary clear zones at transit stops, a transit only lane and painted safety zones at street corners. The next step is a nearly complete rehabilitation on Taraval Street that will replace infrastructure like the worn rails, overhead wires, water and sewer lines, as well as repave the entire street.
Construction has begun for the L Taraval Improvement Project and it will last approximately three years. Transit service on the L Taraval will remain throughout with a combination of buses and trains. Once completed, the corridor will boast new transit priority traffic signals, bulbouts to make pedestrian crossing safer, new trees, high visibility crosswalks, safety boarding islands and increased accessibility. All of these changes will make Taraval more inviting for everyone that uses it.
For project updates and work forecast: please sign up for email updates
Project Timeline
2014 - 2017
Design and community outreach
2017
Early implementation and loading zone pilot
Project Status
Implementation / Construction
Current
Improvements
Key Stop Ramps at Boarding Islands
New Trees and Streetscape Elements
Updated Traffic Signals and Crosswalks
Bus Routes and Rail Lines
Project Details, History or Features
Upgraded sewer and water lines, permanent boarding islands and increased accessibility are on the way!
Construction Project Elements
Just in time for the L Taraval to turn 100 years old, the corridor will get much-needed improvements to the Muni system and underground sewer and water lines. The project brings together the SFMTA, Public Utilities Commission, and Public Works to upgrade the vital system that help the community thrive. 

Rail track and overhead line replacement
Water and sewer line replacement
Surface repaving
Curb ramp upgrades
Concrete boarding islands and pedestrian bulbs
Traffic signals
New trees and landscaping
The streetscape style elements including tree selection, decorative crosswalks, trackway accent colors and public art were based on community feedback and will make the corridor an even more inviting to residents and visitors alike.
Construction Segments
In order to minimize disruptions during construction and maximize flexibility, the project is split in two construction segments that will overlap. During various times, there will be bus substitutions for the L Taraval so that crews can work on the rails and infrastructure beneath them. 
Segment A: San Francisco Zoo to Sunset Boulevard
Segment B: Sunset Boulevard to West Portal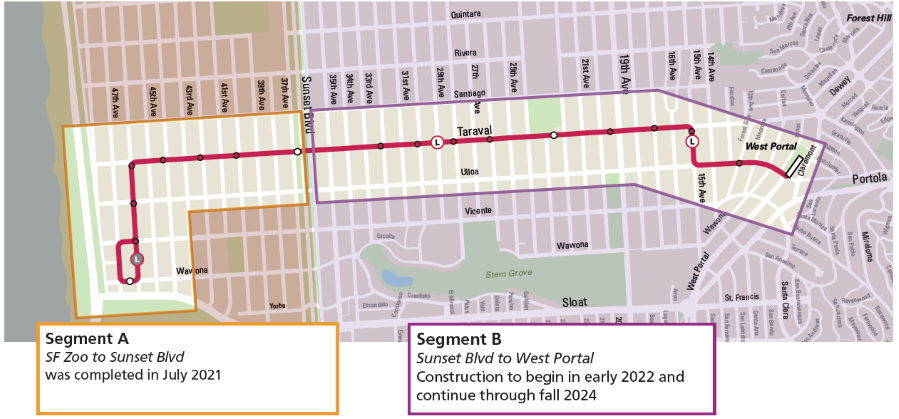 What to Expect During Construction
Please see our project updates for construction work forecast on the right hand column.
Work hours are 7:00am-5:00pm Monday to Friday, 8:00am to 5:00pm weekend **Subject to change based on construction work needs**
Driving access in both directions 
Pedestrian access
Local access (access to stores and residential homes) when streets and intersections are closed for work
Traffic may need to be detoured when streets are closed for work
Construction zones will be a few blocks at a time
Bus shuttle service is planned during track replacement work. L Taraval Muni service will be available through a combination of bus and train throughout the entirety of construction. 
Overhead Contact System (OCS) Poles 
As part of the project's work to upgrade the corridor's aging infrastructure, new overhead contact system (OCS) pole foundations will be constructed to replace the existing poles. These poles are essential to providing support and tension for Muni's Overhead Contact System to keep the L Taraval light rail vehicles running. In addition, it also serves the dual function of illuminating the streets of the Taraval corridor and the path of travel for the Muni L Taraval.
The new OCS poles will be approximately 2-3 feet to the left or right of the existing pole. During construction, you may see both the new and exisitng OCS poles. This is temporary until the construction crew is able to remove the aged OCS pole.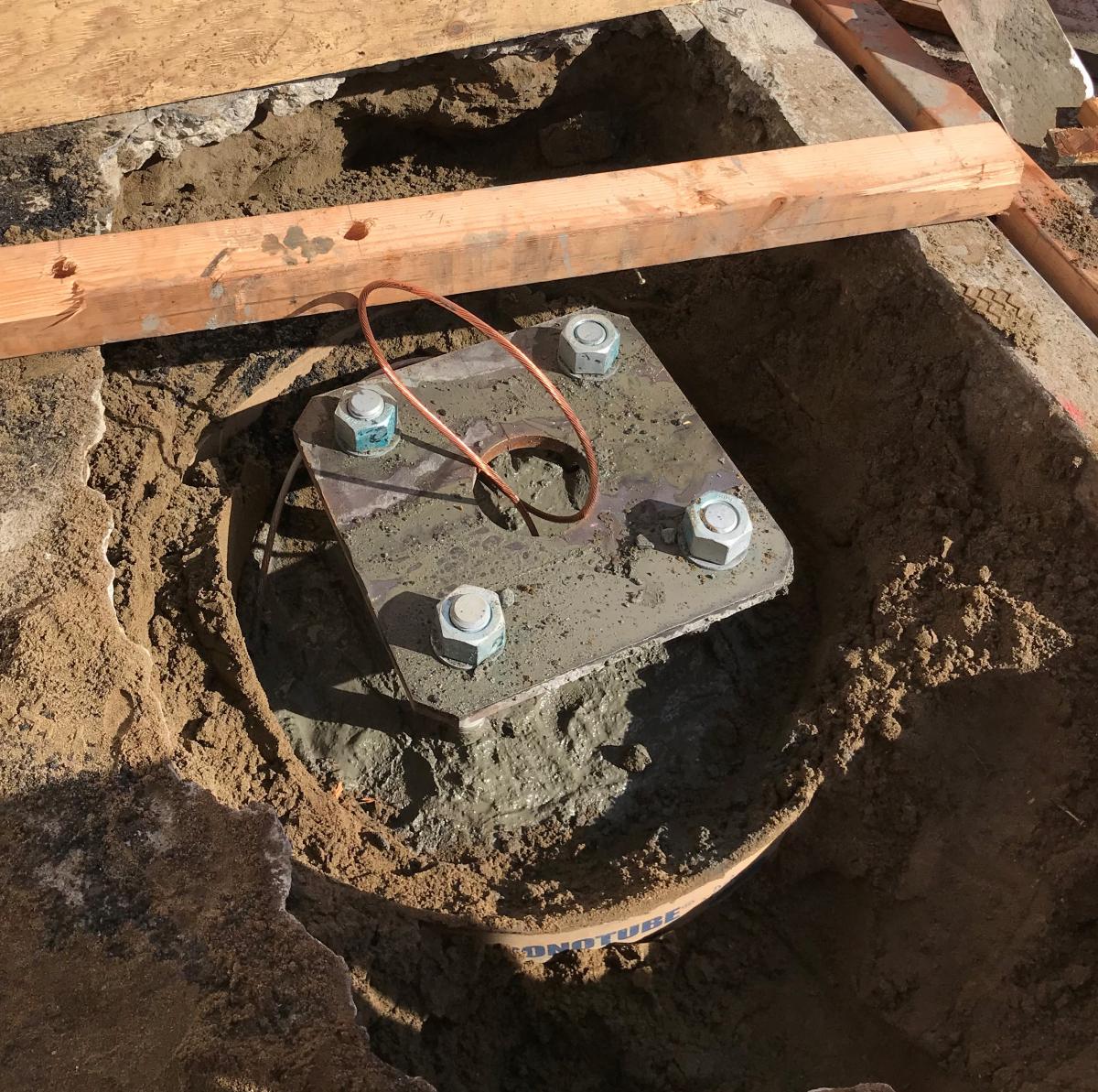 Segment B Stop Changes
To improve safety and reliability while retaining access to key destinations, several additional stop changes are planned as part of the project.
Taraval and 17th Avenue (eastbound) will be relocated from the near side to the far side of the intersection once the new island is constructed.
15th Avenue and Taraval (eastbound) will be removed once the boarding island at 17th Avenue is constructed
Ulloa and Forest Side (eastbound and westbound) will be relocated to Ulloa and 14th Avenue
Project Details
Comprehensive transit and pedestrian safety features will enhance the safety of passengers getting on and off Muni and make the L Taraval more reliable. Block by block features including stop changes, boarding island locations and turn restrictions are highlighted below.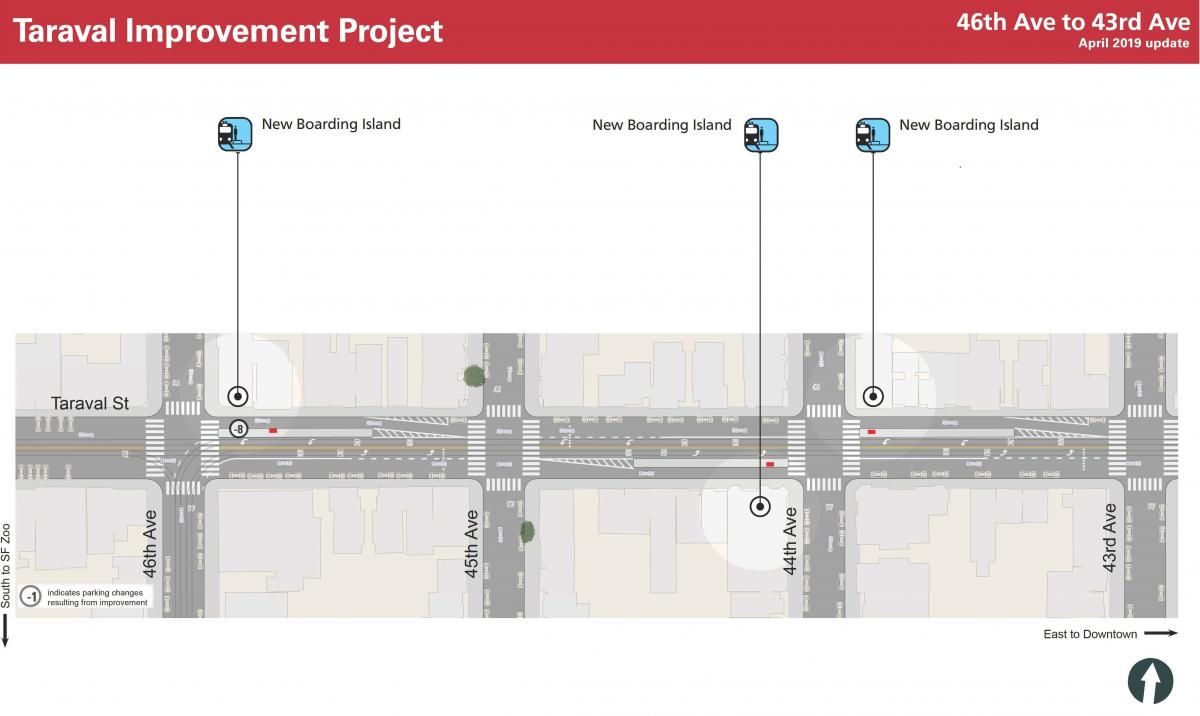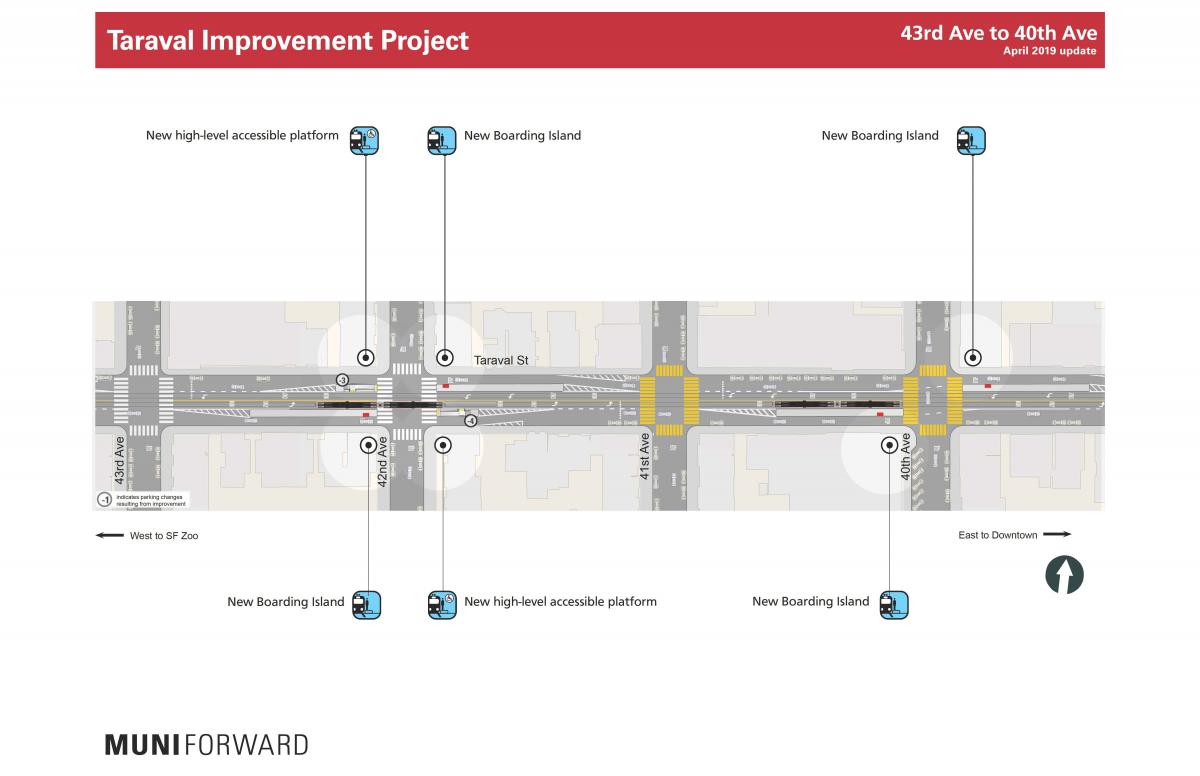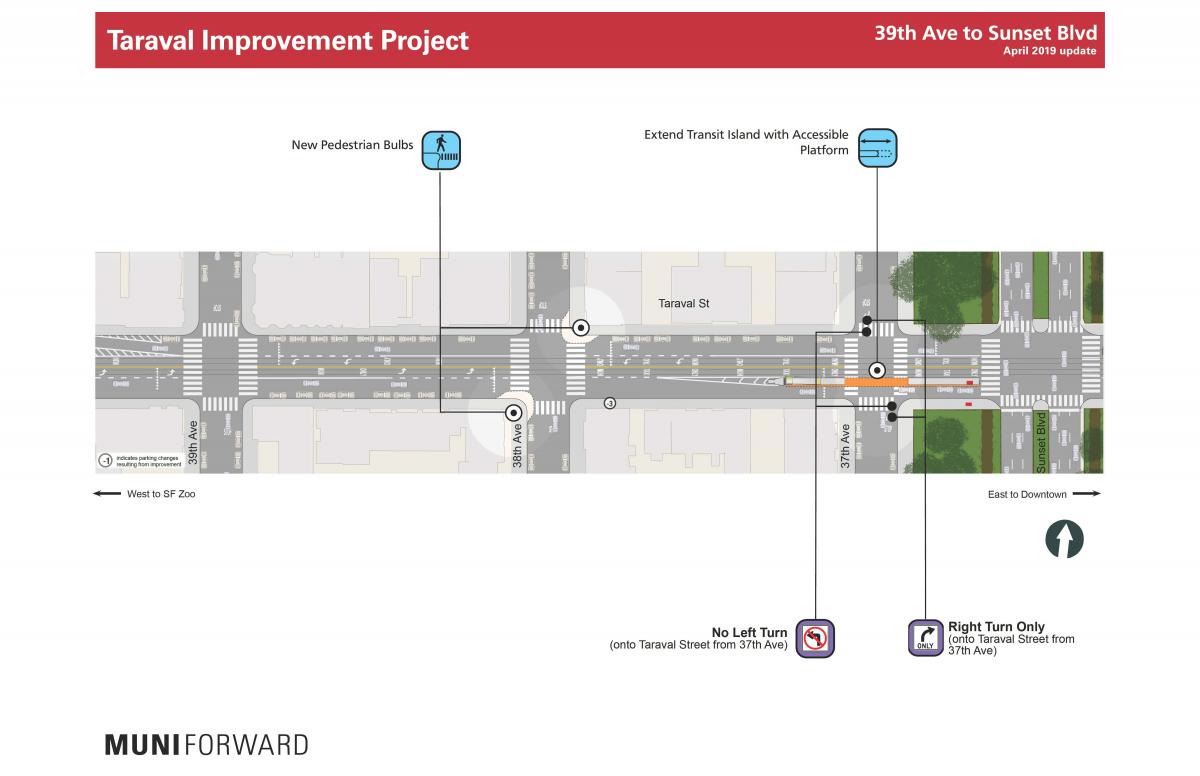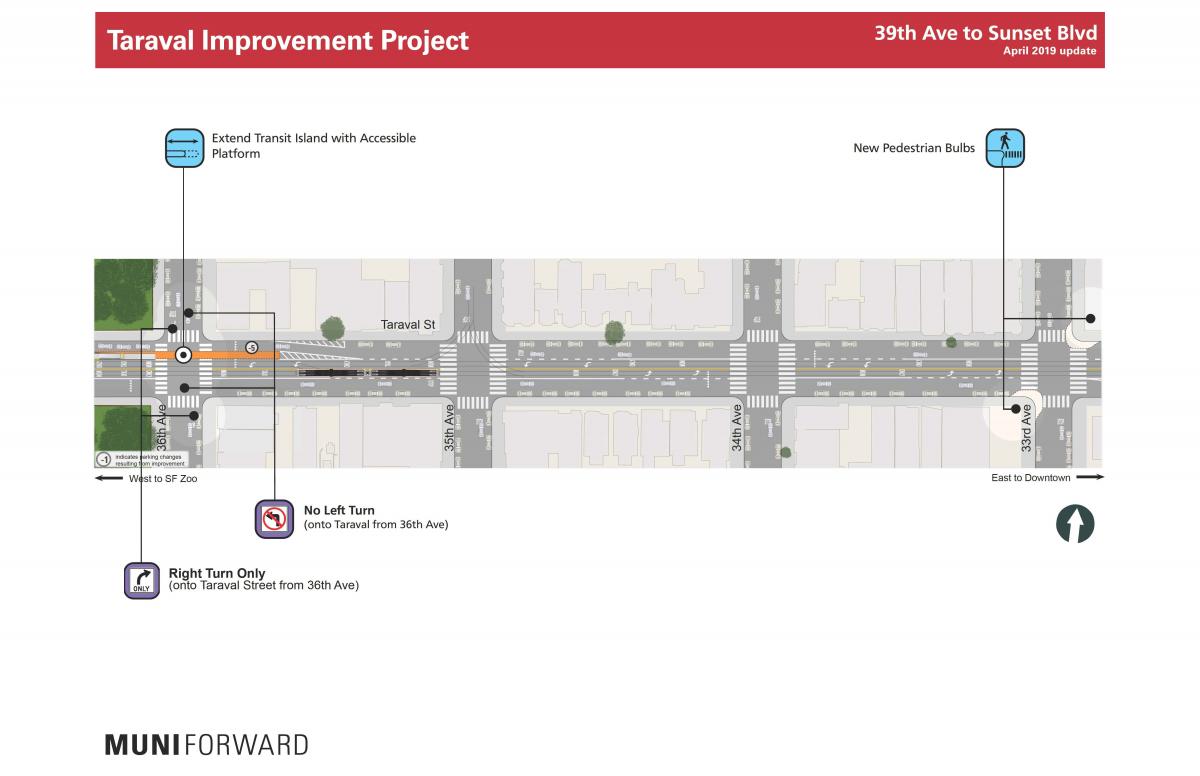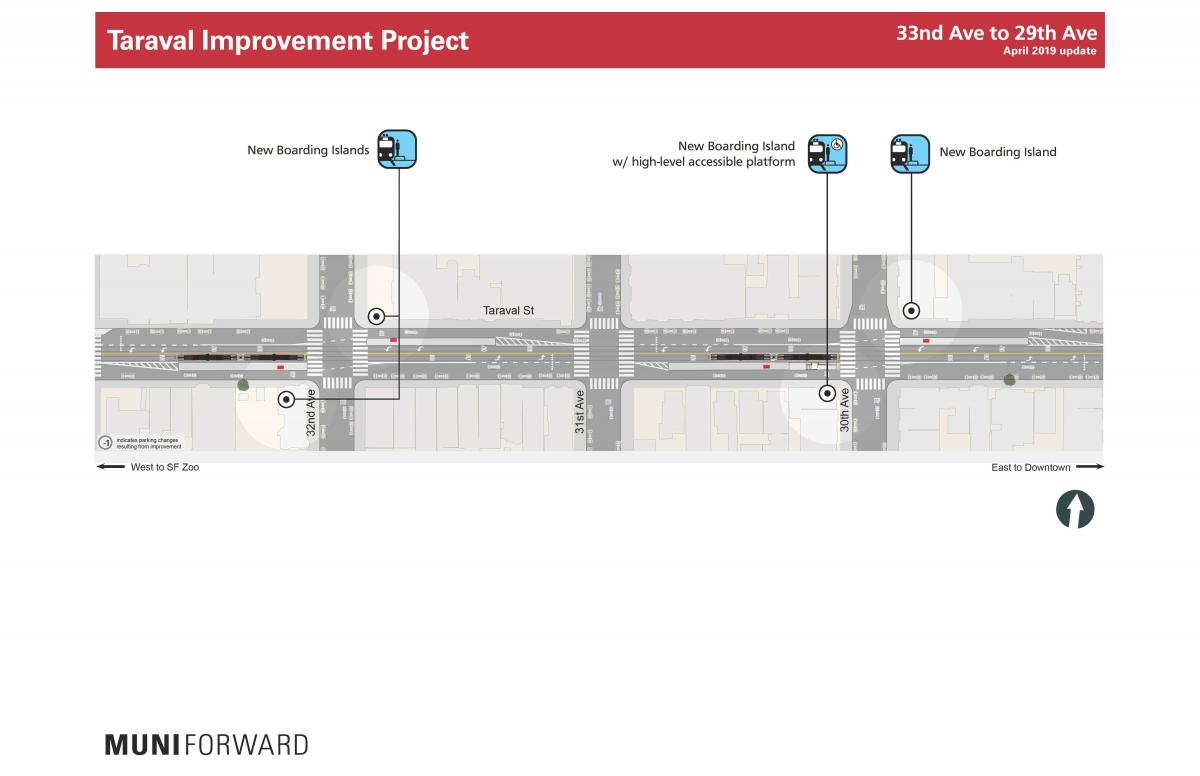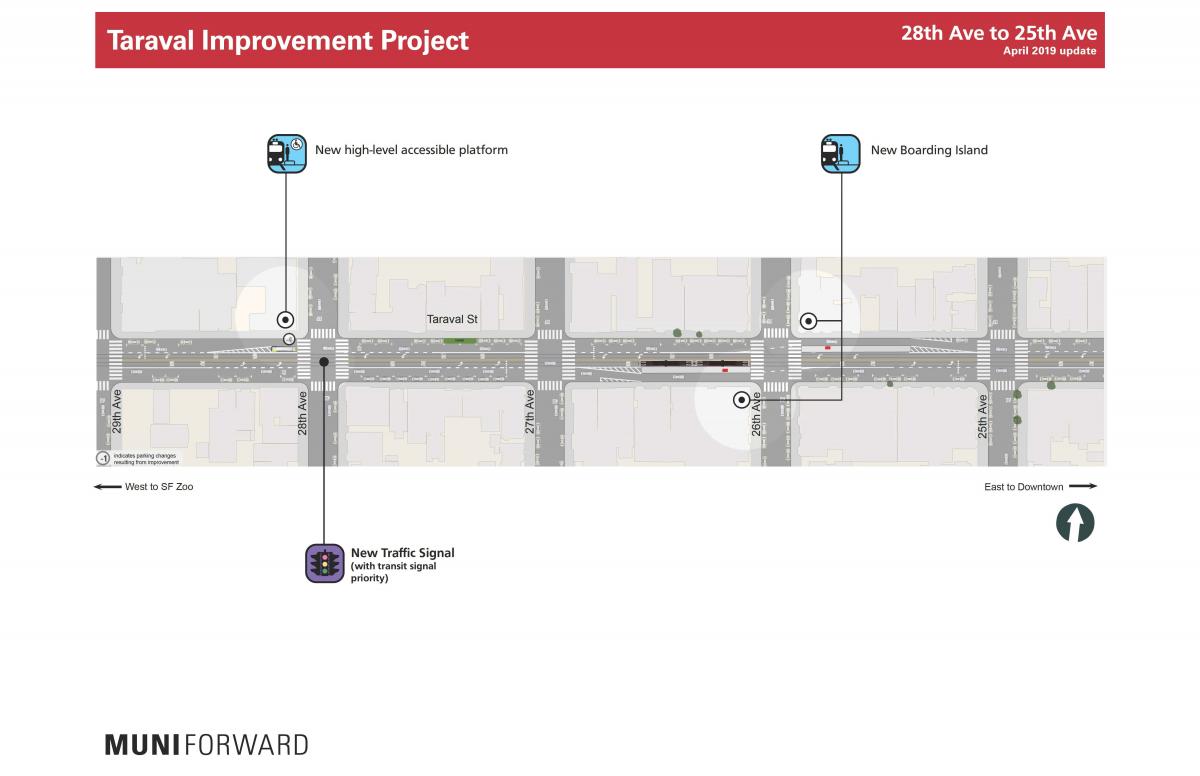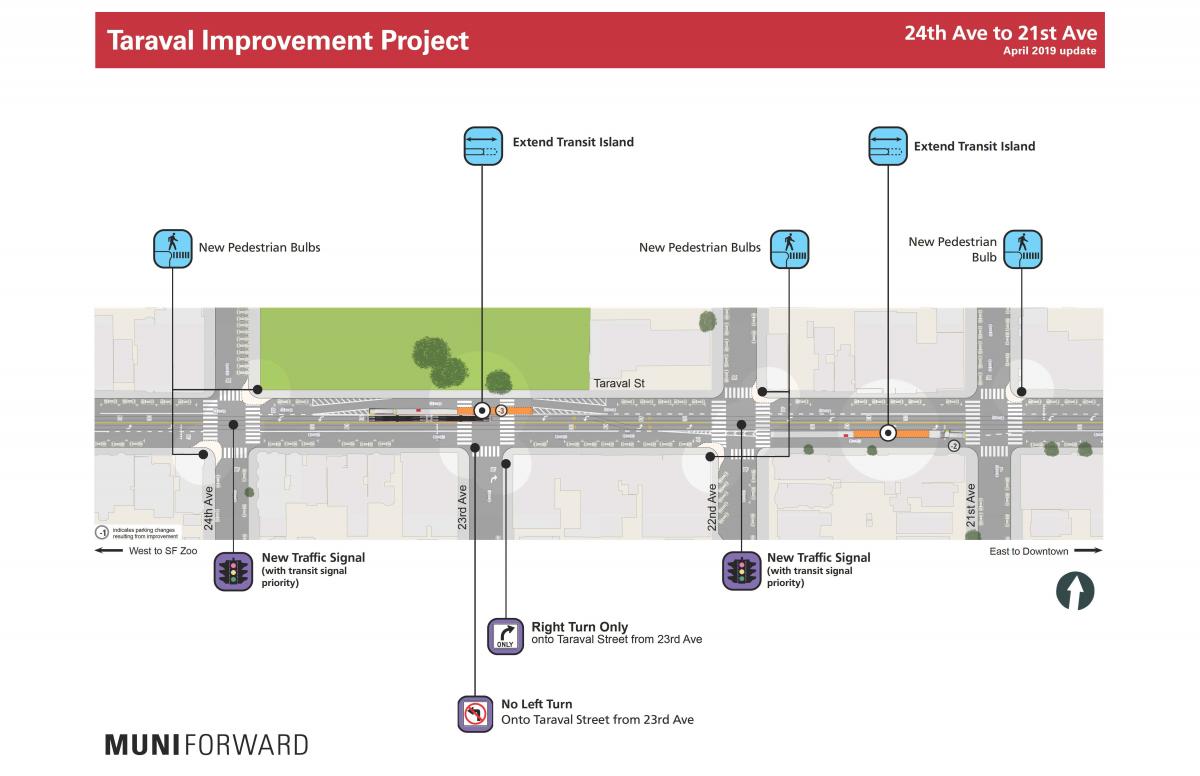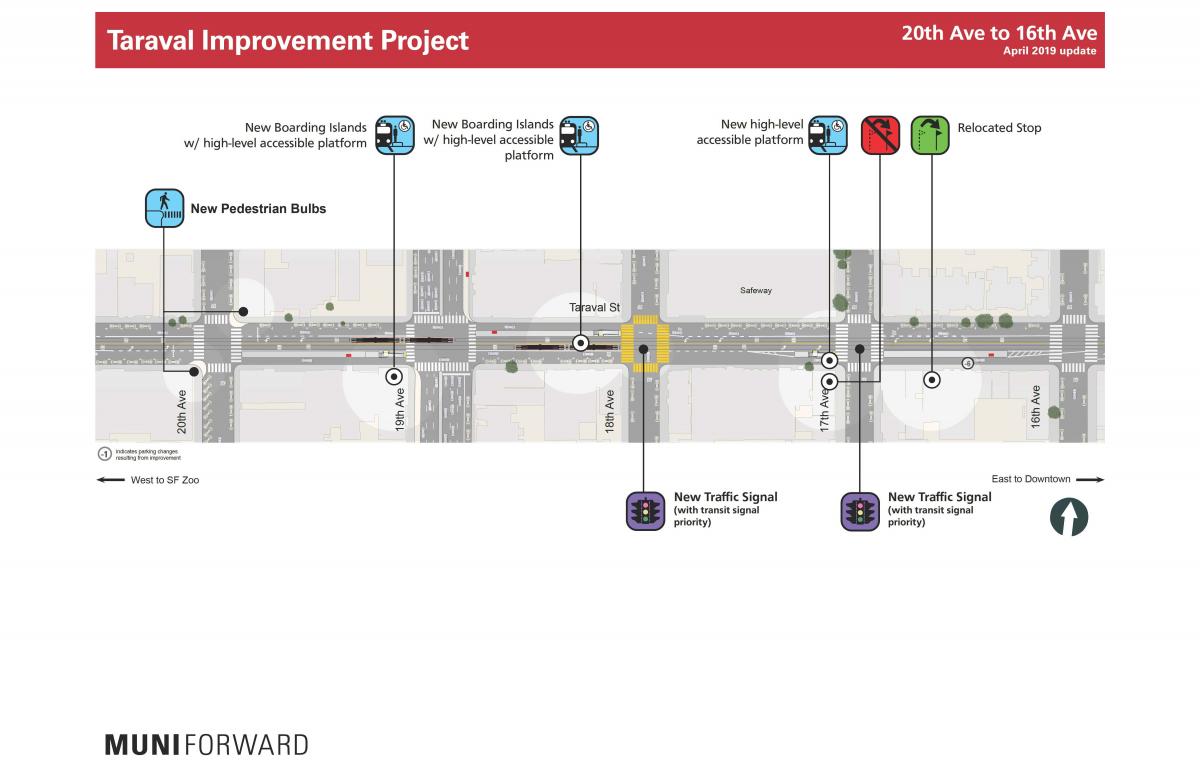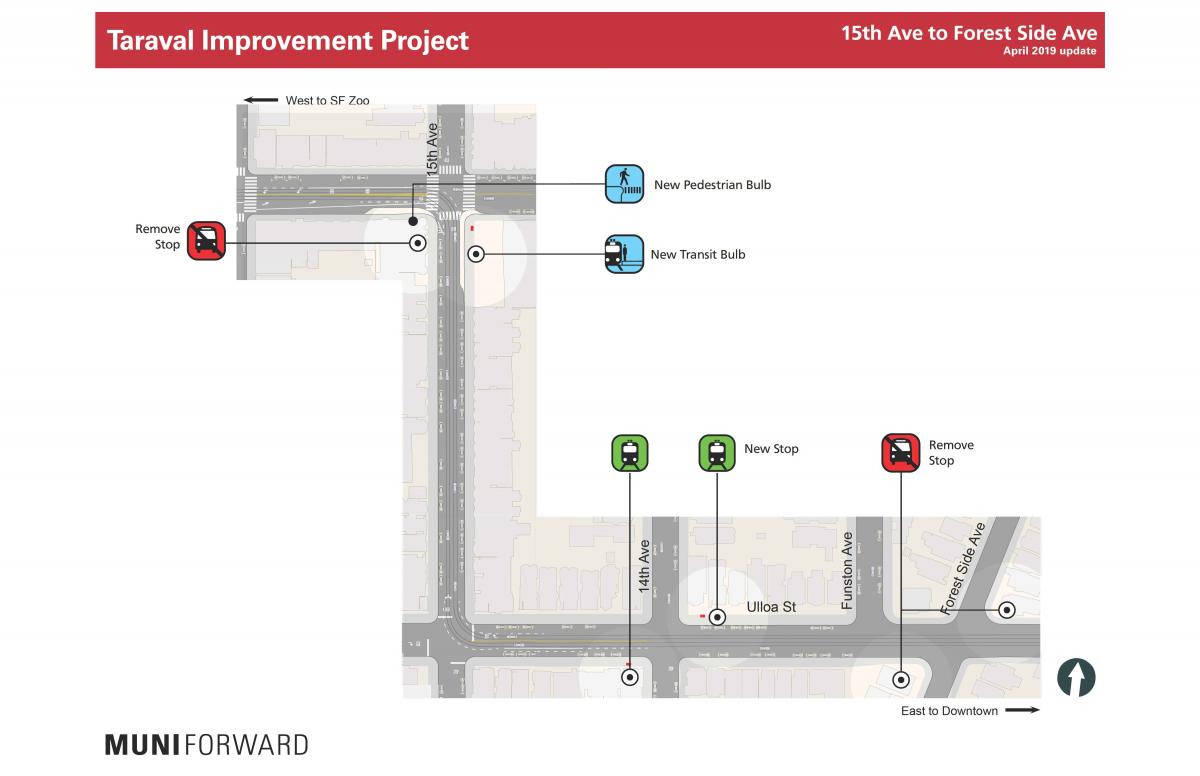 This project was made possible in part by Proposition K Sales Tax dollars provided by the San Francisco County Transportation Authority
---
---