L Taraval Improvement Project
Project Introduction
LATEST UPDATE: Contract is Awarded for Segment B
The L Taraval Improvement Project will continue infrastructure work along the L Taraval line from Sunset Blvd. to 15th Avenue, and on Ulloa St. near West Portal. Construction is slated to begin ​early 2022.
****
Construction of Segment A Successfully Completed July 2021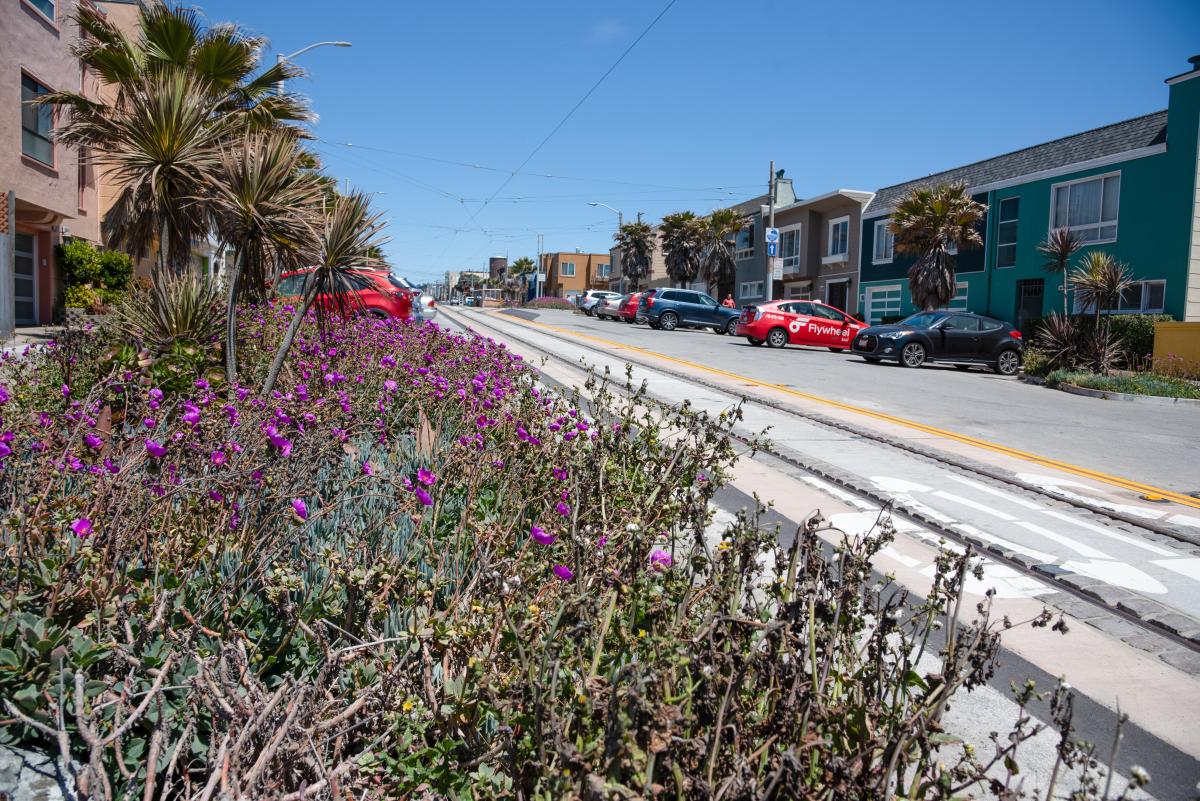 While the past 18 months have been full of challenges and anxiety because of the pandemic, today we have good news to share. With community support and collaboration from our city partners, the SFMTA has successfully completed the first of two segments of the L Taraval Improvement Project. Construction of Segment A started in September 2019 and was completed in July 2021 on schedule and within budget.
This project was made possible in part by Proposition K Sales Tax dollars provided by the San Francisco County Transportation Authority. Our work on this first phase improved transit and infrastructure between Sunset Boulevard and SF Zoo, with close collaboration between the SFMTA, the San Francisco Public Utilities Commission, and San Francisco Public Works. Upgrades to this vital corridor that help the community thrive include: 
Rail track and overhead line replacement

Water and sewer line replacement

Surface repaving

Curb ramp upgrades

Concrete boarding islands and pedestrian bulbs

Traffic signals

New trees and landscaping
These improvements have made pedestrian crossing safer, increased accessibility and improved transit reliability for our customers while rehabilitating water & sewer infrastructure and enhancing landscaping to make Taraval Street more enjoyable for everyone.
We would like to thank Supervisor Mar, Sunset neighbors, local businesses and People of Parkside, Sunset (POPS) for their partnership in shaping and completing this project. We are especially grateful to the residents who live along the Lower Great Highway where the traffic and parking patterns had to change due to the lane closures for staging of construction materials and equipment.
The project couldn't be a success without the close partnership with community stakeholders, sister city agencies, the contractor as well as SFMTA internal divisions.
By partnering with PUC, we were able to identify the potential utility conflicts early on and decided to split the project into Segment A and Segment B to allow PG&E and PUC more time to relocate the underground utility conflicts.
Thanks to the partnership with the contractor NTK Construction, a comprehensive communications plan was implemented to provide clear, transparent information to local businesses and residents on staging area, construction approach and sequencing, things to expect, service interruption and service support plan. Special accommodations were made to help support local businesses and residents in minimizing construction impacts.
To ensure a successful project delivery, the project team reflected on the lessons learned from previous projects as important ways of gathering and sharing project knowledge among internal partners. Special acknowledgements to Construction Management team, Street Division, Communications and Outreach, Transit Planners and Maintenance of Way.
While celebrating the completion of Segment A, we are now gearing up for Segment B,  which will make the same improvements from Sunset Boulevard to West Portal. Construction on this next phase is anticipated to start in early 2022 and last through the end of 2024.
Once completed, the nearly five-mile long corridor from West Portal to the Zoo will boast new transit priority traffic signals, bulbouts to make pedestrian crossing safer, new trees, high visibility cross-walks, safety boarding islands and increased accessibility. All of these changes will make Taraval more inviting for everyone that lives or travels there.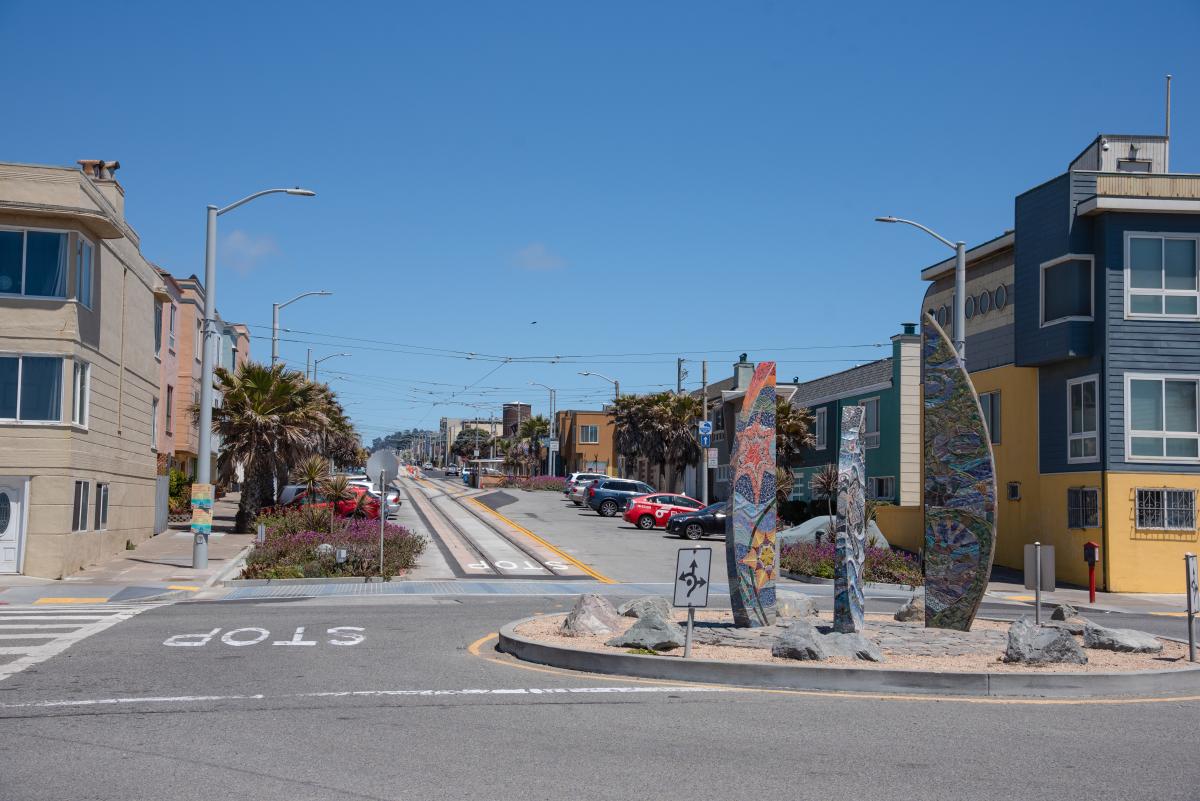 ****
In response to numerous collisions and reported safety concerns, an early implementation of measures known as the L Taraval Rapid project improved safety by adding temporary clear zones at transit stops, a transit only lane and painted safety zones at street corners. The next step is a nearly complete rehabilitation on Taraval Street that will replace infrastructure like the worn rails, overhead wires, water and sewer lines, as well as repave the entire street.
Construction has begun for the L Taraval Improvement Project and it will last approximately three years. Transit service on the L Taraval will remain throughout with a combination of buses and trains. Once completed, the corridor will boast new transit priority traffic signals, bulbouts to make pedestrian crossing safer, new trees, high visibility crosswalks, safety boarding islands and increased accessibility. All of these changes will make Taraval more inviting for everyone that uses it.
For project updates and work forecast: please sign up for email updates
Project Timeline
2014 - 2017
Design and community outreach
2017
Early implementation and loading zone pilot
Current Phase or Stage
Design and Early Implementation
Project Status
Implementation / Construction
Current
Improvements
Key Stop Ramps at Boarding Islands
New Trees and Streetscape Elements
Updated Traffic Signals and Crosswalks
Bus Routes and Rail Lines
Project Details, History or Features
Upgraded sewer and water lines, permanent boarding islands and increased accessibility are on its way!
Construction Project Elements
Just in time for the L Taraval to turn 100 years old, the corridor will get much-needed improvements to the Muni system and underground sewer and water lines. The project brings together the SFMTA, Public Utilities Commission, and Public Works to upgrade the vital system that help the community thrive. 

Rail track and overhead line replacement
Water and sewer line replacement
Surface repaving
Curb ramp upgrades
Concrete boarding islands and pedestrian bulbs
Traffic signals
New trees and landscaping
The streetscape style elements including tree selection, decorative crosswalks, trackway accent colors and public art were based on community feedback and will make the corridor an even more inviting to residents and visitors alike.
Construction Segments
In order to minimize disruptions during construction and maximize flexibility, the project is split in two construction segments that will overlap. During various times, there will be bus substitutions for the L Taraval so that crews can work on the rails and infrastructure beneath them. 
Segment A: San Francisco Zoo to Sunset Boulevard
Segment B: Sunset Boulevard to West Portal
What to Expect During Construction
Please see our project updates for construction work forecast on the right hand column.
Work hours are 7:00am-5:00pm Monday to Friday, 8:00am to 5:00pm weekend **Subject to change based on construction work needs**
Driving access in both directions 
Pedestrian access
Local access (access to stores and residential homes) when streets and intersections are closed for work
Traffic may need to be detoured when streets are closed for work
Construction zones will be a few blocks at a time
Bus shuttle service is planned during track replacement work. L Taraval Muni service will be available through a combination of bus and train throughout the entirety of construction. 
Overhead Contact System (OCS) Poles 
As part of the project's work to upgrade the corridor's aging infrastructure, new overhead contact system (OCS) pole foundations will be constructed to replace the existing poles. These poles are essential to providing support and tension for Muni's Overhead Contact System to keep the L Taraval light rail vehicles running. In addition, it also serves the dual function of illuminating the streets of the Taraval corridor and the path of travel for the Muni L Taraval.
The new OCS poles will be approximately 2-3 feet to the left or right of the existing pole. During construction, you may see both the new and exisitng OCS poles. This is temporary until the construction crew is able to remove the aged OCS pole.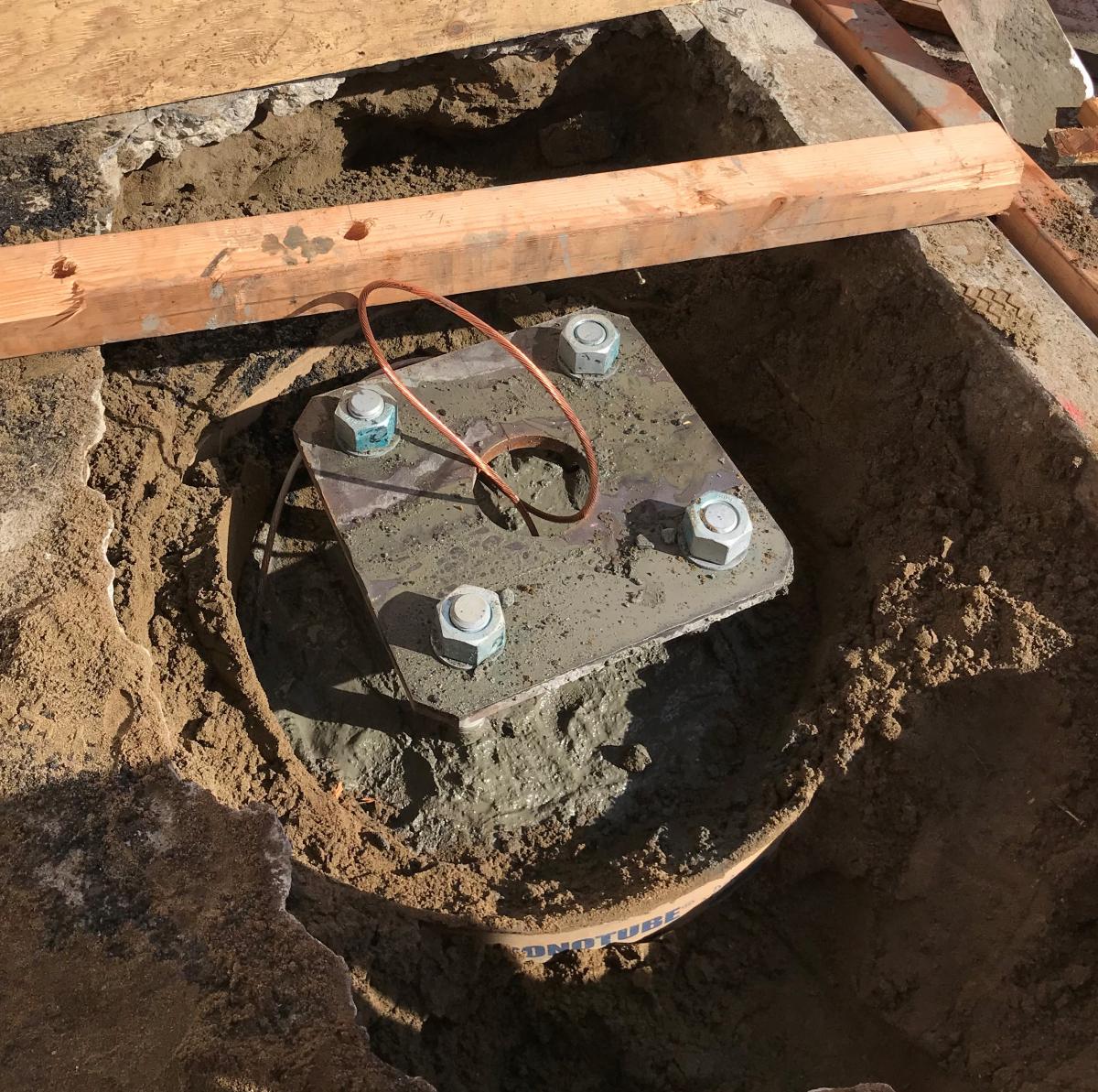 Segment B Stop Changes
To improve safety and reliability while retaining access to key destinations, several additional stop changes are planned as part of the project.
Taraval and 17th Avenue (inbound) will be relocated from the near side to the far side of the intersection once the new island is constructed.
15th Avenue and Traval (inbound) will be removed once the boarding island at 17th Avenue is constructed
Ulloa and Forest Side (inbound and outbound) will be relocated to Ulloa and 14th Avenue
Project Details
Comprehensive transit and pedestrian safety features will enhance the safety of passengers getting on and off Muni and make the L Taraval more reliable. Block by block features including stop changes, boarding island locations and turn restrictions are highlighted below.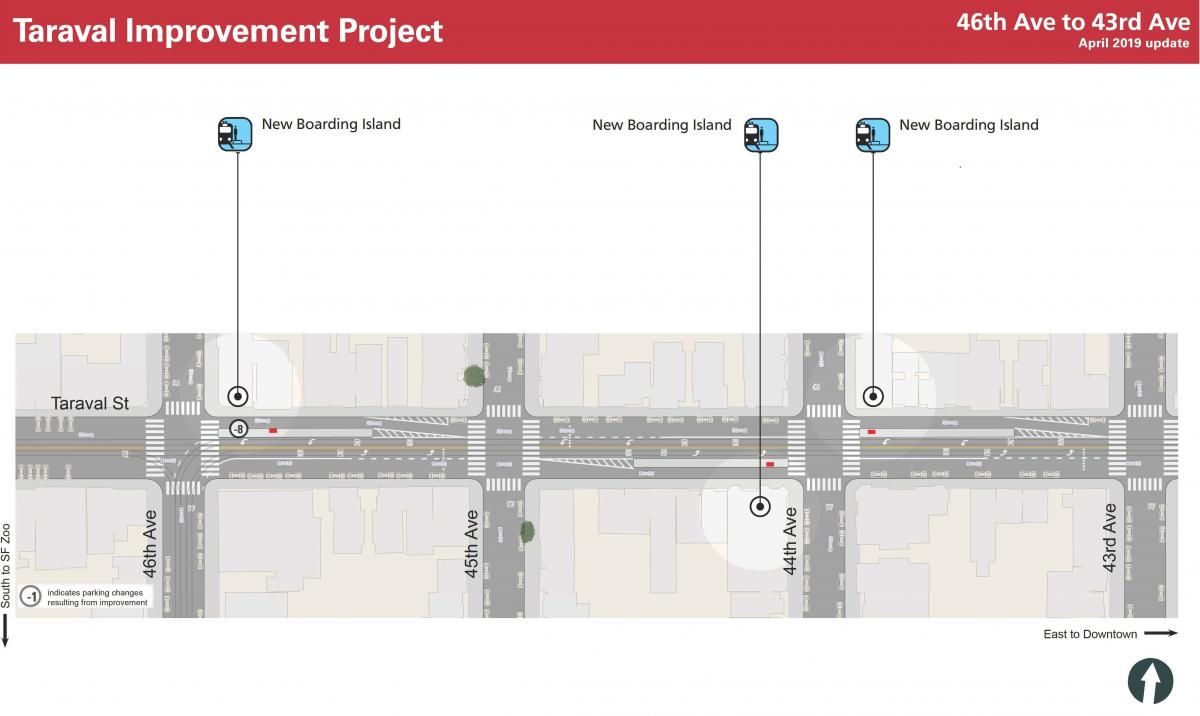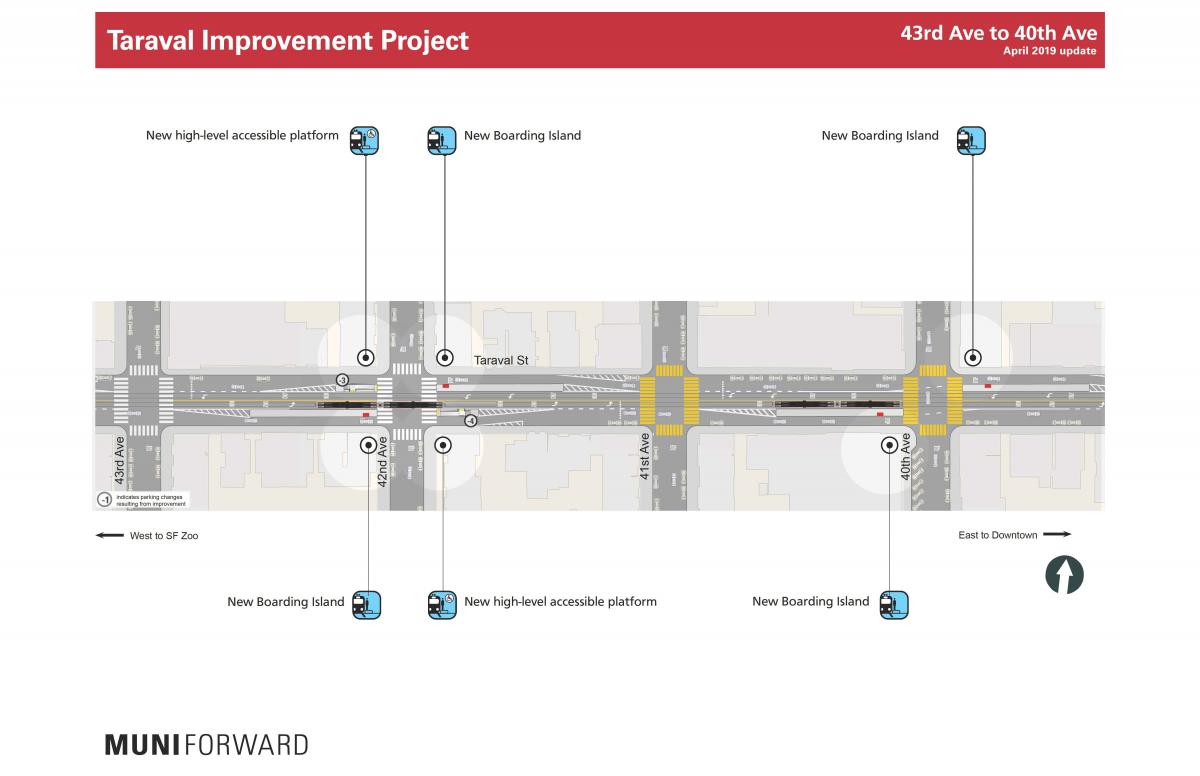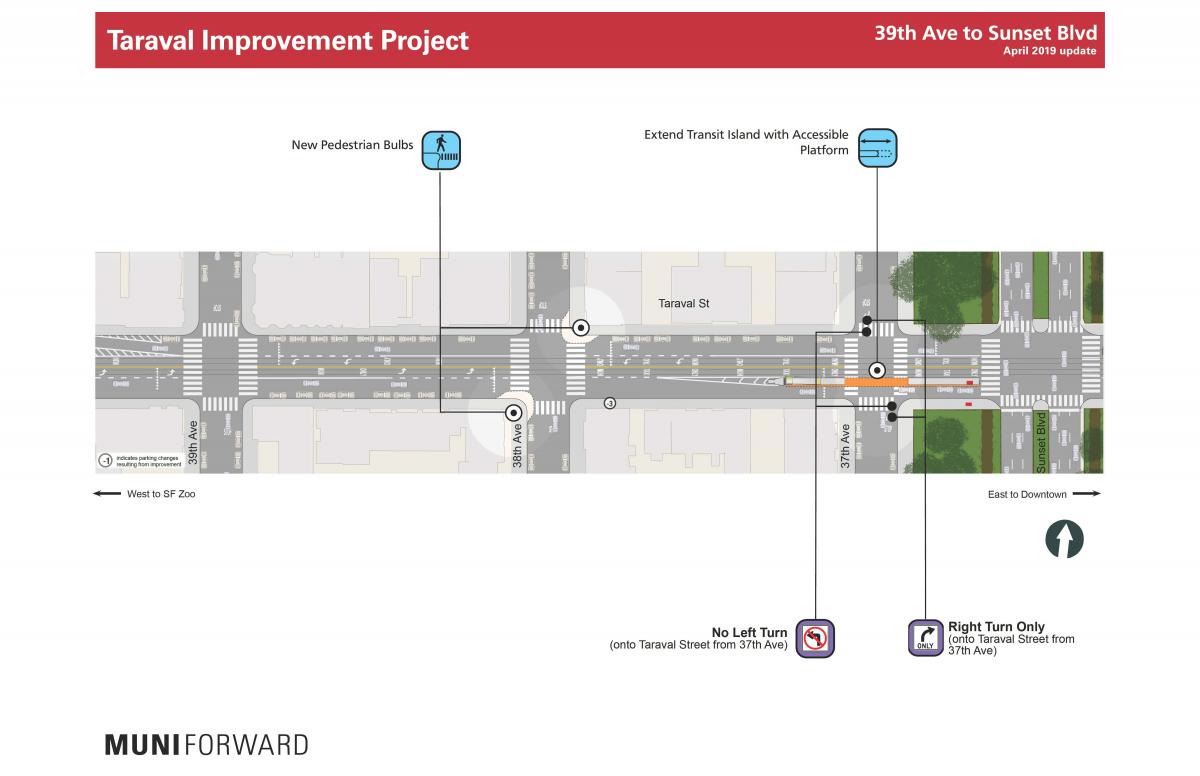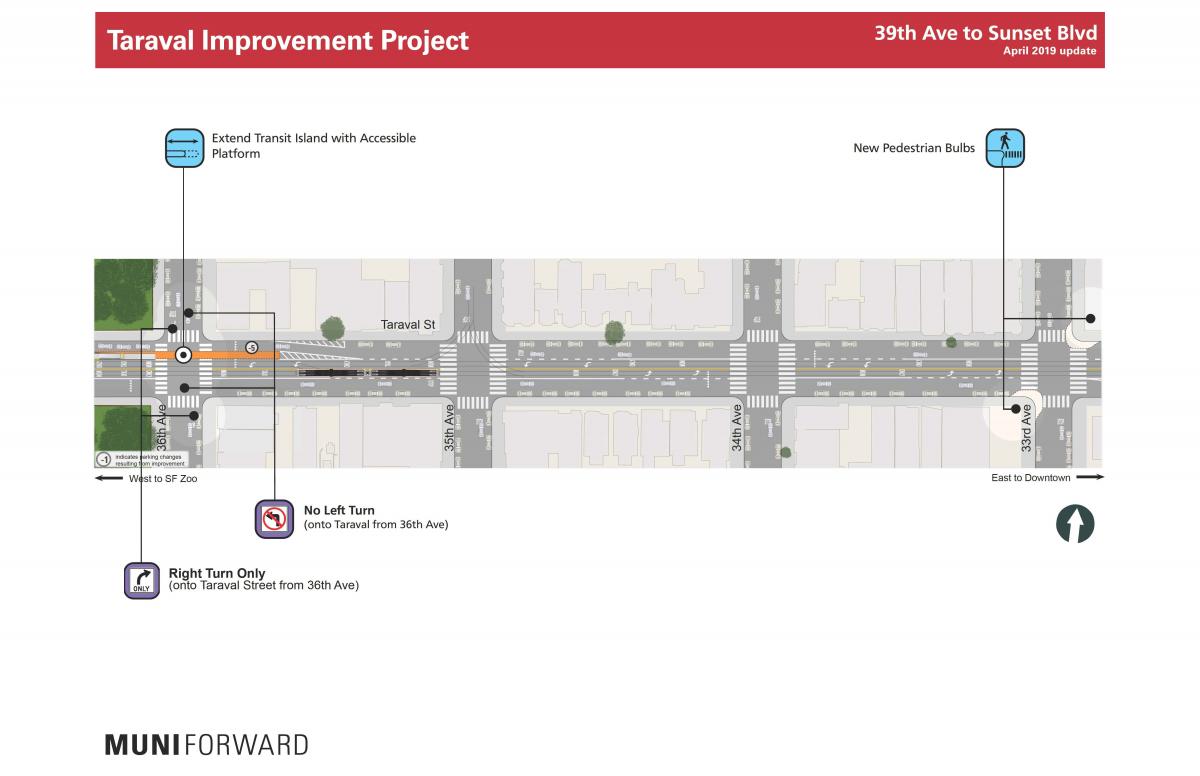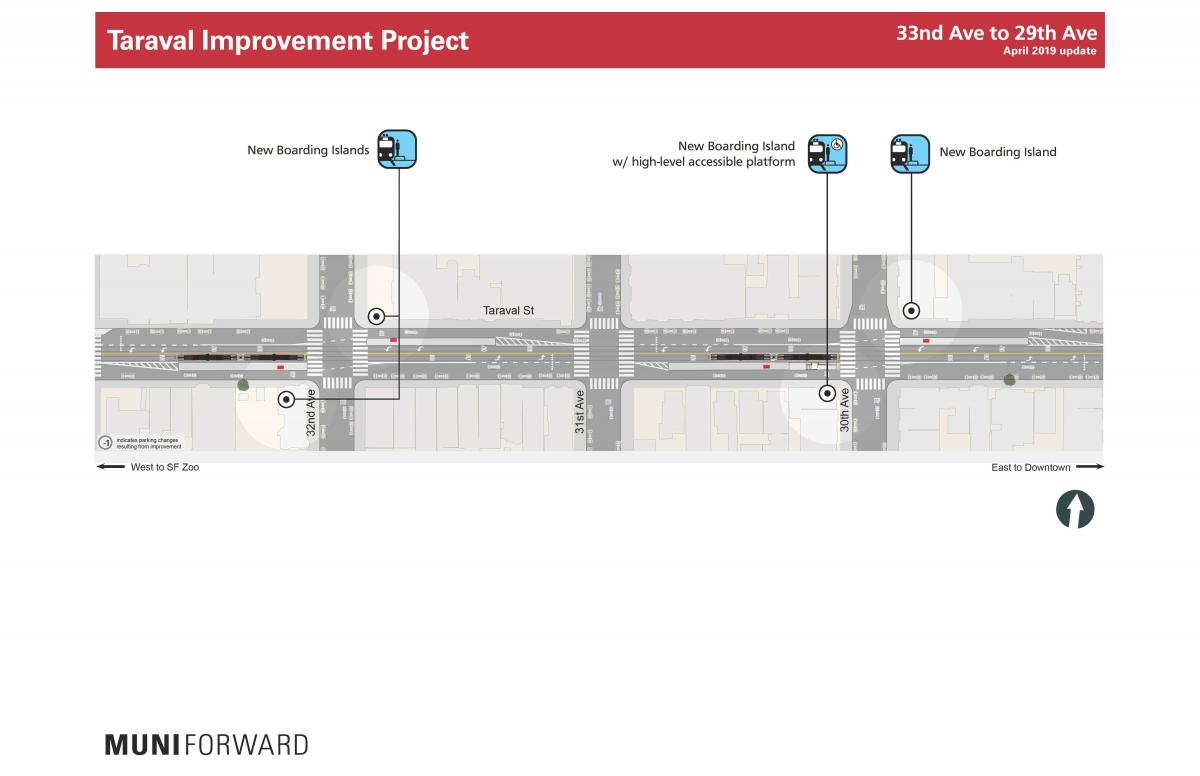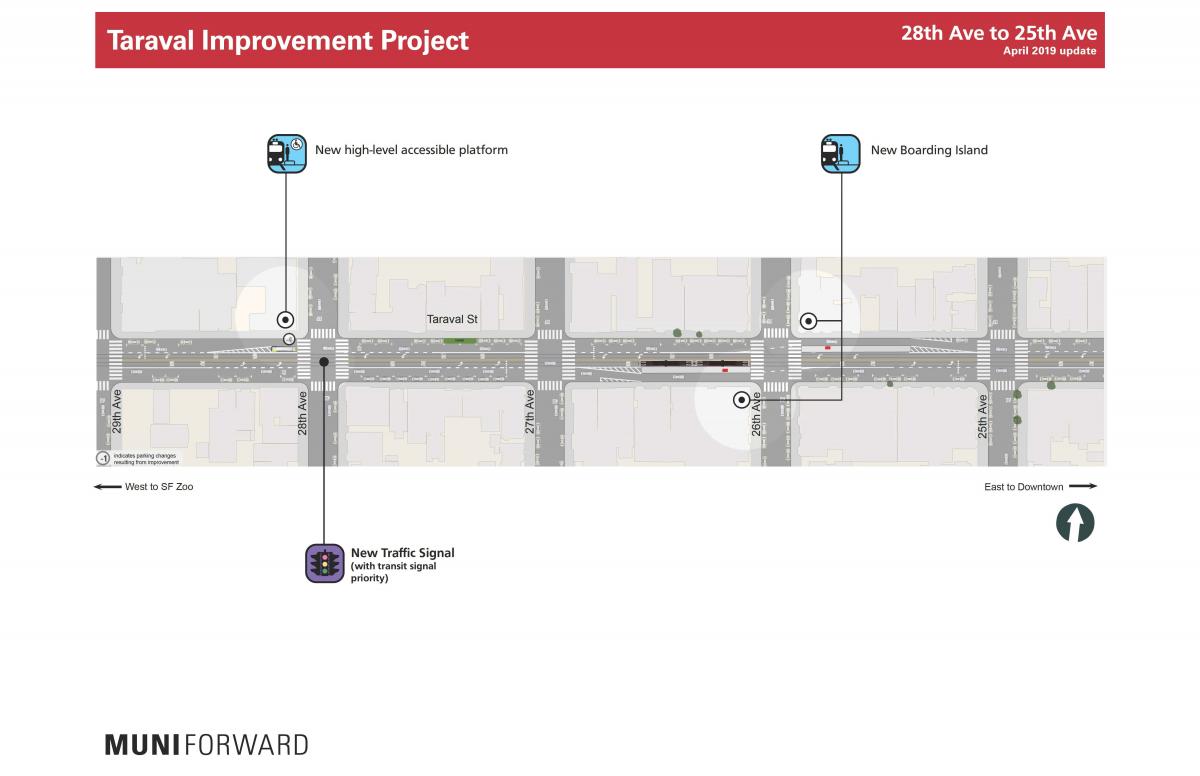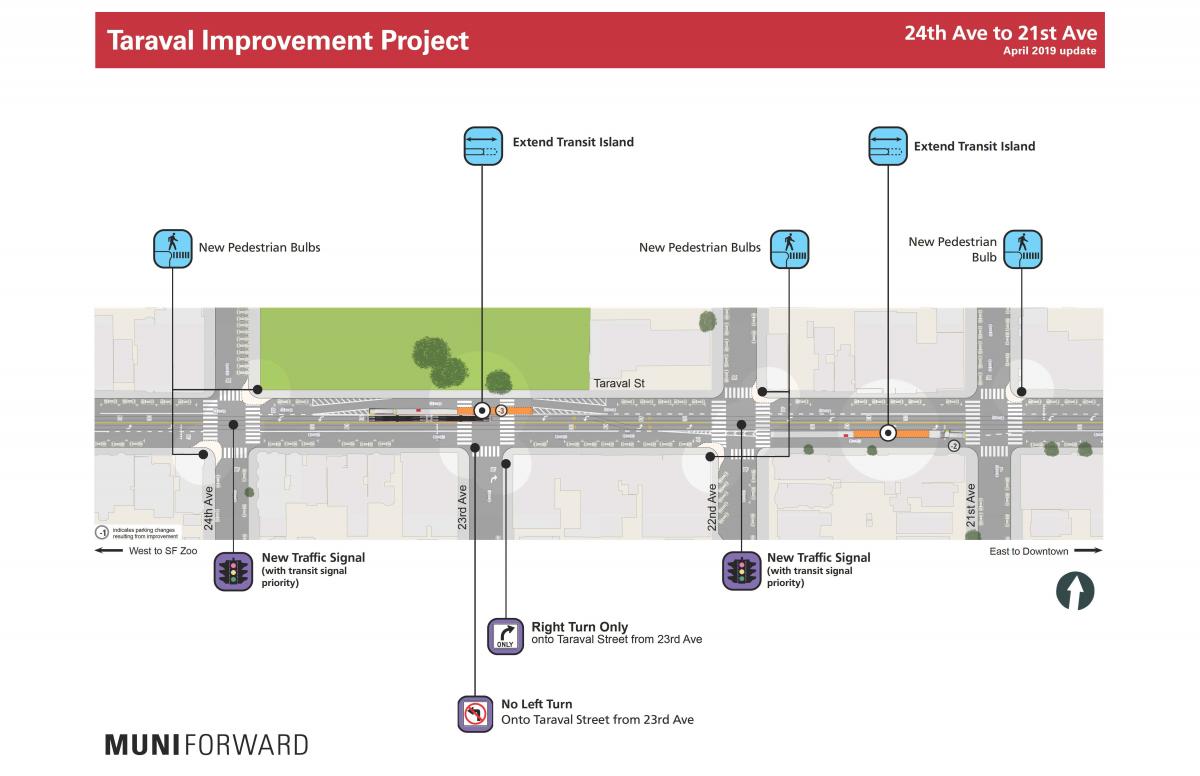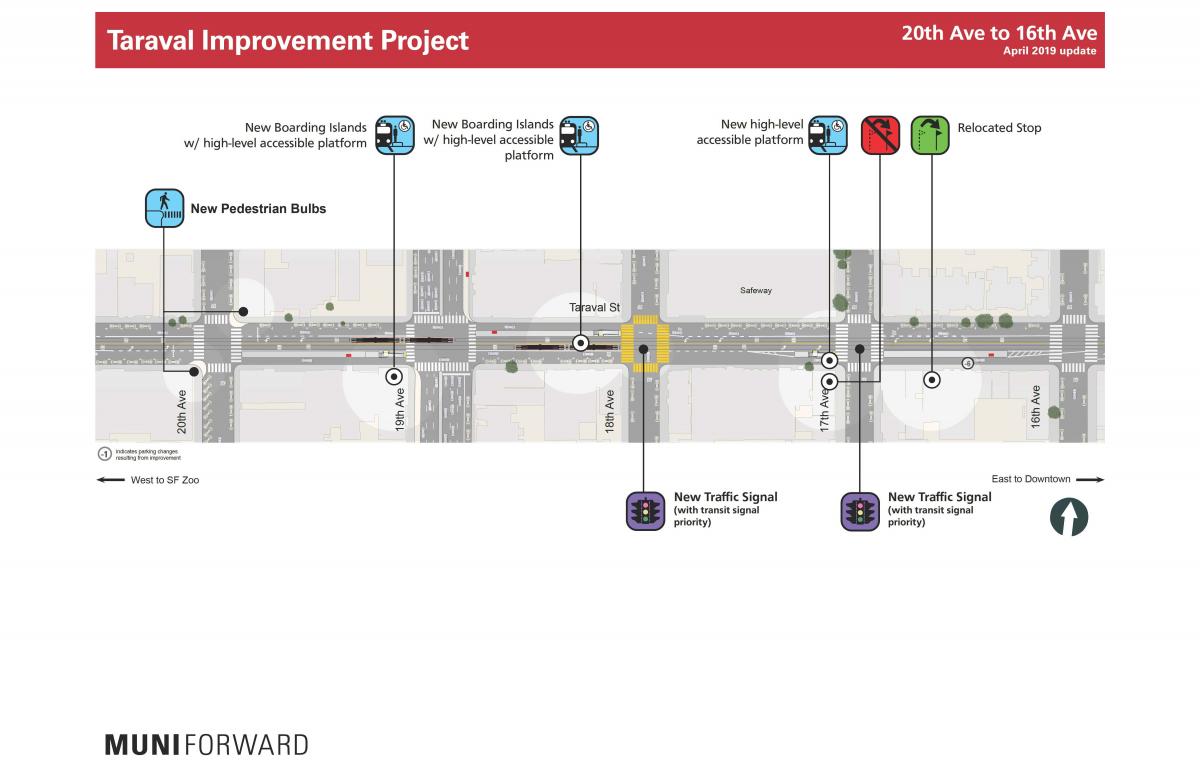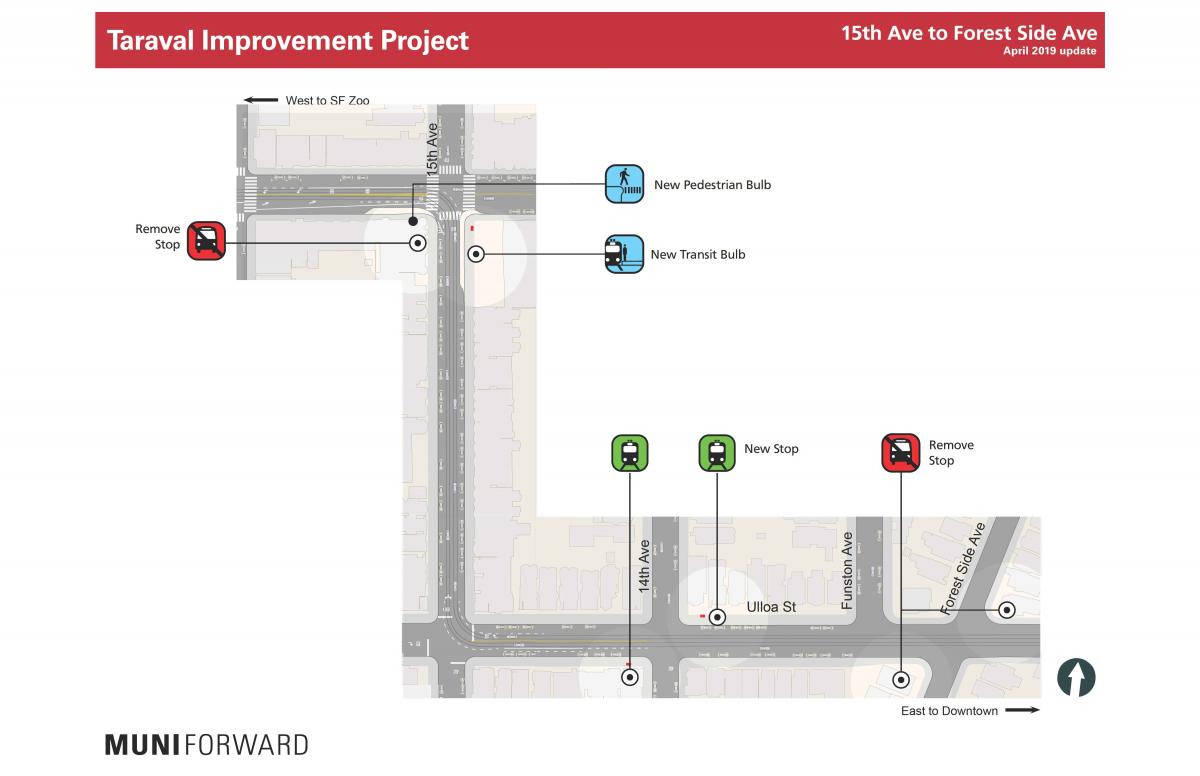 This project was made possible in part by Proposition K Sales Tax dollars provided by the San Francisco County Transportation Authority
---
---