In our ongoing effort to bring you the most state-of-the-art Muni fleet, the SFMTA is replacing aging vehicles with low-floor biodiesel-electric hybrid buses and New Flyer Industries electric trolley. The new hybrids run on B20: a blend of diesel and biodiesel, which is made from recycled oil and fat.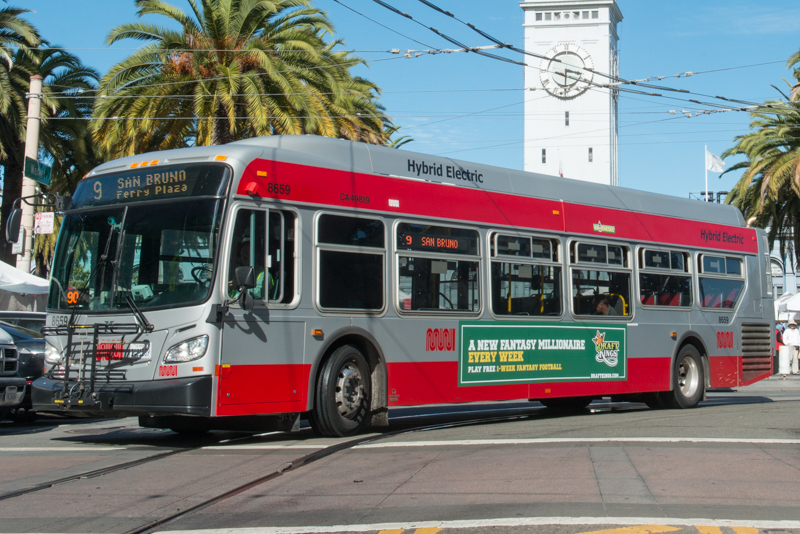 A new 40' hybrid bus on the 9 San Bruno Route
"New 21st century buses are the very cornerstone of San Francisco's Transit-First policy, making sure Muni is reliable, affordable and safe for our riders," said Mayor Edwin M. Lee. "The purchase of a new state-of-the-art fleet of electric trolley and hybrid buses, which reduce or eliminate greenhouse gas emissions, helps San Francisco lead the way to a sustainable future. By offering real solutions to fighting climate change, we can meet the needs of our thriving economy and growing population."
The overhaul of Muni's bus fleet is made possible by a combination of funding. The biodiesel hybrid bus funds include but are not limited to: Federal Transit Administration grants, AB644 bridge tolls, Proposition K and Proposition B funds. The electric trolley bus purchase is backed by federal, state, Proposition K funds, and other local support.
Muni now has one of the most diverse transit fleets in the world and is also the cleanest multimodal fleet in California.