The San Francisco Municipal Railway, known by its nickname "Muni," is the transit division of the San Francisco Municipal Transportation Agency (SFMTA), and an important part of the integrated transportation network in San Francisco.
Muni, the first publicly-owned and operated transit agency in a major American city, has been known as the "People's Railway" since opening day on December 28, 1912. The diverse Muni fleet— including cable cars, streetcars, light rail, electric trolley coaches, and hybrid buses— and its significance as the first municipal system, give Muni a special place in San Francisco history and the story of American transportation.
Find out more about our city's transportation history in the timeline below and read even more in our history-themed blog series.  Check out the SFMTA Photo Archive to see thousands of historic transportation-related photos dating to 1903.
---
Early Days of Transit 1851
Public mass transit service in San Francisco begins with horse-drawn omnibuses owned by private, for-profit companies. The first horse-drawn route, the "Yellow Line," operates between Portsmouth Square and Mission Dolores.  Privately-operated stagecoaches also provide rides for hire on various routes both in and outside of the city.
---
First Cable Cars 1873
In August 1873, Andrew Hallidie, a Scottish immigrant and manufacturer of wire cables in a North Beach factory, adapts mining industry technology to public transportation. Passenger service between Kearny and Leavenworth on Clay Street Hill Railroad cable cars starts that September. In the late 1800s, cable cars lines proliferate as the technology adapts well to San Francisco's steep hills.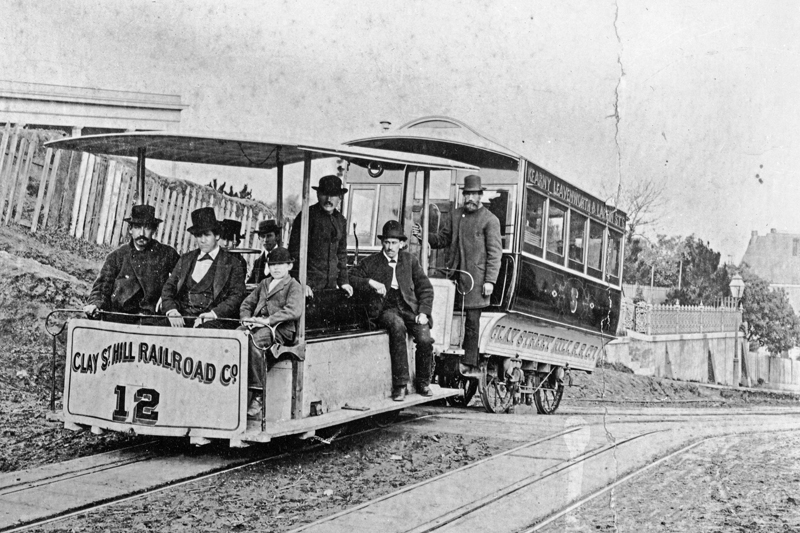 One of San Francisco's very first cable cars, on Clay Street near Jones Street, in 1873. Andrew Hallidie, credited as one of the inventors of cable car technology, stands in the coat and bowler hat on the trailer car on the right. Image X5292_1 from the SFMTA Photo Archive.
---
The Great Quake 1906
On April 18th, the devastating 1906 Great Earthquake and subsequent fires wreak havoc on the lives of San Franciscans, and severely damage the power and transit infrastructure. In the years following the disaster, much of the cable car trackage is rebuilt to accommodate more efficient and economical electric streetcars. Cable cars remain only on routes too steep for electric streetcars, including various routes on Nob and Russian Hills, as well as portions of Castro Street, Fillmore Street and Pacific Avenue.
---
For-Profit Monopolies Turn Public Favor Towards Municipal Rail 1907 - 1909
The turn of the century saw the consolidation of many smaller, privately-operated transit systems into larger corporate monopolies. By 1902, one private company, United Railroads (URR), has acquired over ten separate transit companies through a variety of mergers. URR's disregard for the public welfare, corruption of public officials, and callous labor practices, including violent labor unrest in 1907, so anger San Francisco voters that in December 1909 voters approve a bond for municipally operated transit.
---
Beginning of Municipal Transit Service 1912
On December 28, 1912, the San Francisco Municipal Railway (Muni) inaugurates streetcar service on the A and B lines along Geary Street between downtown and 33rd Avenue, amid a celebratory crowd of San Franciscans. Muni begins to grow its service, but its rival, the privately-owned United Railroads, continues as the much larger operation.  While other publicly-owned transit services predate Muni in smaller locales, San Francisco was the first major city to create a city-owned and operated transit system.
---
Muni System Expands for the Panama Pacific Exposition 1912-1915
Muni is charged with providing service to the 1915 Panama Pacific Exposition and adds many lines between 1912 and 1914 to serve the upcoming fair. The systems balloons to a total of nine lines and new streetcars are added on multiple corridors to serve the fair. The Stockton Street Tunnel opens for streetcars on the "F Stockton" line, pedestrians and other traffic in December 1914.
---
Opening of the J Church & Muni's First Buses 1917
The J Church streetcar line begins service on August 11, 1917, and Muni's first bus service starts operating through Golden Gate Park in September of the same year.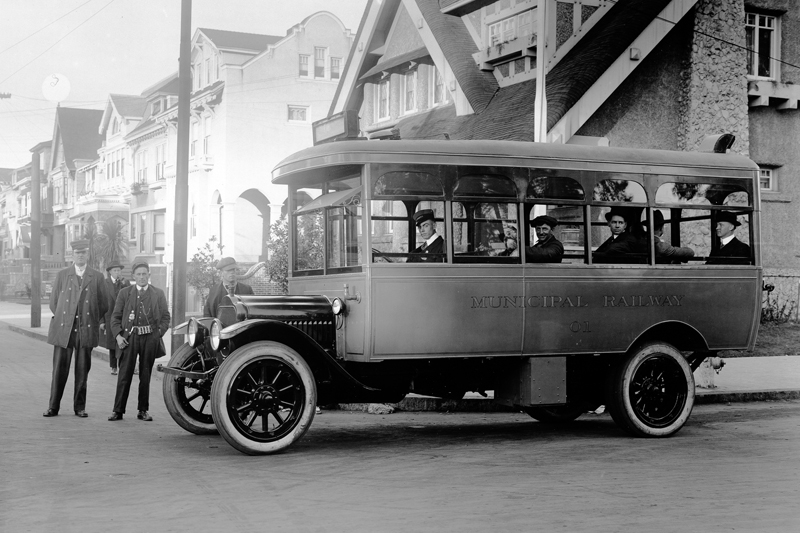 Motor Coach 01, the first bus operated by Muni, in autumn of 1917 on Fulton Street at 10th Avenue. Image W05065 from the SFMTA Photo Archive.
---
Twin Peaks Tunnel Connects the City 1918 - 1919
The Twin Peaks Tunnel opens in February 1918. The K Ingleside begins operation with the opening of the tunnel, and the L Taraval follows shortly after in 1919.
---
M Ocean View and N Judah 1925 - 1928
In 1925, the M Ocean View starts service through the Twin Peaks Tunnel. By 1928, the Sunset Tunnel is completed and the N Judah line begins to operate.
---
Inclusion and Expansion During WWII 1942 - 1944
World War II brought labor shortages across the country and after several years spent challenging exclusionary hiring policies, Audley Cole becomes the first African American to work for Muni in 1942. More roles in transit also become available for women during World War II. As a young woman, Dr. Maya Angelou briefly works as a conductor for the Market Street Railway Company, Muni's competitor, in the summer of 1944. As the war drew to a close, the United Railroads Company, which had been re-branded as Market Street Railway in 1921, is acquired by the city after the passage of bond measures to fund the buyout and merges with the Muni system.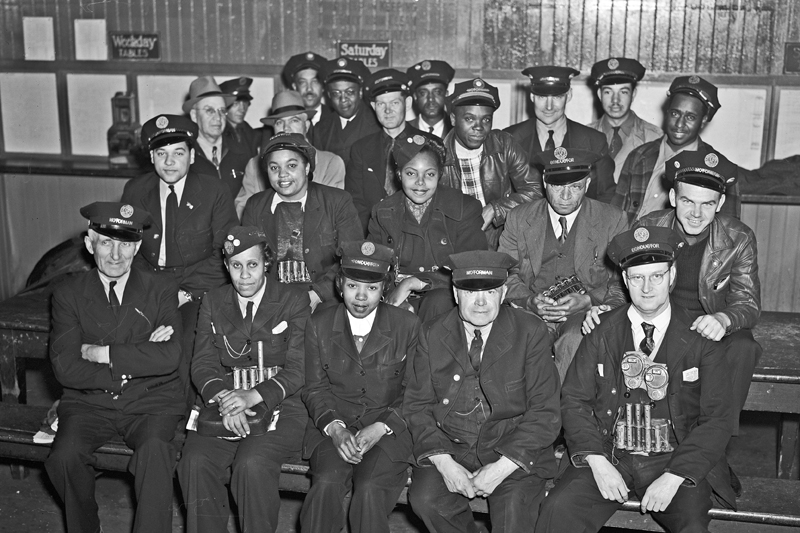 Municipal Railway (Muni) streetcar operators and conductors at Sutro Car House in 1947. Image X1266 from the SFMTA Photo Archive.
---
Saving the Cable Cars 1947
The mayor and other city officials attempt to close the cable car system, which they felt was antiquated and expensive. But Friedel Klussman rallies the Citizen's Committee to Save the Cable Cars, supporting a charter amendment in November that forces the city to maintain and operate the two Powell Street lines: the Powell-Mason line and the Washington-Jackson line.
---
Modernizing Muni 1948 - 1951
In an effort to streamline the recently merged systems of the Market Street Railway and Muni, between 1948 and 1949 Muni converts many lines from streetcar to either bus or electric trolley coach operation. Streetcar routes with right of ways only available to rail service remain in operation, including the three routes—K Ingleside, M Ocean View and L Taraval— through the Twin Peaks Tunnel, as well as the N Judah through the Sunset Tunnel, and the J Church, with its special trackage through Dolores Park and Dolores Heights.
---
Cable Car Changes 1954 - 1964
The five-line cable car system is cut back during this period, with the present-day three-line system beginning service in December 1957. By the 1960s, the cable cars underwent systemic repairs and the iconic vehicles are listed as historic landmarks on the National Register of HIstoric Places in 1964, a testament to the San Franciscans who fought to keep the cable cars operating.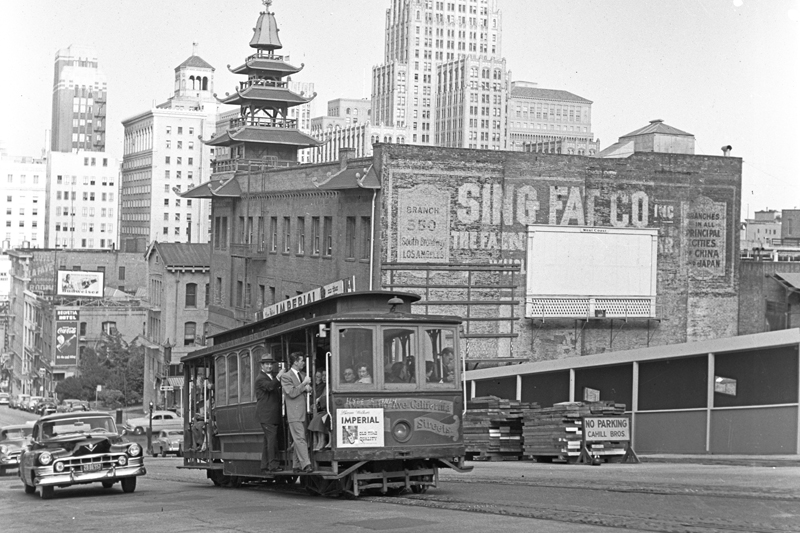 A California Street cable car on the last day of operation by the California Cable Company on July 31, 1951. The California Street cable car line became part of Muni in 1952. Image X2815A_1 from the SFMTA Photo Archive.
---
Building Rapid Transit 1967
Work begins on Bay Area Rapid Transit (BART) tunnels and infrastructure below the streets of San Francisco, as well as construction of the Muni Metro Market Street subway.
---
Transit First 1973
On March 19, 1973, the Board of Supervisors adopts a resolution "declaring that Municipal Railway vehicles and other transit vehicles be given priority over other vehicles on San Francisco streets." This Transit-First policy is embedded in the City Charter, where it remains today. In 1974, Muni introduces the Fast Pass to make riding more convenient for frequent passengers.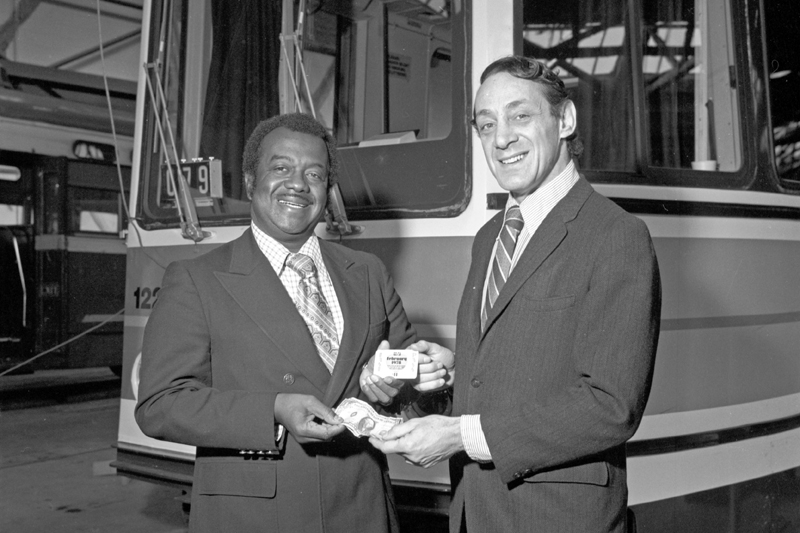 In the 1970s, Muni General Manager Curtis Green, on left, demonstrates a Muni Fast Pass with SF Supervisor Harvey Milk, on right. Image M2480_2 from the SFMTA Photo Archive.
---
Improving Accessibility 1975
The Coalition for the Removal of Architectural Barriers (CRAB) advocats that new Muni Metro light rail vehicles be wheelchair accessible. Due to the advocacy of CRAB, the Board of Supervisors passes a resolution making it official city policy that elderly and disabled people have the same right to transit, and that full accessibility of the transit system is a priority.
A new Muni style, with the iconic "worm" logo created by graphic designer Walter Landor, and orange and white "sunset" themed vehicles is introduced in February of 1975.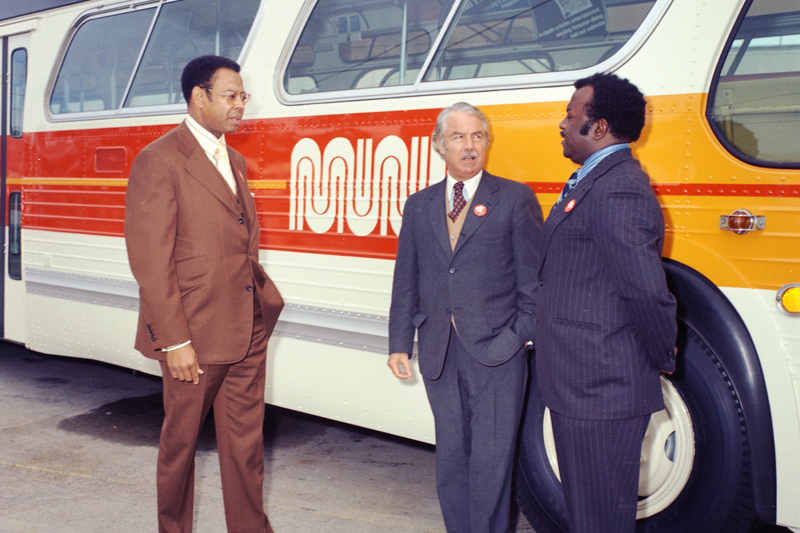 Public Utilities Commissioner Welton Flynn, designer Waltor Landor, and Muni General Manager Curtis Green unveil new orange Muni colors and Muni "worm" logo in the mid-1970s. Image X1970_7 from the SFMTA Photo Archive.
---
Debut of Paratransit 1979
Paratransit services begin with 80,000 van rides, thanks to the advocacy of the Paratransit Coordinating Council, a community advisory committee made up of disabled people, seniors, and other stakeholders.
Muni implements major changes to bus routes, in particular converting the mostly radial system that had once primarily gone to-and-from downtown into a modified grid to better connect neighborhoods and provide access to regional transit.
---
Muni Metro 1980
Lift-equipped buses were added to the fleet, making Muni one of the first to make a commitment to both accessible transit and paratransit services. Also in 1980, Muni formed the Elderly and Handicapped Advisory Committee, which was a Citizen's Advisory Committee (CAC) composed of 16 members, all of whom were either senior, disabled, or both. While the name has changed, this committee still survives today as the SFMTA Multimodal Accessibility Advisory Committee, and is one of the oldest CACs of its type in the nation.
Muni Metro service, including the debut of the Market Street subway, begins with new Boeing light rail vehicles operating for the re-opening of the N Judah in February of 1980. The J, K, L and M lines are phased into Muni Metro light rail service between 1980 and 1982.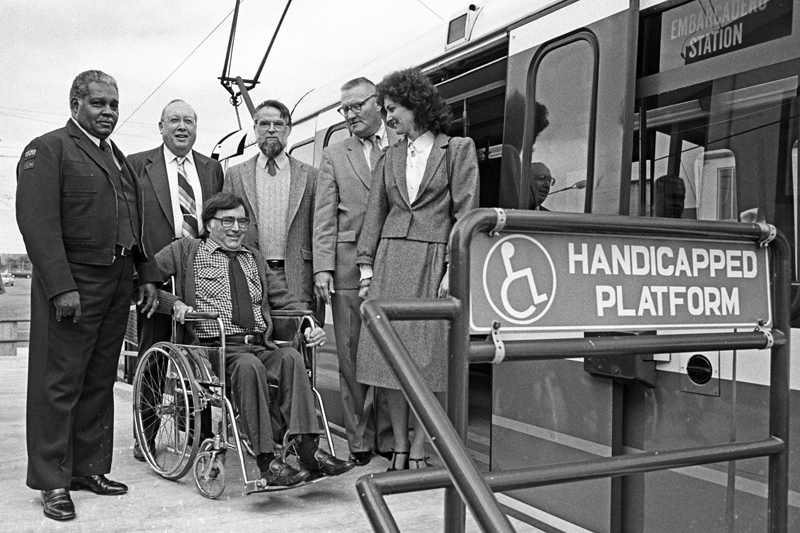 New wheelchair boarding platform on the L Taraval line in 1983. Image 830501D_14 from the SFMTA Photo Archive.
---
Restoration of Cable Cars 1982 - 1984
The cable car system undergoes a major rehabilitation from September 1982 to June 1984.
---
Voters Approve Creation of SFMTA 1999
Voters decide to combine Muni and the Department of Parking and Traffic under a single agency to oversee city transportation, called the San Francisco Municipal Transportation Agency (SFMTA).
---
New Light Rail on Third Street 2007
The T Third line starts operation in April 2007, following the completion of Phase 1 of the Third Street Light Rail Project.
---
Central Subway Construction Begins 2010
Central Subway groundbreaking occurs in February of 2010.
---
E Embarcadero Streetcar 2015
The E Embarcadero line begins operation of historic streetcars along the Embarcadero from 4th and King to the Wharves in August of 2015.
---
Muni in Present Day
Not just a commuter system, Muni connects with the city's many neighborhoods, as well as cultural, sporting, shopping and entertainment venues. Today, our fleet features electric, hybrid and biodiesel-powered buses, electric light rail, historic streetcars and iconic cable cars. Muni is recognized as one of the greenest transit fleets in the world.
---
Muni and SFMTA Leadership 1912 to Present Day
General Managers, San Francisco Municipal Railway (1912-2000)
From 1912 to 1932, the SF Municipal Railway (Muni) was under the Bureau of Engineering within Public Works. From 1932 to 1994, Muni was a division of the SF Public Utilities Commission (PUC). Between 1994 and 2000 Muni was overseen by the Public Transportation Commission (PTC). The managers listed below from 1994 to 2000 were officially considered to be serving as directors of the PTC.
1912 – 1917 Thomas Cashin
1917 – 1940 Frederick Boekin 
1940 – 1951 William H. Scott
1951 – 1960 Charles D. Miller
1960 – 1968 Vernon W. Anderson 
1968 – 1974 John M. Woods
1974 – 1982 Curtis E. Green
1982 – 1985 Harold H. Geissenheimer 
1985 – 1989 William G. Stead 
1990 – 1994 Johnny B. Stein 
1994 – 1996Philip H. Adams 
1996 – 1999 Emilio Burton Cruz
1999 Nancy Whelan [acting]
1999 – 2000 Michael T. Burns
Executive Directors, San Francisco Municipal Transportation Agency (2000-Present)
The San Francisco Municipal Transportation Agency (SFMTA) officially took over management of Muni on July 1, 2000. Michael Burns transitioned from his role as head of the PTC into the first Executive Director of the SFMTA. The Department of Parking and Traffic joined the agency in 2002 and taxi regulation was incorporated in 2009.
2000 – 2005 Michael T. Burns
2005 – 2006 Stuart Sunshine [acting] 
2006 – 2011 Nathaniel P. Ford Sr. 
2011 Debra Johnson [acting]
2011 – 2019 Edward D. Reiskin
2019 – Tom Maguire [acting] 
2019 – present Jeffrey Tumlin