Fast and Convenient Transit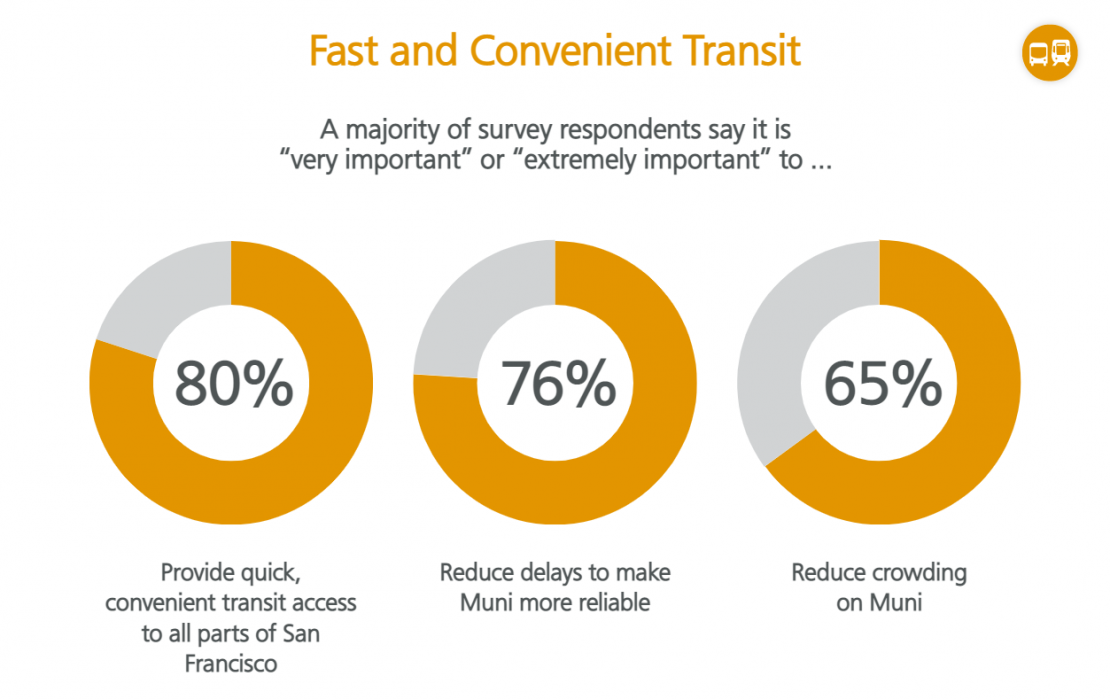 Transit is essential to keeping the city moving, managing congestion and rebuilding our economy. In order to create a system that is faster, more reliable and more accessible, we will need to invest in it. As San Francisco reopens and more people return to transit, here are some of the recommendations envisioned by the ConnectSF Transit Investment Strategy:
Make the System Work Better: Restore and improve existing service, especially for those who are transit-dependent. Repair and replace our most heavily used infrastructure.
Build a Five-Minute Network for Fast Frequent Transit: Create a fast, frequent network of bus and rail routes that ensure riders never have to wait more than 5 minutes for transit when riding the city's most popular routes. Provide convenient access to all parts of San Francisco, rather than focusing primarily on trips downtown. Support this network with street improvements that keep buses moving such as transit lanes, transit signal priority, car-free zones and transit queue jumps to ensure buses and trains only have to stop for passengers instead of getting stuck in traffic. 
Renewing and Modernizing Our Rail System: Modernize our rail system to reduce delays and provide predictable, fast service that is reliable. Upgrade Muni Metro controls and infrastructure system to provide predictable service that can carry more people with longer trains.
Building More Rail to San Francisco's Busiest Places: Build new rail projects in places where no amount of bus improvements will be able to meet the demand, including on Geary Boulevard and 19th Avenue and extending the Central Subway to Fisherman's Wharf.