12 Folsom/Pacific Route Alternatives Considered
Community feedback directly shaped the final proposal for the 12 Folsom/Pacific extension to Rincon Hill. SFMTA considered two north of Market alignments for the updated route, as shown below as options A and B. More than 1,200 Muni customers and neighbors provided feedback on which option worked best for them.
Option A was prefered by 47% of respondents in the community feedback and was selected as the final proposal. Only 38% of respondents prefered Option B in the community feedback.
Customers provided feedback via on-board and online surveys, text-based surveys, at pop-up open houses along the route, and at community meetings and events. Customer feedback surveys were offered in English, Chinese and Spanish. 
Route Options to Rincon Hill
Option A utilizes transit-only lanes on Sacramento and Clay Streets to minimize traffic delay.
Option B maintained the same level of frequency on Sansome but added travel delay due to the realignment.
Option A: Travel on Clay/Sacramento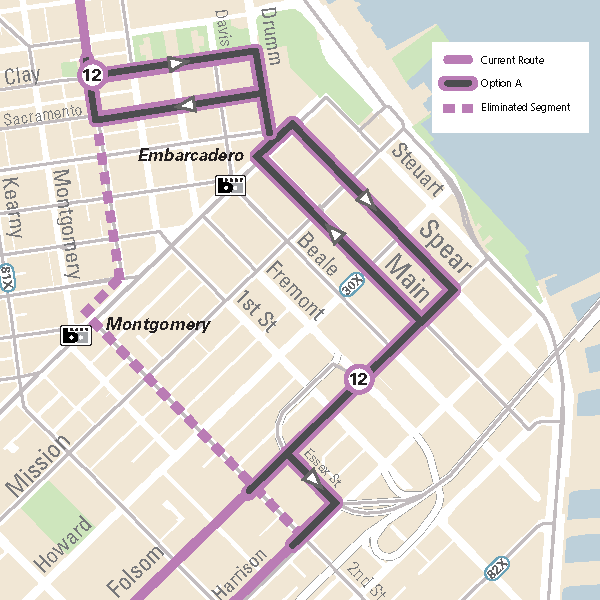 Option B: Travel on Market
 

|   | Option A: Clay/Sacramento | Option B: Market |
| --- | --- | --- |
| Travel Time between 2nd & Folsom to Sansome & Sacramento | Maintains same travel time as current route | 3 to 10 minutes longer travel time than current route |
| Bus Frequency on Sansome Street (including the 10 Townsend) | Reduces bus frequency on Sansome Street to 15 minutes (10 Townsend only) | Maintained current bus frequency on Sansome Street of 7.5 minutes (10 Townsend and 12 Folsom-Pacific) |
| BART Access | Embarcadero Station | Embarcadero and Montgomery Stations |
Route Option to 24th Street BART
The project team also received initial feedback regarding the southern portion of the route to 24th Street BART. The community considered the below route option to provide a more direct and reliable trip to BART. More time is needed to determine the routing that would work best, and SFMTA looks forward to continuing its conversation with the community in the Mission about this segment. There is no change being proposed to the southern portion of the 12 Folsom/Pacific route in the current proposal.