6th Street Pedestrian Safety Project - August 2019
Thanks for your interest in the 6th Street Pedestrian Safety Project. This message provides an update on the progress we have made over the past month.
Quick-Build is Coming
While our engineers and designers are preparing for major construction along 6thStreet starting in April, we are launching some quick-build improvements at the end of this month to immediately create a safer environment for pedestrians. Specific changes by block can be viewed here.
These changes are focused between Market and Howard streets and include:
Reducing 6th Street by one travel lane in the southbound direction
Restricting left turns from 6th Street onto Mission Street and allowing left turns from 6th Street onto Howard Street at all times
Installing painted safety zones and removing parking spaces at intersections from Market to Howard streets
Reallocating parking to give greater priority to passenger and commercial loading zones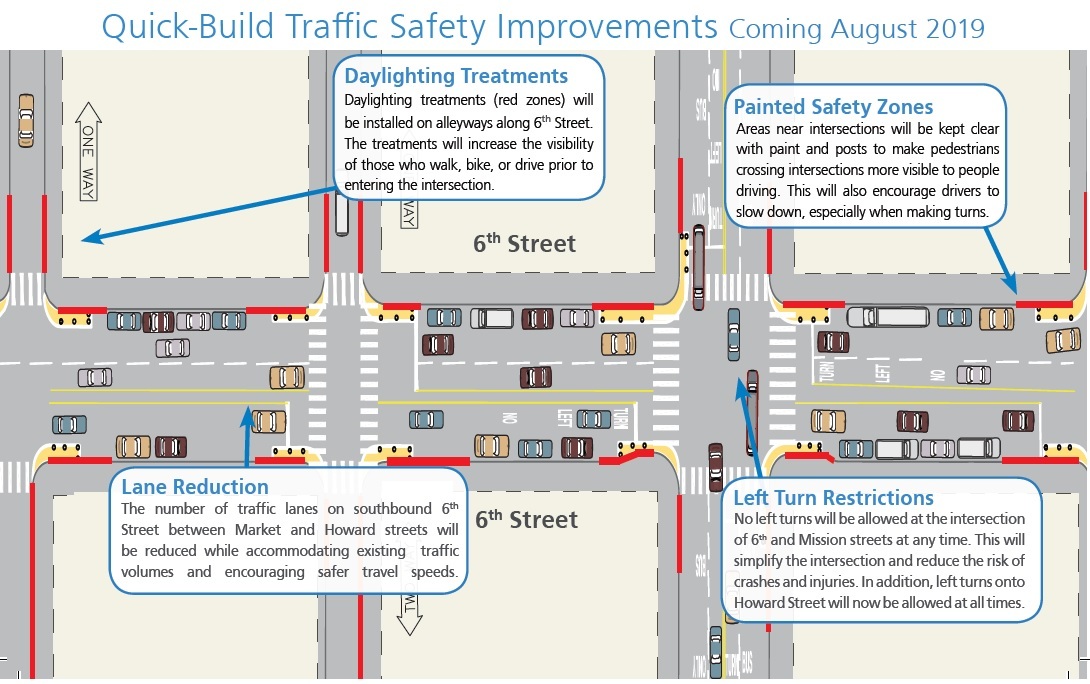 Community Participation
On Thursday, July 25th, the 6th Street & Safer Taylor Street project teams hosted an Urban Design Open House at the Bayanihan Recreation Center. Project teams presented various design elements, including decorative crosswalks and street furnishings aimed to reflect and retain the identity of 6th Street. Thanks to all of our attendees! Presentation materials can be found here.
Detailed Design and Business Impact
The 6th Street Pedestrian Safety Project's design includes new signals at intersections, wider sidewalks, and reconfigured parking and loading zones. This will require work both at street level and below sidewalks. Once construction begins, we will ensure that pedestrians and vehicles continue to have access to the street at all times. We will post and distribute construction notices prior to this work.
Stay Updated
We provide regular project updates on our website, which includes past monthly e-mail updates, to ensure interested members of the public can easily get up-to-speed on the project status. Please don't hesitate to reach out to SFMTA with any questions, concerns, or recommendations on how the project team can move forward in a way that best supports the interests of the local community and the city of San Francisco generally.  
Thanks for reading and looking forward to getting in touch with you again next month.