Bus Shuttles Substitute Powell and Mason Cable Cars in May

Bus shuttles substitute Powell and Mason Cable Cars
In support of the Cable Car Gearbox Rehabilitation Project, Muni will run bus shuttles for the Powell and Mason cable car lines between the turntable at Powell & Market and the Mason northern terminal at Bay & Taylor. Bus service will begin Thurs., May 2 at 5:30 a.m. and continue during regular service hours for about 10 days or until the work is completed.
During this time, the California Cable Cars will operate as usual to ride through the hills of the Financial District and hit the top of Nob Hill. The Hyde Line will run partial service between Powell & Washington and Hyde & Beach ending up close to Ghirardelli Square where you can shop or eat.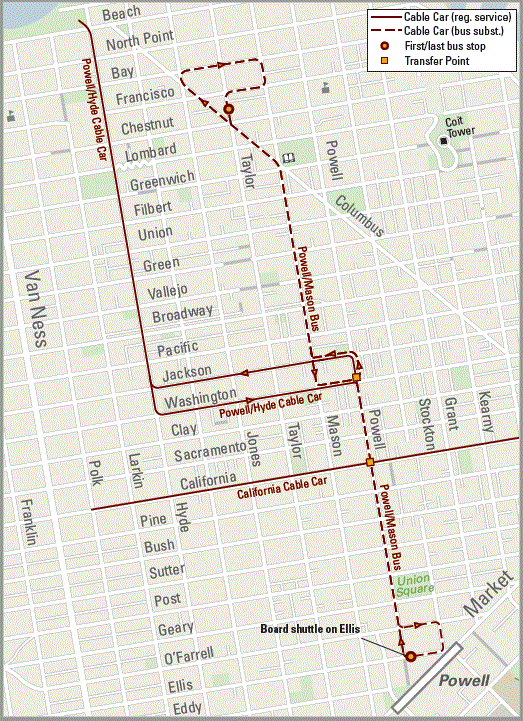 Bus shuttles will follow the Powell and Mason lines and pick up passengers at the curb at cable car stops.
Regular bus fare will apply: $2.75 for cash fare or $2.50 if paid by MuniMobile or Clipper Card.
Maintenance work will also take place at various locations along the cable car lines during this time to maximize the shutdown opportunity. Temporary parking restrictions will apply for bus stop or staging on Ellis & Powell, Powell & Washington and Francisco & Taylor. 
The purpose of the project is to overhaul and refurbish the five gearboxes that have been in service since 1984 in order to keep the world famous cable cars running properly on the streets of San Francisco.
The project started in fall 2017. So far, we have successfully rehabbed gearboxes that propel the California and Mason cable cars, along with a spare gearbox. Work on the Hyde Line is planned for later this year.
Thank you for your understanding and patience while we work to improve the cable car system.