Design Changes In Response to Community Input

Summer 2018 Outreach: What We Heard and What We Did
The Geary Rapid Project team consulted with community members to get feedback on the Geary Rapid Project design in Summer 2018 including two Open Houses, dozens of stakeholder meetings and a bus stop changes survey. This document summarizes several of the most commonly raised specific areas of design input, and how feedback was considered. This project feedback includes over 400 responses to the bus stop changes survey, feedback forms collected at project Open Houses, feedback provided via email or phone and feedback provided at stakeholder meetings.
 
Starr King Way/Gough inbound bus stop location
What We Heard: Mixed opinions about whether the existing location or a proposed location in front of St. Mary's was preferable. Stakeholder feedback was relatively evenly divided. 22 were supportive of relocating the stop, 24 were opposed and 7 were neutral.
Considerations: With the proposed relocation, there was a concern that a long queue of eastbound right-turning vehicles on Geary at Gough has the potential to cause delay for buses.
What We Did: Because of the mixed stakeholder opinions, and the potential for the relocation to hinder the performance of the bus, the proposal to relocate the stop was dropped. Now proposing to retain the existing bus stop location.

Photo of eastbound right-turning vehicles on Gough at Geary during AM peak hours.
Laguna inbound (eastbound) bus stop design
What We Heard: Preference for this stop to be designed as a bus bulb instead of a transit island. Stakeholders at St. Francis Square Cooperative, whose community is immediately adjacent to the stop location, expressed preference for a bulb design so that Muni customers would not need to cross a right-turn lane to access the stop.
Considerations: While there is potential for buses to be delayed by right-turning vehicles stopped in front of buses with this design, staff estimated the contribution to delay to be nominal.
What We Did: Revised the proposed design to be a bus bulb in response to public feedback.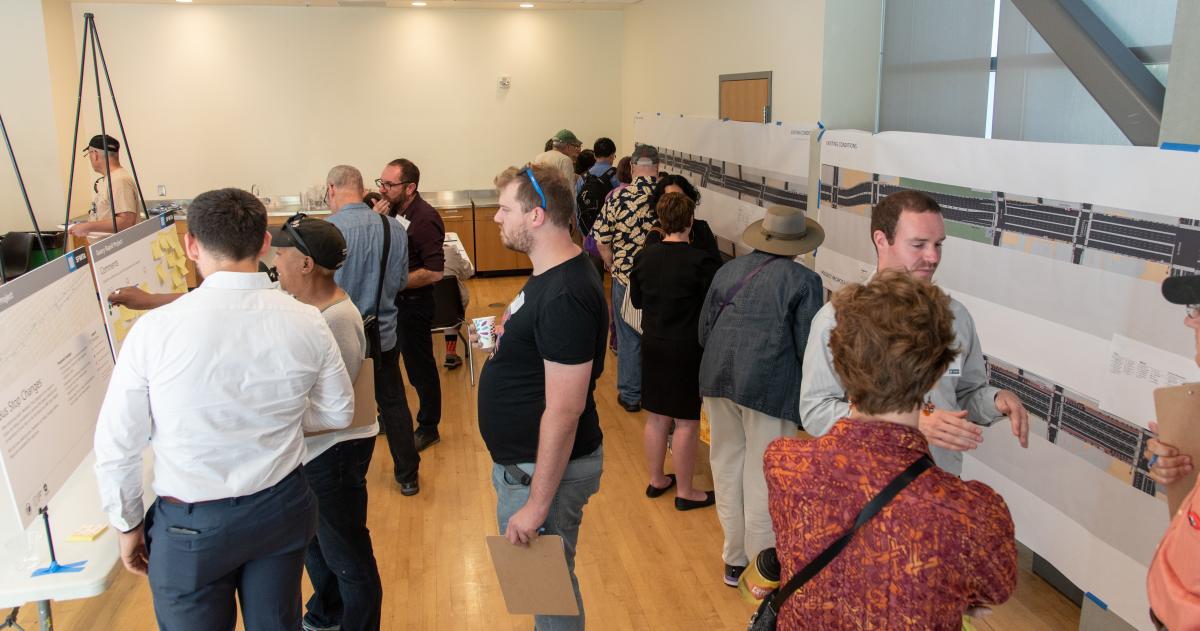 Webster and Fillmore inbound stop consolidation
What We Heard: Mixed opinions about whether it is preferable to consolidate these stops or not. Stakeholders were relatively evenly divided, with 25 in support, 23 opposed, and 7 neutral.
Considerations: To enable pedestrian safety treatments at the intersection of Fillmore/Geary, Fillmore Auditorium staff are supportive of this change. Those opposed to the change were concerned about the slightly longer distance to access the stop from Safeway and the slightly more inconvenient transfer to the 22 Fillmore. Those supportive of the change noted that it is a benefit to Safeway customers to get access to a Rapid stop instead of a local stop and that the current Fillmore nearside stop location often contributes to delay.
What We Did: Retained the proposal to consolidate these two bus stops.
Spruce Rapid service elimination
What We Heard: Majority opposition to this proposal, 93 out of 107 responses.
Considerations: Stakeholders opposed to this change noted that it creates a long gap, about 3,400 feet, between the next closest Rapid stops at Masonic and Arguello. Originally, during the environmental review phase of the project, the outbound Spruce stops were proposed to remain as Rapid stops, but to be relocated from the nearside to the farside of the intersection, with new bus bulbs. The stop currently has a high amount of transit vehicle activity, so bus bulbs were proposed to reduce delays. Without adding bulbs and moving the stops farside, it is challenging for operators to serve the stop, especially when two or more buses are at the stop at the same time. Passengers must often step off the curb into the roadway to board, increasing dwell time, delaying service and reducing accessibility.
However, merchants adjacent to the proposed bus bulbs opposed the bus bulbs and relocation of the bus stops due to the removal of on-street parking that would have been required in front of their businesses. As a result a compromise was made, dropping the proposal to move the bus stops and build bus bulbs, and instead eliminating Rapid service from the Spruce Street stop, alleviating many of the issues the original proposal was trying to solve for.
Another consideration with removal of the Spruce Rapid service is that it has the lowest ridership of all 38 Rapid stops. Each stop removal saves about 40 seconds in travel time and improves reliability, which improves conditions for all other riders. Finally, while 3,400 feet between two Rapid stops is longer than the typical stop spacing of Rapid stops, there are plenty of examples of similar spacing. For example, the 5R has a 3,400 foot stop spacing between its Van Ness and Fillmore stops, and the 9R has a 3,400 foot stop spacing between its Potrero/16th St and Harrison/11th St stops. Because of the history of stakeholder input and compromise during the environmental phase, plus the benefits the change will provide for overall route speed and reliability, staff are continuing to recommend removal of Rapid service at this stop.
What We Did: Retained the proposal to eliminate Rapid service at Spruce Street.
Existing conditions at the Spruce Street stop create delays and access challenges
Commonwealth/Stanyan local stop elimination
What We Heard: A majority of stakeholders, 26 out of 30, were opposed to the change.
Explanation: The removal of these stops would have improved transit speed and reliability for the local service, and they have relatively low ridership.
What We Did: Dropped the proposal in response to public feedback, now proposing to retain these bus stops.