The Geary Rapid Project will make traveling on Geary—home to one of the busiest bus corridors in the west—a more reliable and safer experience with dedicated bus lanes and safety improvements for people walking. With more than 54,000 daily customers who rely on the 38 Geary and 38R Geary Rapid, SFMTA has been working to improve Geary transit with new low-floor buses and a more frequent schedule. Yet, Muni customers still experience crowded buses and uneven wait times. And Geary is home to a disproportionate number of serious and fatal traffic collisions, especially for people walking. The Geary Rapid project aims to address these issues while setting the stage for future transportation improvements.
The Geary Rapid Project's federal environmental review was recently completed with the Final Environmental Impact Statement and Record of Decision issued on June 15, 2018. We have finalized the staff-recommended design based on recent community member input. 
The proposed street changes for legislation will be considered for final approval by the SFMTA Board on August 21, 2018.
Improvements
Red, dedicated transit lanes to reduce unpredictable delays
Transit bulbs to decrease bus delays by allowing buses to remain in the travel lane when passengers load and unload
Bus stop changes to improve efficiency
Upgraded Transit Signal Priority to increase the likelihood buses get the green light at intersections
Calming the Geary Expressway by decreasing the number of travel lanes from four to two general-purpose lanes and one bus-only lane in each direction
Accessible pedestrian signals and curb ramps allow people with disabilities to safely travel on the corridor
Pedestrian bulbs at intersections to shorten crossing distances, make people walking more visible to motorists and reduce vehicle turning speeds
Pedestrian countdown signals to let people walking know how much time they have to safely cross the street
New crosswalks and enhanced medians to provide safe opportunities for people to get across Geary
Improvements for bicyclists crossing Geary on streets within the bike network that intersect the corridor
Bus Routes and Rail Lines
Streets
Geary and O'Farrell streets between Market and Gough streets, Geary Boulevard between Gough and Stanyan streets
Project Location
Once legislation for the project is approved, Geary Rapid Project improvements would be constructed on Geary and O'Farrell streets, between Market and Stanyan streets. Plans are also underway for the Geary Boulevard Improvement Project to bring longer-term improvements west of Stanyan to 34th Avenue.
Coordinated Work Sponsored by Partner City Agencies
To minimize community disruption, Geary Rapid Project construction will occur in coordination with:
SF Public Works-sponsored roadway repaving to upgrade 1.5 miles of deteriorated streets and provide you with a smoother ride

Department of Technology-sponsored installation of 1.75 miles of underground

fiber optic conduit

to provide internet services and connect traffic signals

SF Public Utilities Commission-sponsored sewer work to replace or rehabilitate 1.5 miles of aging sewers and two miles of water lines, ensuring residents and businesses continue to receive high quality and reliable services around the clock.
---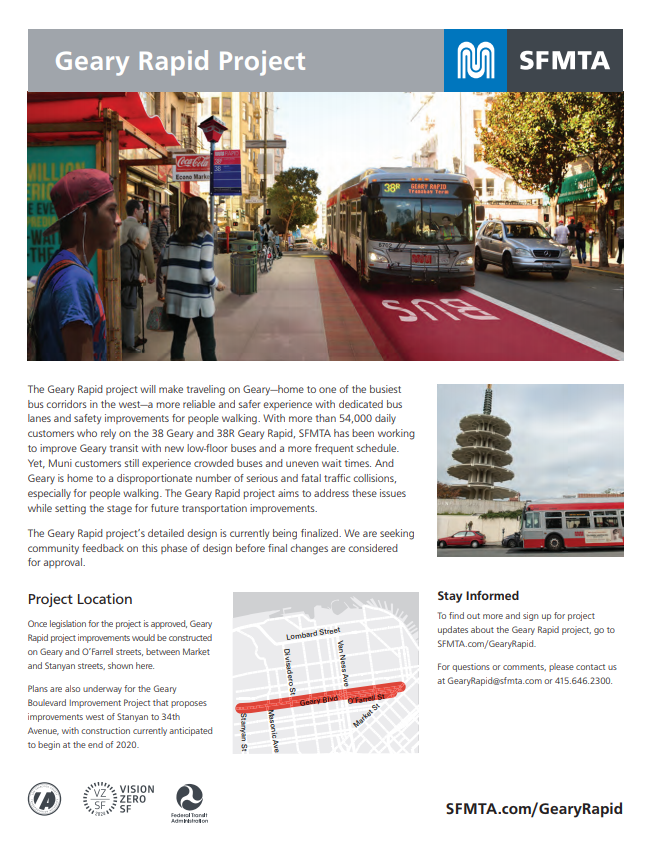 Download and Print Geary Rapid Project Flyers
---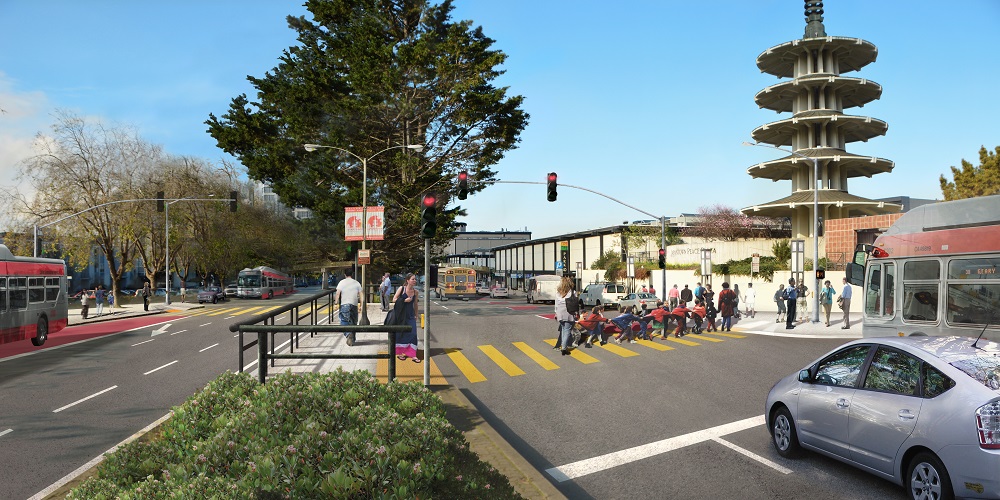 Rendering shows proposed median crossing at Geary and Buchanan streets. 
Frequently Asked Questions
 
1. What changes and amenities are proposed to bus stops?
There are two types of bus stop changes being proposed:
Some bus stops would be moved from the near side of intersections to the far side so that buses aren't delayed by red lights as often.

Some closely spaced stops bus stops would be removed or consolidated to improve travel time reliability.
You can learn more about bus stop changes by visiting the bus stop changes webpage.
Bus stop amenities within the project limits would be upgraded to include new easier-to-read bus stop signs and, where possible, real-time information displays and shelters at stops that do not already have them. Decorative bridge edging would also be installed at new transit bulbs. 
2. How would new transit-only lanes be enforced?
Muni buses are equipped with dashboard cameras that can cite parked vehicles in transit-only lanes. However, moving violations cannot be cited due to state law, so enforcement would rely on traditional methods. During initial implementation, enforcement would be increased along the corridor to educate and ensure compliance of the red transit-only lanes.
3.  Will you be adding more service as a part of the project?
SFMTA regularly monitors service across its entire network and makes adjustments to address crowding when possible and within operating budget constraints. In April 2015, SFMTA implemented a major service expansion in the Geary corridor. If enough travel time savings are added by the Geary Rapid Project improvements, that savings could be reinvested into more service on the corridor.
4. Could Geary be upgraded to rail service in the future?
Geary's high-transit ridership makes it suitable for rail. In fact, rail on Geary is identified in various SFMTA long-range planning documents as a possibility. However, major obstacles to Geary rail include the high capital cost, a scarcity of funding sources and the scale of disruption during construction.
5. How does this project improve safety for people walking?
Currently, a person crossing Geary is eight times more likely to be hit by a vehicle than the city average. The Geary Rapid Project aims to improve safety for people walking by redesigning intersections to make them safer, introducing new crosswalks and reducing the number of travel lanes in some parts of the corridor to calm traffic speeds.
In addition, traffic signals would be retimed and coordinated throughout the corridor to provide more time for people of all abilities to cross safely. Pedestrian countdown signals would also be added for crosswalks that do not already have them, and accessible pedestrian signals would be installed at all upgraded traffic signals.
Rendering shows proposed street-level crossing at Geary and Webster streets. 
6. Won't reducing travel lanes increase traffic?
Currently, the Geary corridor has discontinuous traffic lanes. Some segments have two or three lanes, while other segments have four lanes. Cars weaving in and out of lanes contributes to congestion. A travel lane would be removed in each direction between Gough and Scott to match the number of lanes upstream and downstream, making for smoother overall traffic flow. Traffic signals would also be upgraded and retimed for improved progression.
During the environmental review process, future travel demand was estimated in order to study the impacts of removing these travel lanes. The results vary by intersection, but overall the study found that fewer total intersections would experience high levels of delay with the project than without. Many people driving would continue to drive along Geary, while a small number of drivers may choose to divert to other parallel streets.
7. What are the overall parking impacts?
Parking loss is a trade-off for better bus service and safer streets for people walking. These goals are accomplished mostly by:
 Sidewalk extensions at bus stops and pedestrian "bulb-outs," which extend the sidewalk at the corner of the street to shorten crossing distances for people walking
"Daylighting" to make people walking more visible to drivers by converting the parking space closest to the approach to the intersection to a red painted curb
 Dedicated bus lanes along the frontage roads on Geary near Fillmore Street and Masonic Avenue
In total, more than 98 percent of parking within one to two blocks of the corridor would be retained. Parking removal varies by block, but more than 60 percent of block faces would have no parking removal. On block faces where removal is proposed, it is typically one to three spots in order to improve safety for people walking by implementing sidewalk extensions. Where there are technical constraints more parking removal is proposed, but these locations are close to off-street parking garages that typically have excess capacity, such as near the Fillmore and Masonic underpasses.
8. Are cars allowed to enter red lanes?
San Francisco's transit-only lanes are generally only for buses, taxis and emergency vehicles, but people driving are allowed to enter side-running red lanes to make right turns, enter driveways or enter and exit curbside parking spaces next to the lane. Red transit lanes are often dashed approaching intersections to make it easier to identify a good location to enter the lane before making a turn. Learn more about how to safely navigate red transit-only lanes.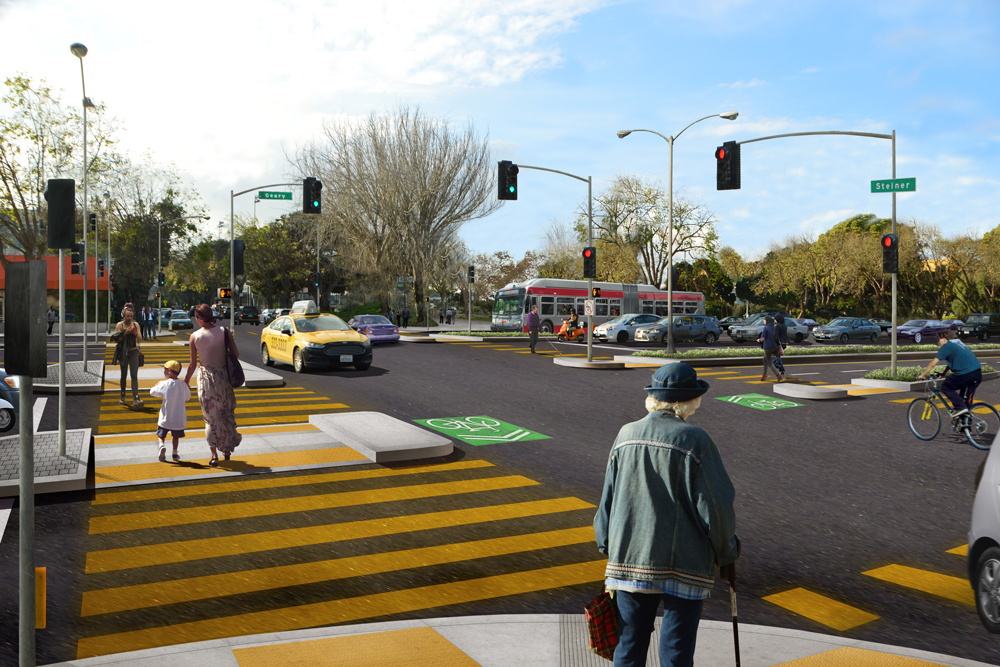 Rendering shows proposed street-level at Geary and Steiner streets, with the removal of the Steiner Street Bridge.
9. Are there any benefits for people riding bikes?
Geary is a wide street and serves high traffic volumes, therefore parallel corridors (such as Post Street) are better for east-west bike routes. Geary Rapid Project bicycle proposals focus on improvements for people biking across Geary along north-south bike routes including Masonic Avenue, and Webster and Steiner streets. These improvements include green-backed sharrows in the intersection that signal the best path for cyclists to cross the street; bike traffic signals that give people biking a head start; and painting the existing sharrows on Geary between Masonic and Presidio green.
10. Would trees be removed or additional trees planted?
Within the project limits between Stanyan and Market streets, there would be about five trees removed throughout the entire corridor to make space for some of the proposed improvements. However, over twenty trees will be added in the vicinity where the trees would be removed, for a net addition of over fifteen trees.
11. When will construction start and how long will it last?
Construction is anticipated to begin in fall 2018 and conclude in early 2021. SFMTA work, as well as coordinated work sponsored by other City agencies including roadway re-paving and water and sewer main upgrades would all occur during this time period.
12. How do I get in touch with project staff?
You can email or call us at GearyRapid@sfmta.com or 415-646-2300.