Escape from Alcatraz Triathlon: Sunday, June 11, 2023
Service Affected
Accessibility
Driving
Transit
Weekend Traffic and Transit Advisory
The annual Escape from Alcatraz Triathlon will take place on Sunday, June 11, 2023. The race will start 7:30 a.m.
Participants will swim from Alcatraz to the St Francis Yacht Club, then bike through the Presidio to the Great Highway through Golden Gate Park and back to the Marina, and then run to Baker Beach and back to the Marina Green for the finish. 
Muni Reroutes
The table below lists the Muni routes that will be temporarily rerouted to avoid the race. These routes will resume normal operation once the race is clear.
Temporary Service Change by Route and Direction

Route and
Direction
Times
Missed Stops
Alternate Stops
18 46th Ave
to Outer Richmond
6:30 a.m.
until clear

Ocean Beach Area
Legion of Honor Area

Ocean Beach Area
Legion of Honor Area

18 46th Ave
to Stonestown
6:30 a.m.
until clear

Legion of Honor Area
Ocean Beach Area

Legion of Honor Area
Ocean Beach Area

29 Sunset
to The Presidio
6:30 a.m.
until clear

29 Sunset 
to Bayview

6:30 a.m.
until clear

30 Stockton
to Presidio

6:30 a.m.
until clear

Lincoln Boulevard & Girard Road
Presidio Main Ground

30 Stockton
to Caltrain
6:30 a.m.
until clear

Presidio Main Ground
Lincoln Boulevard & Girard Road

38 Geary and
38R Geary Rapid
to Downtown
6:30 a.m.
until clear
38 Geary and
38R Geary Rapid
to The Richmond
6:30 a.m.
until clear
Event Map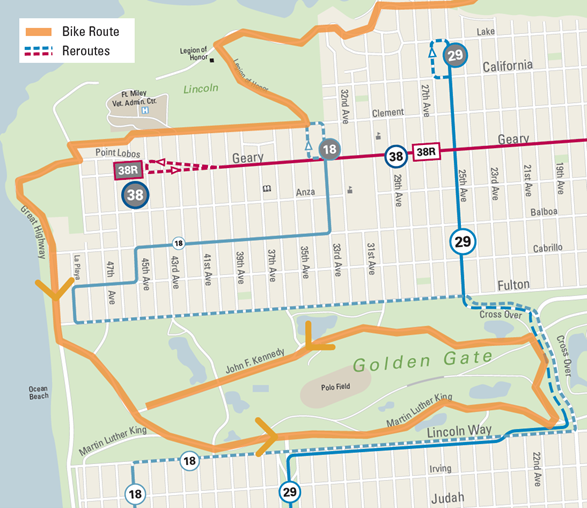 Contact
Call 311 within San Francisco; TTY 415.701.2323