November 2019 Project Update - Octavia 'Open Street' Project coming soon!
A part of the Octavia Boulevard Enhancement Program, the Octavia 'Open Street' Project was approved by the SFMTA Board of Directors in July. After several years of community engagement and evaluation during temporary closures of Octavia Street alongside Patricia's Green (between Linden and Hayes streets), the SFMTA is now ready to make the changes permanent.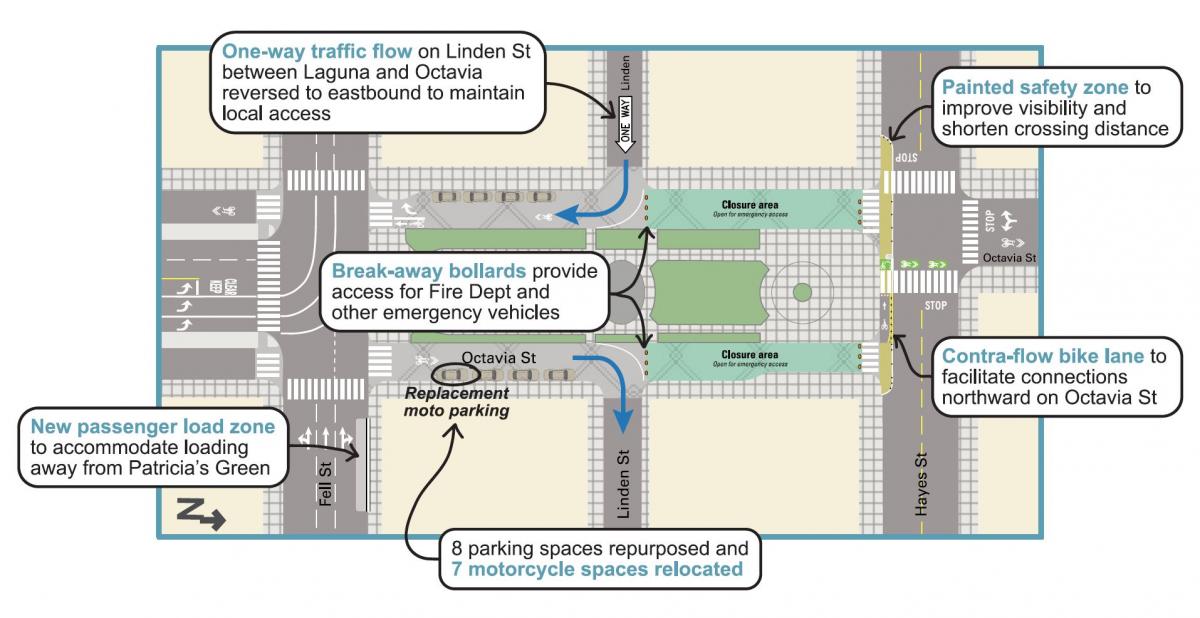 Our field shops have been quite busy these past few months supporting the opening of Chase Center in Mission Bay and building Vision Zero projects citywide, many South of Market. With their availability opening up, the Octavia project team is making the final preparations to implement our project — targeting early December.
To help things go as smoothly as possible, we will be placing a changeable message sign on Octavia Boulevard in advance of the closure to communicate to people driving that changes are coming. Staff are also coordinating with mapping services (e.g., Apple and Google) and ride-hail providers (e.g., Lyft and Uber) to further spread word of the changes.
We expect all changes to take about a week to implement, though the closure itself is expected to take place soon after construction starts. We ask that folks be patient as our field staff adjust roadway striping and signs, as these changes will require some adjustment. Otherwise, we hope you enjoy this new public open space and look forward to hearing feedback.