Outside Lands Supplemental Service
Friday, August 11, 2017 - 2:00pm

to

Sunday, August 13, 2017 - 11:30pm
The Tenth Annual Outside Lands Music and Arts festival will take place on the weekend of August 11-13, 2017 at Golden Gate Park. The event is expected to attract 225,000 people over the course of the weekend.
Muni will provide supplemental service on the N Judah, 5 Fulton and 5R Fulton Rapid. Each night of the festival, Muni will provide 5X Fulton Express service from Golden Gate Park to Civic Center Station. Due to increased ridership for this event as well as others around the city, concertgoers should allow extra travel time on the N Judah and all bus lines serving Golden Gate Park. Traffic in the area will also be heavy. Taxi stands and monitored bicycle parking will be provided. Read below for more detailed information.
Outside Lands provides a private shuttle service between Bill Graham Civic Auditorium and Golden Gate Park. Please visit the Outside Lands "Getting to the Park" page for shuttle pricing and schedule information.
On This Page
Muni Service
Supplemental Service
Muni will provide supplemental service to Golden Gate Park in addition to the regular scheduled service. Supplemental service will not serve the entire route. These buses will have different destination signs so you can tell them apart from buses operating on regular schedules. See below for the detailed information.
Supplemental Service by Route and Direction

Route and
Direction
Times
Destination Sign
Stops
5 Fulton
to Downtown
11 a.m. to 11:30 p.m.
Market + 7th
5 Fulton
to The Richmond
11 a.m. to 11:30 p.m.
Ocean Beach
5R Fulton Rapid
to The Richmond
2 p.m. to 7 p.m.
30th Av
5X Fulton Express
to Civic Center
8 p.m. to 11:30 p.m.
METRO---BART

Fulton & 36th Av
Fulton & 30th Av
Hyde & Grove
Notes:
PISTAHAN PARADE IMPACTS
On Saturday, August 12, the annual Pistahan Parade will close a portion of Market Street from 10 a.m. to 1 p.m. Muni Service on Market Street will be impacted. If you want to go to Golden Gate Park during the Pistahan Parade, consider taking the N Judah.
Express Service Map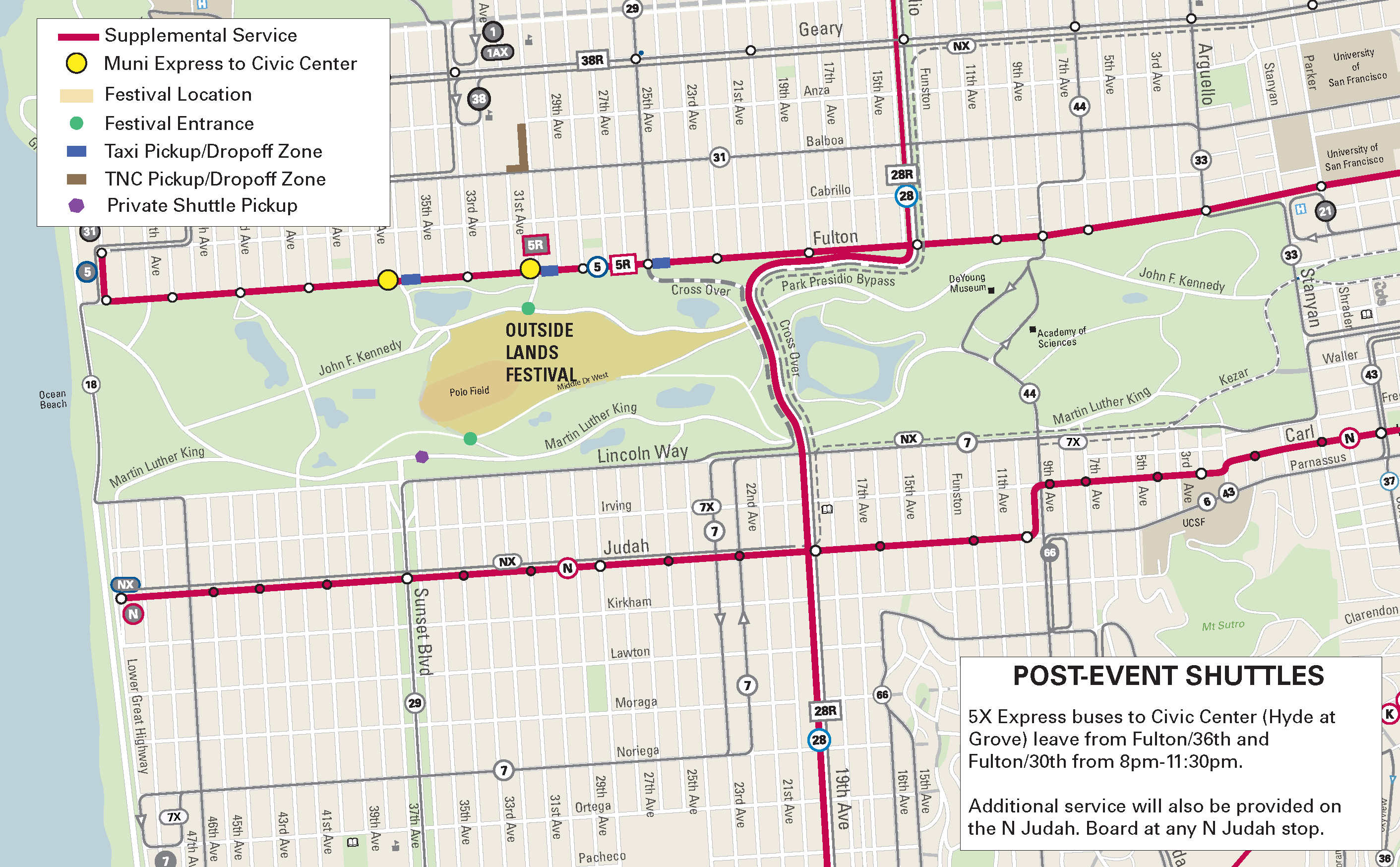 The map on the right shows the supplemental service during the Outside Lands Festival. Click or tap on the thumbnail for the full size, or download a PDF version of the Outside Lands Supplemental Service Map.
MUNI PASSES
Save time and avoid crowds by purchasing your fare before boarding Muni. 
MuniMobile is the easiest way buy your tickets for any Muni services instantly before you ride. Skip the lines and buy tickets ahead of time or on the go, then activate when you are ready to ride. With MuniMobile, your phone is your fare.
Customers may also use a preloaded Clipper card, or purchase tickets at Muni Metro Embarcadero station.
Taxi Stands
Temporary taxi stands for the event will be in place at the following locations from Friday at 9 a.m. to Monday at 2 a.m.:
Southside of Fulton Street at 24th and 25th avenues
Southside of Fulton Street at 29th and 30th avenues
Southside of Fulton Street at 35th and 36th avenues
The pick-up and drop-off area for transportation network companies (Lyft, Uber, etc.) is on 30th Avenue & Balboa.
Bicycle Parking
Monitored bicycle parking will be provided from 10 a.m. to 12 a.m. above Hellman Hollow near Transverse and Overlook Drive.