Page Slow Street: SFMTA Board Approval Hearing
Service Affected
Bicycle
Parking
Driving
Walking
Happy New Year from the Page Slow Street team!
Page Street is being considered for inclusion in the ongoing Slow Streets Program. The SFMTA is also proposing new traffic diversion at Page Street and Divisadero Street to improve safety for people walking and bicycling. Read on to learn more and how to provide your input.
Recommending approval for existing traffic measures and new changes at Divisadero
The SFMTA Board of Directors authorized San Francisco's Slow Streets Program on December 6th, with 16 initial corridors approved for inclusion. After over two years of outreach and evaluation showing strong support and significant growth in people walking and bicycling, the SFMTA recommends adding Page Street to the ongoing Slow Streets Program. Approval would make permanent all existing measures, including piloted freeway-access restrictions and bikeway upgrades east of Webster Street and slow-streets measures westward to Stanyan Street.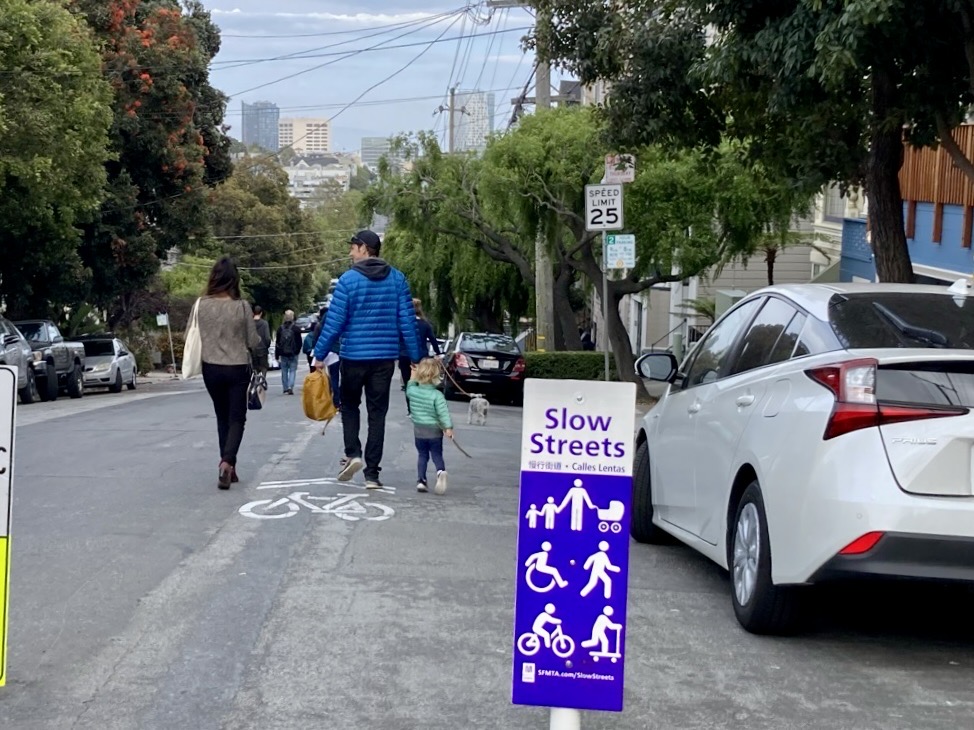 The proposal also includes adding traffic diversion at Page Street and Divisadero Street. It would require eastbound and westbound vehicle traffic on Page Street to turn right onto Divisadero Street, prioritizing walking and bicycling. Northbound and southbound left turns from Divisadero Street would be restricted at all times, reducing delays for Muni and crosstown traffic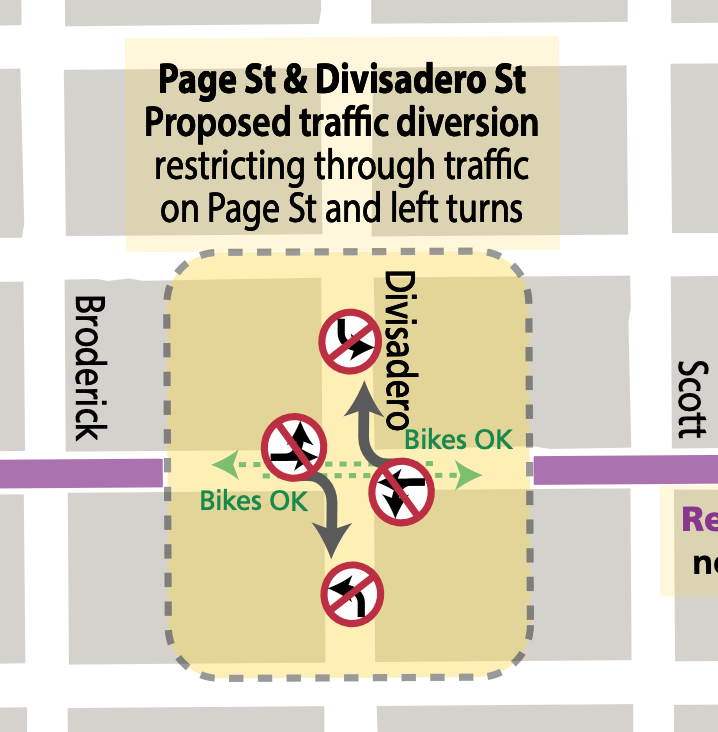 SFMTA Board of Directors hearing
The Page Slow Street Project is scheduled to be heard by the SFMTA Board of Directors on Tuesday, January 17th starting at 1 PM. If you can't make it this time or prefer to write, you may submit your comments in advance to MTABoard@sfmta.com.
Meeting location: City Hall, 1 Dr. Carlton B. Goodlett Place, Room 400, Floor 4, San Francisco, CA
Remote meeting access
Visit the project website for more details about the SFMTA Board hearing.
Keep in touch
Sign up for updates on our project website to keep up on the next steps, and reach out to PageStreet@sfmta.com to speak with us directly. We otherwise hope you have a great start to 2023!