Potrero Yard Modernization Project September 2022 Update
► Potrero Hill Festival and Phoenix Day, weekend of Oct. 15–16
Project team members will be at two upcoming street fairs in October:
Saturday, October 15, Potrero Hill Festival. We are excited to return to this festival to represent the project and make connections with community members. The event takes place along 20th Street over a four-block stretch from 11 a.m. – 4 p.m.
Sunday October 16, Phoenix Day. The citywide celebration returns, and we're back, too. Stay tuned for further details. 11 a.m. – 4 p.m.
Come out and say hello!
► Project team meets with yard frontline staff
During the week of Aug. 15, Potrero Yard Modernization Project staff provided updates on the project for frontline staff at the yard, including maintenance, operations and administrative employees.
Armed with coffee, pastries, swag, and factsheets, team members met staff at early morning meetings and throughout the day over the course of the week. We answered questions about the Potrero Yard Modernization Project and viewed renderings for both the Muni Metro East Bus Yard and 1399 Marin Street facilities. These two sites will become the locations for yard operations and heavy maintenance, respectively, when bus yards are taken offline for construction. Potrero Yard operations and maintenance will be the first to temporarily locate to these facilities when the yard closes for construction starting in 2024.

The SFMTA's Bonnie Jean von Krogh speaking to Potrero Yard maintenance staff at their 6 a.m. meeting on Tuesday, Aug. 16, 2002. 
We gathered insightful questions and feedback during these sessions and distributed unique 'Potrero Yard' hats to staffers — which were a big hit! Keeping communication lines open has always been a hallmark of the Potrero Yard Modernization Project and informing critical frontline staffers on the project's trajectory continues to be a top priority.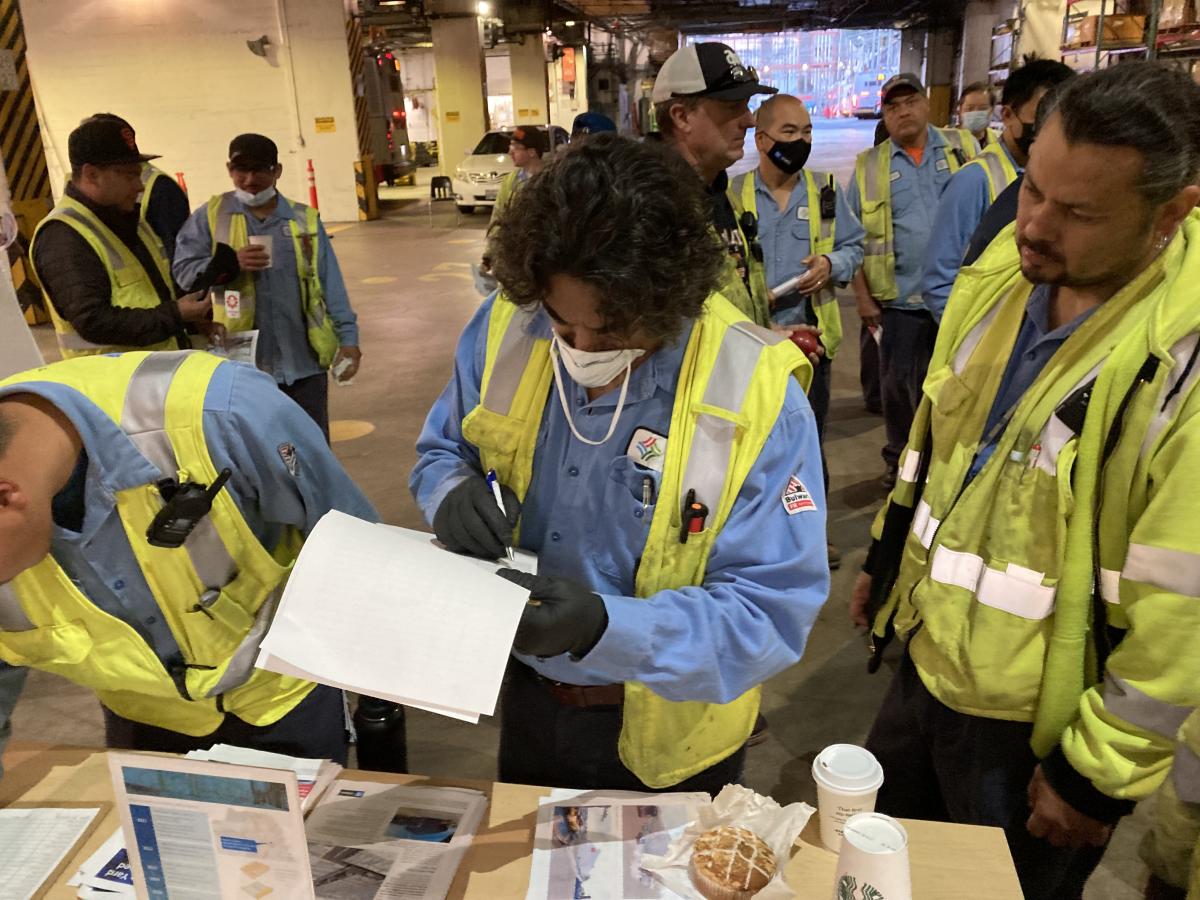 Potrero Yard maintenance staff signing up for project updates. Aug 16, 2022 at Potrero Yard. 
► Potrero Yard tours took place Saturday, Sep. 17
We conducted tours of Potrero Yard on Saturday, September 17 to members of the public. As usual, the tours were well-attended. The tour offers an interesting behind-the-scenes look at how a transit yard works and shows why the 107-year-old facility needs to be rebuilt.