Share your feedback: Safety improvements on Geary at Commonwealth/Beaumont
Tuesday, October 8, 2019 - 8:00am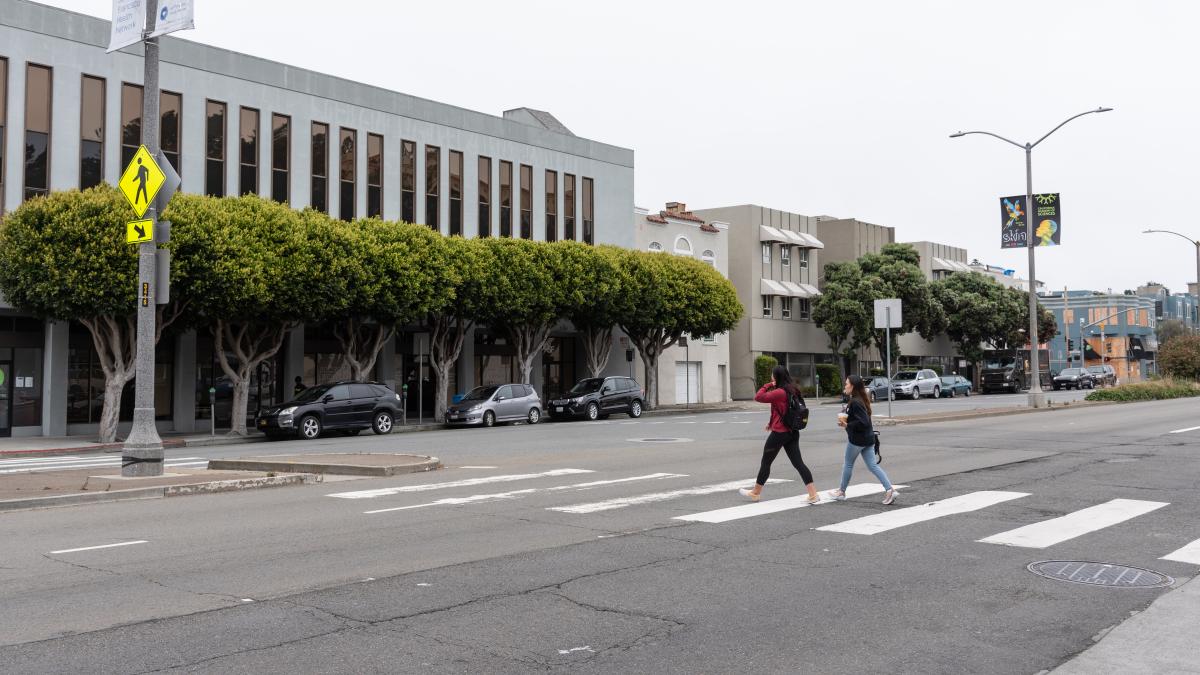 Share your feedback
We're looking for feedback from neighbors about installing a new traffic signal on Geary Boulevard at Commonwealth/Beaumont avenues. There are several ways to share your input:
Take a brief online survey:
Contact us at GearyRapid@SFMTA.com or 415.646.2300
Or, drop in on Thursday, November 7, 4:00 - 6:00 p.m. at Earth's Coffee, 3400 Geary Boulevard to learn more and talk to project staff
Overview
In response to requests from neighbors, and as part of San Francisco's Vision Zero goal to eliminate traffic deaths, we're seeking input into proposed pedestrian safety improvements for people crossing Geary Boulevard at Commonwealth/Beaumont avenues. Geary Boulevard is one of San Francisco's high-injury corridors, and collisions have been reported at the intersection of Commonwealth/Beaumont in the past.
Geary is also a busy east-west thoroughfare that carries 100,000 people per day on buses and cars, so keeping traffic moving while making the streets safer are both priorities. While the SFMTA has recently made improvements to help make drivers more aware of people crossing Geary, such as high-visibility crosswalks and pedestrian crossing signs, we are considering additional improvements this intersection. 
Proposed street changes
As part of the Geary Rapid Project, a new traffic signal is proposed to be installed at the existing crosswalk at Commonwealth/Beaumont. This change would give a walk signal to pedestrians crossing north or south across Geary and stop east/west vehicle traffic. To maintain traffic flow on Geary, this signal would be triggered by pedestrians only when needed by pressing a button. The new signalized crosswalk would have the pedestrian countdown feature and be complemented by new pedestrian bulbs and new streetlighting. 
Installing a traffic signal here would require prohibiting north- and southbound through vehicle traffic and left turns from Beaumont and Commonwealth avenues onto Geary Boulevard. These avenues would become right-turn only onto Geary Boulevard. Turns from Geary onto Beaumont or Commonwealth would still be permitted.

Frequently Asked Questions


 
Why are turn prohibitions required to install a new traffic signal?
The proposed turn prohibitions improve pedestrian safety and help minimize the traffic impacts for cars and buses traveling on Geary Boulevard. About 100,000 people in cars travel east-west along Geary daily, compared with about 1,000 daily travelers south on Commonwealth or north on Beaumont. Over 70% of these north- and southbound vehicles make right turns onto Geary. Making Commonwealth and Beaumont right-turn only onto Geary allows a new signal to only stop traffic on Geary when a pedestrian pushes a button to cross, rather than stopping traffic every 90 seconds to let vehicles through. Additionally, right turns onto Geary do not conflict with pedestrians crossing Geary.
How many collisions have there been at this intersection?
In the past 10 years, there have been three reported injury collisions at this intersection. The most recent involved a vehicle getting rear-ended while stopping for a pedestrian crossing. In the next, a pedestrian crossing southbound was hit and injured by a westbound vehicle in the left lane that did not stop even though the vehicles in the right and center lanes had already. The third collision involved a westbound vehicle hitting a vehicle in the process of making a southbound left-turn onto Geary. All three of these collisions took place during the day in clear weather.
Would

the

new traffic signal be accessible?
Yes, the new signal would be accessible. New ADA-compliant curb ramps, Accessible Pedestrian Signals (APS; the audible yellow buttons) and pedestrian countdown signals would be installed as well.
Are there other safety improvements planned at this location?
The Geary Rapid Project will install new pedestrian bulbs, extending the sidewalk at the intersection into Geary Boulevard on both sides of the crosswalk (at Commonwealth and Beaumont). This improves safety by shortening the crossing distance, making pedestrians more visible to vehicles, and slowing down vehicles turning right from Geary. 
The concrete center median (example can be seen in the map above) is also proposed to be expanded to emphasize the right-turn-only requirement for northbound and southbound vehicles and to guide left-turns from Geary. The expanded median would have new ADA-compliant curb ramps, an Accessible Pedestrian Signal (APS; an audible yellow button), and will also provide room for new traffic signal poles.
Are there any other unsignalized pedestrian crossings on Geary Boulevard?
There are currently unsignalized crossings on Geary Boulevard at Cook Street and at nine intersections west of 30th Avenue, where there is less traffic and fewer travel lanes (31st, 35th, 37th, 38th, 39th, 41st, 44th, 45th, and 47th avenues). The Geary Rapid Project will install a new traffic signal at Cook Street next year, which would make the crossing at Commonwealth/Beaumont the last unsignalized crosswalk until 31st Avenue.
Please see the top of this page for ways to provide feedback on this proposal.