Sunset Tunnel Weekend Construction Resumes Oct. 24-26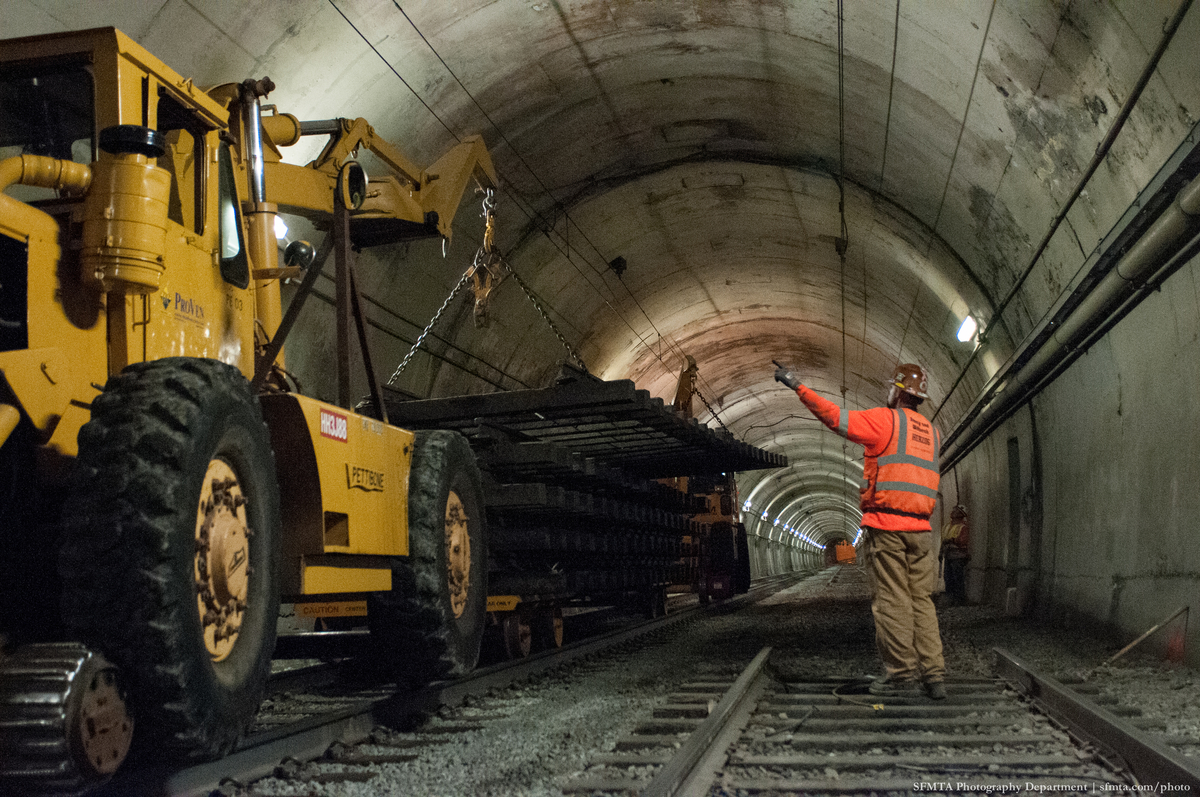 As part of the Sunset Tunnel Trackway Improvement Project, the SFMTA will resume the weekend construction on the Sunset Tunnel on Saturday, Oct. 24 from about 2 a.m. until 3:30 a.m. on Monday, Oct. 26. The project includes seismic upgrades to the tunnel portal retaining walls and its foundations and replacement of aging track and other infrastructure inside the Sunset Tunnel, which will help improve safety and reliability of the N Judah rail service for Muni customers.
The Sunset Tunnel construction, scheduled for 15 weekends, started in November 2014. This past year, we have worked on 10 weekends and completed approximately 60% of the work. To ensure we keep the City moving, construction work had to be rescheduled to accommodate concurrent major events in the city. We are working diligently with the contractor to expedite the construction and will do the best we can to finish the work as quickly as possible.
The next set of construction dates are tentatively scheduled for Nov. 7, Nov. 14 and Nov. 21. There will be more weekend work slated for early next year to make up for the rescheduled work. Instead of commencing the work on Friday night, the upcoming weekend work will begin at 2 a.m. Saturday continuously until around 3:30  a.m. on Monday.
Working concurrently with the subway nightly early shutdown, N Judah customers traveling to Caltrain on an N bus after 9 p.m. will have to take the KLM bus shuttle on Market Street to Embarcadero and transfer to a T Third train to continue the trip. See more details at Weekend Bus Substitution Service.     
The SFMTA will continue to implement its current work plan to better control the night time noise during construction. Noise mitigation measures will include:
Delivering gravel ballast to the job site only between 6 a.m. and 10 p.m.

Installing mufflers on the construction equipment

Using new backup alarms with lower noise level

Using electric powered rather than diesel-powered equipment whenever possible
What to Expect during Weekend Construction:
Crews will work continuously from approximately 2 a.m. on Saturday until 3:30 a.m. on Monday.

The majority of the work will take place inside the Sunset Tunnel and at the tunnel entrances.

Noise control measures will be implemented; however the work will be audible throughout the weekend.

The streets near the tunnel entrances will remain open.

To accommodate the tunnel work, parking restrictions will become effective before the work starts on both sides of Duboce Avenue from Steiner to Scott Street, and on both sides of Carl Street from Clayton to Cole Street.
Weekend Bus Substitution Service:
Bus shuttles will substitute for the N Judah rail service between Church & Duboce and Ocean Beach from about 5 a.m. Saturday until end of service at 2 a.m. on Monday.

Regular N Judah trains will continue to provide service between Caltrain Depot and Church & Duboce each day before 9 p.m.

Due to the subway communication system upgrades, Muni subway will start closing nightly at 9:30 p.m. Customers traveling to Caltrain Depot after 9 p.m. will have to take the KLM bus shuttle on Market Street and transfer to the T Third trains at Embarcadero.

The bus shuttles will follow the N Judah Line making regular stops except for the tunnel portion where buses will be routed to Haight Street.

The N Judah stops at Church & Duboce will provide a transfer point between bus shuttles and trains for Muni customers.

The weekend N Judah Owl bus service will not be affected.
Other Ongoing N Judah System Improvement Projects:
Maximizing construction opportunities, the SFMTA has integrated multiple construction components under the Sunset Tunnel project in order to minimize the inconveniences for both N Judah riders and the community around the construction area.
The Transit Signal Priority (TSP) system upgrades are taking place at nine intersections sequentially along the N Judah Line. On the October 24 weekend, crews will be installing signal loops between the tracks at the intersections of Judah at 16th, 18th and 19th avenues.
Work hours will be 8 a.m. to 5 p.m. Saturday and Sunday.  

The accessible platforms at Judah & 19th Avenue will be out of service. The bus shuttle will provide wheelchair access at the curb stops.

During construction the streets will remain open; however there will be lane closures and traffic will be diverted.

Street parking at construction site will be temporarily unavailable.

There will be noise during excavation of the trackway. 
The TSP system will use technology to reduce dwell time at traffic signals for Muni light rail vehicles by holding green lights longer.
The construction of the wheelchair accessible platforms on Judah and 28th Avenue was successfully completed in late March. The westbound and eastbound stops are now being served by N Judah trains.  
The new platform include longer boarding islands and ADA (Americans with Disabilities Act) compliant curb ramps, making Muni Metro system safer and easier to use for all customers.
Thank you for your understanding and patience while we work to improve your Muni system.
For concerns or assistance, please contact: Tess Kavanagh, Project Manager, at 415.701.4212, via email at tess.kavanagh@sfmta.com or Jay Lu, Public Relations Officer, at 415.701.4387, via email at jay.lu@sfmta.com.
311 Free language assistance / 免費語言協助 / Ayuda gratuita con el idioma / Бесплатная помощь переводчиков / Trợ giúp Thông dịch Miễn phí / Assistance linguistique gratuity / 無料の言語支援 / 무료 언어 지원 / Libreng tulong para sa wikang Tagalog / คว"มช่วยเหลือท"งภ"ษ"โดยไม่เส'ยค่าใช้จ่าย