Survey Available & More on Traffic Lane Reductions for South Van Ness Quick-Build Project
We want to hear from you!
Public outreach is ongoing for the South Van Ness Quick-Build project, and we've released a survey to gather your feedback on the project proposals.
The survey is available at:
SFMTA.com/SVanNessSurvey (English) and
SFMTA.com/EncuestaSVanNess (Español)
This is an opportunity to share your opinions on the project goals and proposed changes. Please review the proposed changes in the project materials before completing the survey:
SFMTA project staff continue to work with stakeholders, including residents, community groups, and businesses to discuss the project proposal in detail. Most recently the project had a booth at Carnaval  and welcomed nearly 70 more subscribers to our project update list. Stay tuned for more updates about any upcoming in-person or virtual outreach events.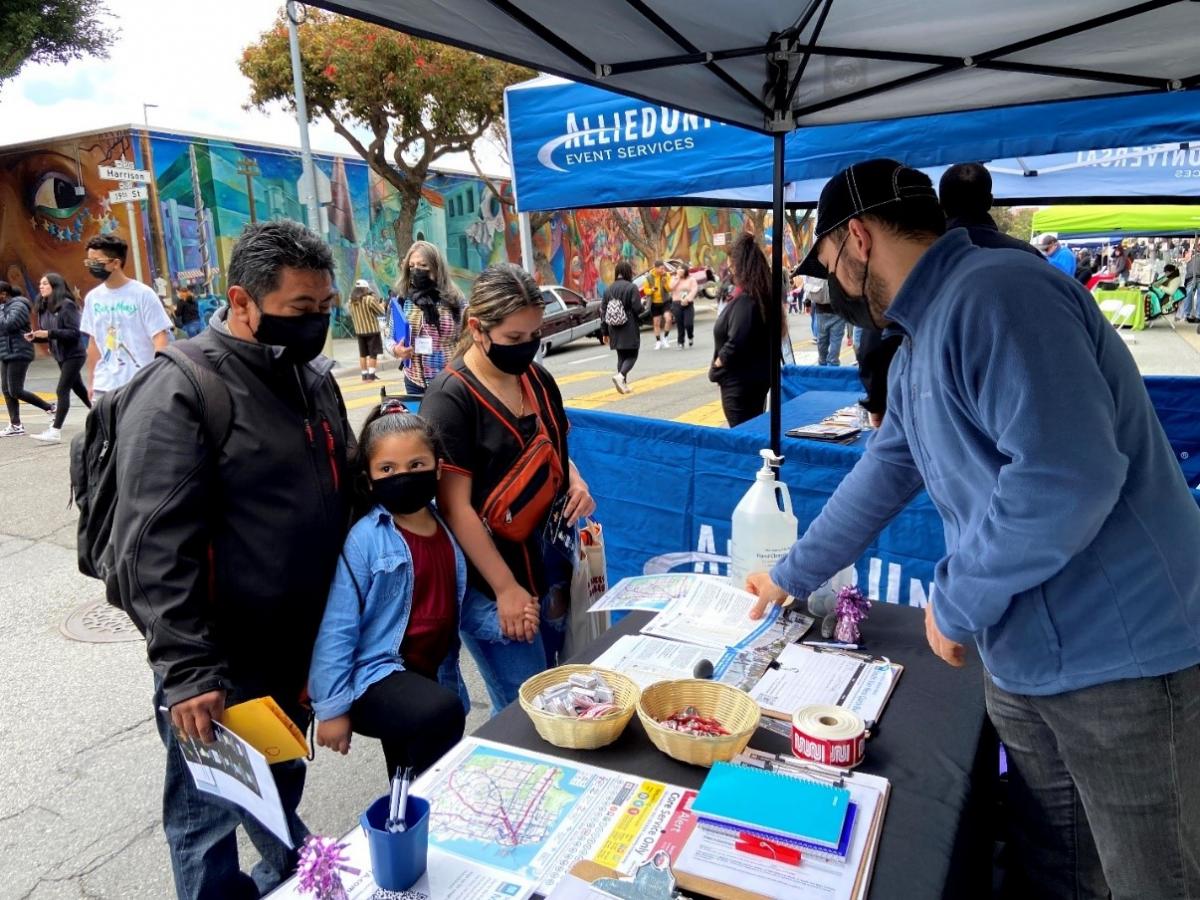 More on Traffic Lane Reductions (Road Diets)
One of the main proposals for the South Van Ness Quick-Build Project is a traffic lane reduction, commonly referred to as a "road diet". A road diet is when a travel lane is eliminated on a roadway, as shown in the figure below. Road diets are a low-cost, easily constructible way to quickly increase traffic safety along a roadway and are proven to reduce vehicle collisions by 19 to 47 percent.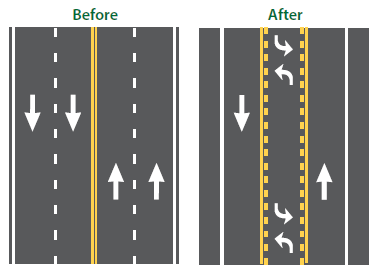 Benefits of a road diet include:
Smoother traffic flow: On a four-lane street like South Van Ness Ave today, drivers must slow or change lanes due to slower vehicles, such as vehicles double parked in the right lane or drivers waiting to make a left turn in the left lane. A road diet separates left-turning vehicles into their own dedicated lane and allows for smoother traffic flow for through vehicles while also reducing speeding.
Fewer conflict points and crashes: Road diets are shown to reduce vehicle speeds and vehicle interactions (as shown in the figure), which could potentially reduce the number and severity of crashes. With a flexible center turn lane, drivers making a left turn can safely pull into the middle lane and take a good look at oncoming traffic before making a left turn.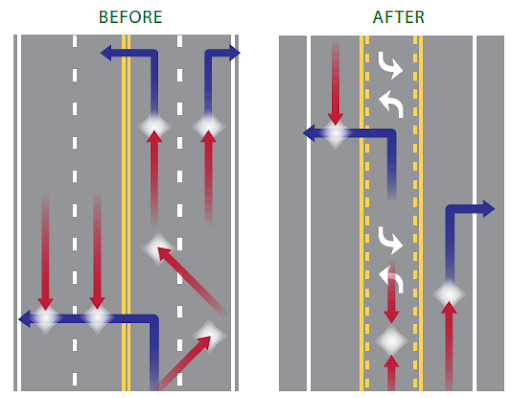 Pedestrian safety improvements: Fewer travel lanes to cross improves pedestrian safety and comfort. 
Minimal effects on traffic congestion: With the traffic volumes observed along South Van Ness Ave, road diets with similar traffic volumes in previous studies appeared to have minimal effects on traffic congestion and vehicle delay, so the effective capacity of the roadway is maintained.
Next steps
Outreach to residents, businesses, and other stakeholders will continue into early summer. Following outreach, the proposed design will be finalized and will begin the process of internal SFMTA review before any legislation will be brought forward.
Regular project updates and other information is available at SFMTA.com/SVanNessQuickBuild.
Contact
South Van Ness Quick-Build Project Team